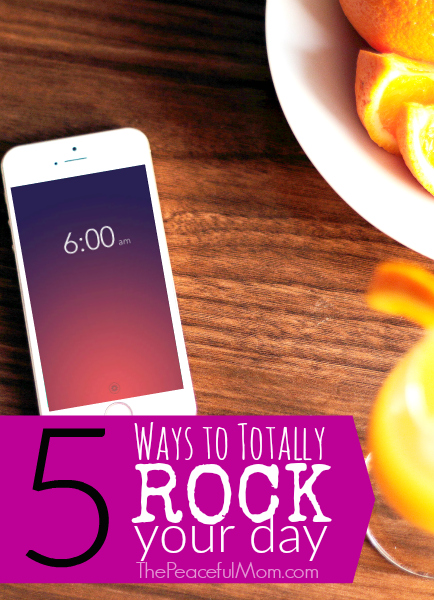 Top 5 Time Tips for Moms
We all have 24 hours but some of us have a lot more to fit into those 24 than others. Today I'm sharing my top 5 time tips for moms so that you can use your time better and live out your true values.
First of all, you need to know that my idea of good time management and productivity isn't about cramming as much as possible into a day.
I want to manage my time well not for the sake of doing more but for the sake of doing what is truly important.
Being busy all the time can actually be counter productive. Using my time well means that I am clear on my top priorities and focus on accomplishing them first.
This past weekend my friend Julie told me about a friend of hers (we'll call Barbara ) who has reached every level of success as success can be defined. She is wealthy, well known with a good reputation, is a successful business woman and regularly pours into the lives of others. Barbara's list of accomplishments is very long but she has realized recently that while she has been very productive and very "successful", she has missed doing what she was actually called to do. Her days were full of doing "good" things but she failed to do what was best, what only she could do.
A few years ago I was convicted about the very same issue. I was busy trying to be what the world thinks of as successful but I was missing what was truly important. The irony of the situation is that I was trying to feel significant when what truly made me significant (my relationships with God, my husband and my children) were falling by the wayside. I was missing out on doing what only I could do and trying to do what others were doing to find success.
In my attempts to become truly successful I have learned five secrets that enable me to focus on and accomplish what's most important in my life.
Determine Your Priorities
It's really a no-brainer, but in order to spend your time on what is most important you have to know definitively what IS most important to you. Think about what you would focus on if you had three months to live — those are your top priorities. Of course there are mundane tasks that must be taken care of as well but keeping your top priorities in mind will enable you to make good decisions about how you spend the rest of your time.
My list includes my health, my spiritual connection to God, my relationship with my husband, my relationship with my children and creatively helping others to live their best lives. Decide your top five or six values and write them down.
When creating your list focus on what is truly most important to you, not what others say. If you are a young mom and you want to spend as much time as possible cuddling your new baby then that is your top priority and other tasks will have to wait. Use paper plates, eat cheese toast for dinner and get help with the laundry so you can do your most important work for this season.
Get More Sleep
As a parent getting enough sleep can be a huge challenge but your well-being depends on it. You can't function when your brain is foggy and your body is begging you to go back to bed, plus everything takes longer when you're tired.
In order to get the sleep you need you have to make it a priority. Find a way to get your kids in bed on time. If you have a baby, rest during the baby's naps and ask for help. If you don't have family members nearby try hiring 10-12 year old "mom helpers" from your church or neighborhood who can play with your other kids while you sleep for an hour or two.
You will be amazed how your life can be changed by getting enough sleep.
Write Everything Down
There is plenty to do and keeping it all floating around in your brain is going to keep you stressed and unproductive. Get everything out of your head by writing it down so you can clearly see what needs to be done and organize your day accordingly.
I like to use three simple tools to accomplish this (click each link to read more):
Find the tools that work for you and use them routinely.
Start With Your Top 3
One of the best productivity tips I can share with you is to start your day by working on your top three priorities. If the laundry pile is taking over your house, the power bill is due tomorrow and you are out of milk, those are your most important tasks for the day. Focusing on the absolute essentials for the day will enable you to accomplish those tasks in the midst of all the other life craziness that happens. And hopefully, as you become more organized your top three to do list items will move from the "urgent" category to the "preparing ahead of time" category, but work with where you are.
To become even more efficient, write down your top 3 – 5 important tasks the night before. This helps your brain focus on those items during the night and you will wake up ready to work on them.
Simplify
My last tip to help you manage your time better is to simplify as much as possible. Think about those times when everyone in your house has been sick or when you have been sick for an extended period of time. Life priorities become very clear: survive, keep everyone safe and fed. Life can't be lived at such a basic level long term but thinking in this way helps to clarify what is actually important.
My essential household list consists of basic meals, clean dishes, one load of laundry for the day. I automate as many tasks as possible by creating routines so, for example, my morning routine includes washing a load of laundry, prepping dinner and making sure my daughter has unloaded the dishwasher. The laundry and dishes rarely get out of control because I am taking care of them daily as a part of my normal routine.
Eliminate as many non-essential tasks as possible so that you can spend time on what matters.
We can do this!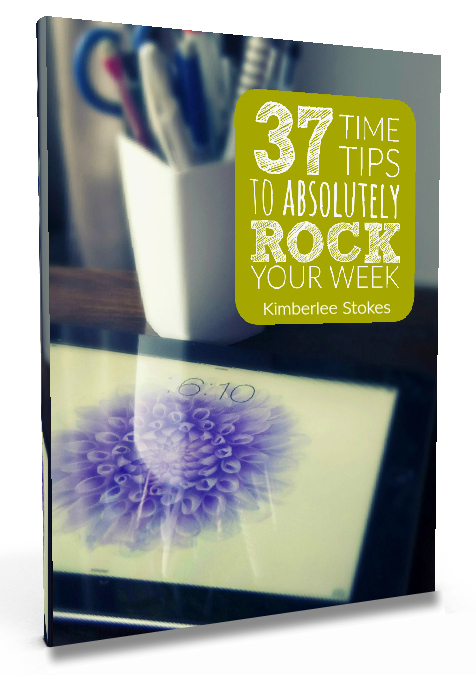 For more ways to maximize your time, check out my 37 Time Tips to Absolutely Rock Your Week ebook with specific time management strategies I use.
I've gathered my very best time saving tips and tricks in 6 categories including a one page printable check list to help you remember to incorporate them into your day.