This post brought to you by Sunsweet Growers. The content and opinions expressed below are that of The Peaceful Mom.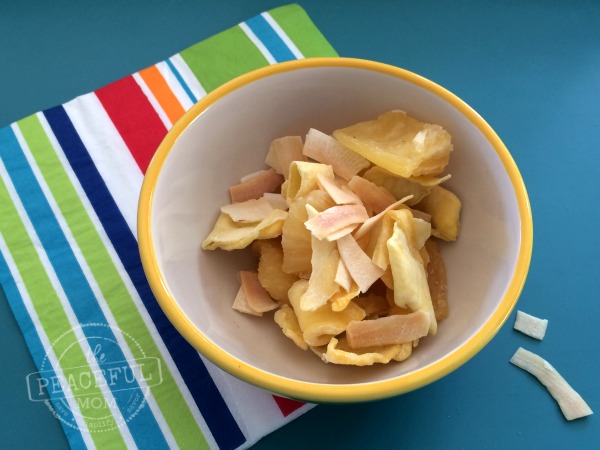 If you've been following The Peaceful Mom $125 Budget Weekly Menus for a bit then you know that we are not big snackers. We usually eat protein at each meal so my kids are rarely hungry in between meals.
I do love having convenient, healthy snacks available though, just in case someone has a case of the munchies. Our faves are air popped popcorn, raw nuts and seeds, as well as dried fruit. Typically our dried fruit choices are raisins and dried cranberries so I was excited to recently discover Sunsweet's Pacific Tropicals dried fruit to mix things up a bit.
I love that the fruit pieces are chunky and easy to grab. They're perfect for on-the-go snacking, traveling or munching on while you're at home.
Sunsweet Tropicals are available in several varieties. The Philippine Mango comes in thick soft pieces and the Philippine Pineapple is cut into nice large juicy chunks.
Two of our favorites are the new flavors: Thai Coconut Chip and Philippine Green Mango. We especially love the Thai Coconut Chips because they are crunchy and have a hint of vanilla but they're not overly sweet.They are great alone or in a trail mix for those days when you're in the car with the kids and need something quick and healthy.
The Philippine Green Mangos are delicious as well. They have just the right amount of tanginess and crunch to make a fantastic snack but without the crumbly mess produced by some snack foods.   
To celebrate the launch of the two new Paradise Tropicals flavors, you can enter the Sunsweet Find Your Paradise Sweepstakes.To enter to win choose your tropical destination here then come back and leave a comment telling me which location you selected.
Weekly winners will receive a gift basket with the new Tropicals flavors plus beach gear. The Grand Prize Winner will receive a vacation to their chosen location. All winners will be selected randomly.
The next time you're at the grocery store try one of the new Sunsweet Paradise Tropicals and let me know what you think.