You know I love my weekly plans in my Joyful Life Planner. It's the one way that I stay focused on my true priorities and ensure that I'm living my life purposefully and joyfully! I'm sharing my plan for this week so you can see what's going on in my world and maybe get some ideas for planning your week.
A few highlights from last week were a fun date day with my husband, a completed mixed media painting, as well as seeing some friends I haven't hugged in a while.
Last week also brought a couple of surprises like our fridge needing to be replaced sooner that expected (I'll be sharing a cool story about that later this week!) and another plumbing issue that we are hopefully having repaired today.
For work I wrapped up the first session of my new Beautiful Life 365 ecourse and made some improvements to it. I also started working on a new project that I will be sharing with you soon.
My plan for this week:
Read more details about how I create my weekly plan here.
PERSONAL –  (daily habits to keep me healthy and happy)
morning "Brain Dump" (read more here)

20 – 30 minute brisk walk daily

drink 6-8 glasses of water

eat veggies with every meal (yep, even breakfast)
go to bed by 10:30
PEOPLE –  (activities that develop relationship with those I love)
date with hubby (coffee house)
dollar movie with my kids
driving practice with my 15 year old
horse back riding lesson with my 15 year old
celebrate a friend's birthday
PASSION –  (creative and soulful habits that bring me joy and help me connect spiritually)
PURPOSE –  (tasks and activities that enable me to fulfill my life purpose)
(wife) pray for my husband daily, tell him I'm grateful for something once a day
(mom) warm hello's and goodbyes, daily prayers
(encourager) write a thank you note to a friend
PROJECTS  –  (tasks to take care of our household and move me toward my dream)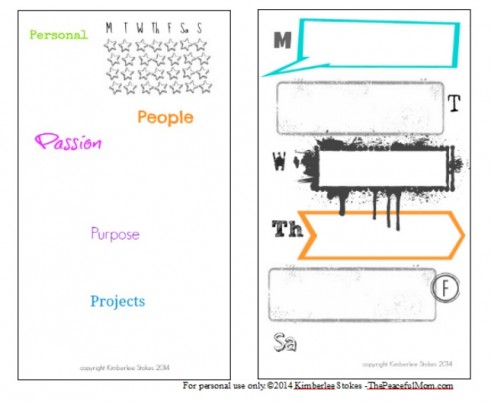 As a gift to my readers Subscribers to The Peaceful Mom Weekly eNotes can download these planning sheets for free! The Weekly Plan is customizable so you can reuse it each week.

Want to have your best year ever? Grab my 2016 Joyful Life Planner and start reflecting, dreaming and planning now!
Click here to see more of what's inside.
What's YOUR plan for this week? Leave a link or a comment below.
(Email readers will need to click through the title of the post to leave a comment.)
You May Also Enjoy: