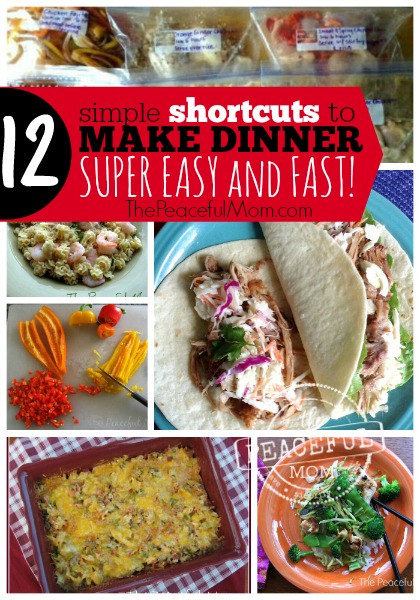 12 Simple Shortcuts for Easy Meal Planning
We all want to save time, save money and eat healthier, and there's one way to accomplish it all: meal planning.
You know that you need to plan your meals but life is busy so actually creating a menu may be slipping through the cracks. Today I am sharing 12 shortcuts to help you actually get it done.
Create a Master List
Simplify your meal planning by creating a list of your family's favorite meals so that you have a reference each week instead of trying to create a plan from scratch. You can break the list down by the time of day (breakfast, lunch, dinner) or by the main ingredient (egg dishes, chicken dishes, ground beef dishes, etc.) — or simply brainstorm every meal that you can think of.
Check my Easy Recipes here or my 27 Fast and Frugal Meals here to get a jumpstart.
Make a Date
Make a routine of meal planning so you don't forget. Schedule a "date" with yourself every week when you will spend 15 to 20 minutes choosing your meals and creating your grocery list. Creating a meal planning routine will ensure that dinner gets on the table without a hassle.
Download a FREE Printable Grocery List here.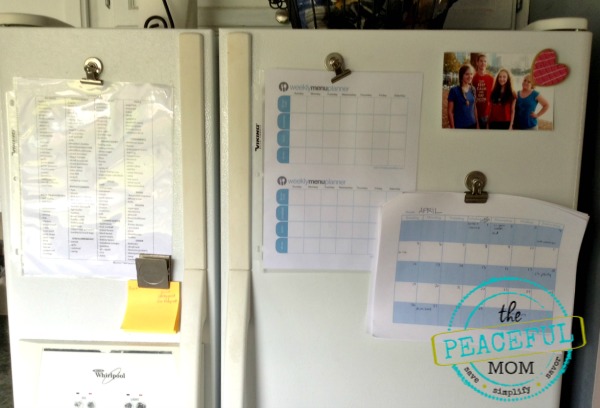 Post Your Plan
Creating a plan is important but once you've taken the time to list your meals for the week you will want to post the plan in a prominent location so you can actually make those meals.
Grab my FREE Menu Planner Printable here to make the process super easy. It's customizable so you can type in your meals and print it every week, or print one to place in a page protector and re-use it every week by writing with a dry erase marker.
Use Theme Nights
To simplify your meal planning you can create a theme for each night of the week so that you have a basic structure and don't have to create a completely new meal plan every week. You can even name the days so the kids can get excited about dinner (ever heard of Taco Tuesday?). See more creative Theme Night Meal Ideas here.
Recycle Your Plan
Why create a new menu plan every week when you can re-use one from a previous week? You can either create a new plan for each of the next four weeks and then reuse them the following month, or create a plan for the month in one sitting.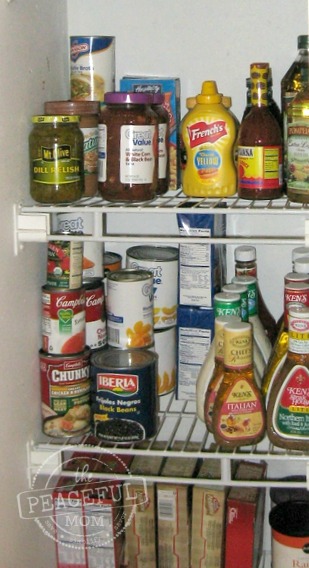 Use What You Have
A great way to save money on your groceries each week (and simplify your meal planning) is to take stock of what you have on hand to create simple meals for the week. Check your pantry, fridge and freezer for basic ingredients from which you can create a meal, then add the items you need to complete or complement those dishes to your grocery list.
See an example of how I turn what I have into meals here.
Bulk Prep Your Food
An awesome way to spend less time in the kitchen is to do a weekly 1 Hour Prep Session. Spend one hour on a Saturday morning or an evening after work and do most of the work for your meals that week — prepare a big salad, cook meat for a couple of meals, etc.
See my 1 Hour Prep – 20 Minute Meals All Week Plan (with printable grocery list) here.
Batch Cook
It's much easier to cook meals from scratch when you have some of the ingredients prepared ahead of time. I batch cook ground beef and freeze it to use in meals all month. Check out my 8 Dinners in 1 Hour Chicken Plan for a batch cooking plan with chicken breasts.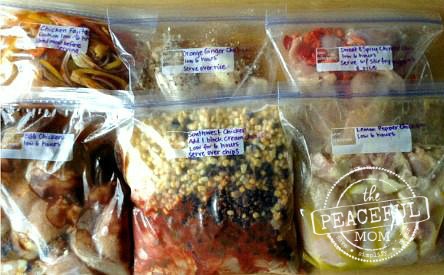 Feed Your Freezer
A popular method of batch cooking is creating meals for the freezer to use later. I prefer to keep my freezer cooking sessions to an hour or less and I've created a couple of plans to help you do the same:
1 Week of Breakfasts in 1 Hour
12 Slow Cooker Chicken Meals in 1 Hour
1 Hour of Prep – 18 Meals Plan
Start Dinner in the Morning
If you're like many moms you probably start thinking about dinner around 5 p.m. but by that time everyone is starving and whatever you planned to eat may still be in the freezer. Eliminate the stress of the dinnertime rush by starting dinner in the morning.
You can throw something in the slow cooker, thaw the meat for later or wash and cut the veggies for the salad. See my Morning Meal Prep post and video here.
Stock "Emergency" Meals
We all have those days that just don't go as planned. To avoid ordering take out keep the ingredients for easy back up meals in stock. See some of our favorite quick and easy meals here.
Use Pre-Made Meal Plans
Meal planning can take time, but using a pre-made meal plan will save you both time and money.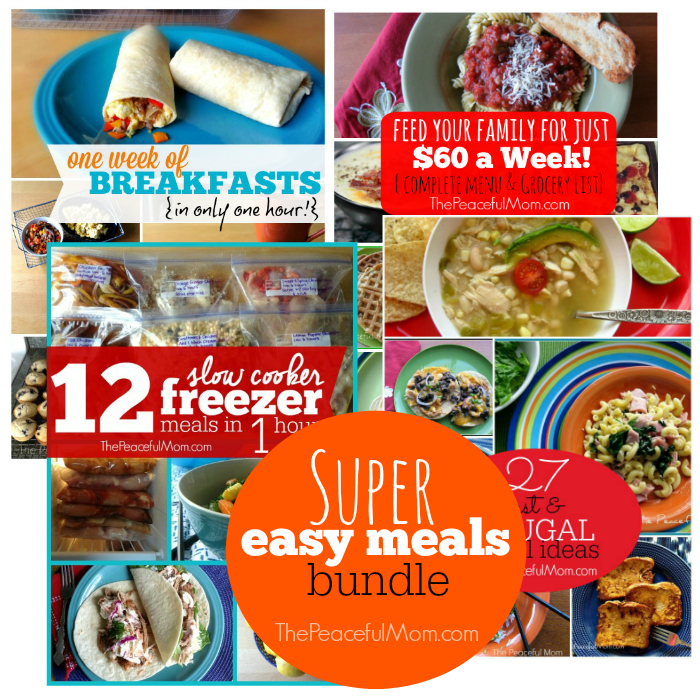 Right now you can grab my Super Easy Meal Plan Bundle.
Click HERE to see what's included and get a special bonus!
Our families have to eat, but with a little bit of thought and preparation, meal time can be stress-free and budget-friendly!
Share your ideas for super easy meals in the comments.
We can do this!

You May Also Enjoy: