How to Get More Done Every Day
This month I'm sharing my best tips, strategies and tools to help you start your year off right and today I'm sharing my best time management tips so that you can accomplish more every day.
Know What's Really Important
Life is busy and it's so easy for our days to be hijacked by the urgent like picking up a sick child from school or buying toilet paper when there's none in the house. Of course we have to take care of these kinds of tasks or suffer some not-so-great consequences but without some serious focus those kinds of activities can take over and we can miss out on what truly matters long term.
I like to review my true life priorities every morning to insure that I am staying on track: spiritual connection, self care, relationships with my immediate family, helping women simplify their lives, and finding creative ways to make money. Your life values should fit who you are so make sure that you know what you really want and remind yourself often.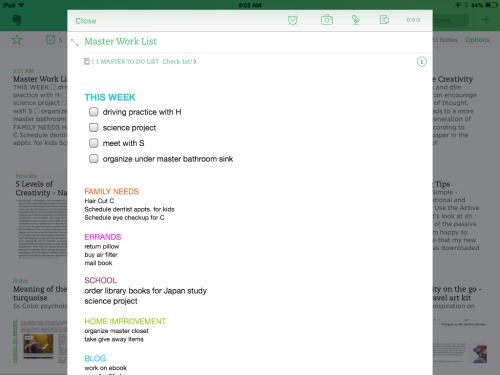 Create a Master List
There is honestly too much to do as a mom and it's easy to let important tasks slip. One way that I prevent this from happening is to keep a Master Task List in Evernote. I have one list for my business and a separate one for our family and home with categories for each area.
I love Evernote because it syncs between all my devices and is searchable. As thoughts and ideas come up I immediately add them to the list in the appropriate category so I can refer to them later. Click here to read more about how to use Evernote to organize your master list.
Choose Your Top 3
An excellent way to accomplish more in your life is to create a Top 3 List every evening before you go to sleep. Check your Master List, your calendar/planner and write down your top three most important goals for the next day.
Items on your list may not be what you typically think of as "productive". If you are a mom of small ones your list may be snuggling your baby as much as possible, reading to your toddler and washing one load of laundry. Make sure that your Top 3 List reflects your actual values rather than what someone else tells you that you should do.
By creating a small list of your top goals you will be able to focus and to start the next day with intention and purpose rather than being sidetracked by whatever else comes up.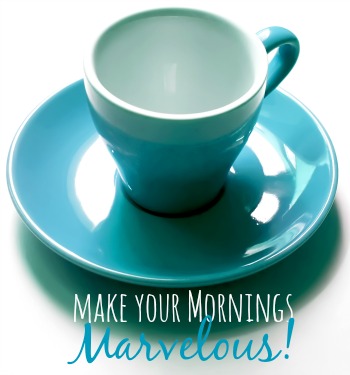 Start Your Day Well
One of the keys to accomplishing more is to start your day purposefully. Create a morning routine that enables you to focus on what is important and face your day with calm.
I like to start my day with:
a morning Brain Dump, prayer and journaling session
review of my Life Goals in my Joyful Life Planner
review of my Top 3 List for the day
20-30 minute walk
You may enjoy journaling, drawing, reading or simply sitting quietly with a cup of coffee. Whatever you prefer, starting your day well will enable you to have a more peaceful and productive day. For some guidance to create an awesome morning routine check out my Marvelous Mornings Mini-Course here.
Use Time Pockets
As moms we rarely enjoy long stretches of uninterrupted time and it's easy to allow the little moments slip away but if you will make a habit of using the time pockets in your life you will be able to accomplish more.
You can focus on one task each day and work on it a little at a time throughout the day, or you can keep a list of tasks to do in the in-between times and cross them off as you finish them. (Grab a list of 10 Minute Organizing Tasks here.)
Click here for more ideas on how to use Time Pockets.
Make a Weekly Plan
You know I love my weekly plans in my Joyful Life Planner. Planning your day is helpful but taking a look at your entire week can help you to accomplish more and to stay focused on your most important priorities. Read more details about how I create my weekly plan here.
My plan for this week:
PERSONAL –  (daily habits to keep me healthy and happy)
morning "Brain Dump" (read more here)

20 – 30 minute brisk walk daily

drink 6-8 glasses of water

eat protein for breakfast
go to bed by 10:30
PEOPLE –  (activities that develop relationship with those I love)
date with hubby (local museum)
family outing to a local attraction
coffee with friends
driving practice with my 15 year old
PASSION –  (creative and soulful habits that bring me joy and help me connect spiritually)
PURPOSE –  (tasks and activities that enable me to fulfill my life purpose)
(wife) pray for my husband daily
(mom) give lots of hugs every day
PROJECTS  –  (tasks to take care of our household and move me toward my dream) 
Finish a home decorating project
Complete a project for my online course
Work on my next subscriber freebie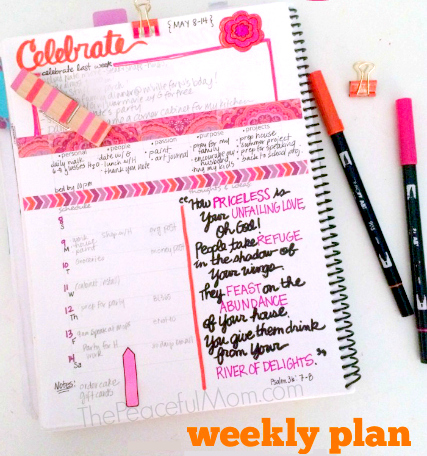 Want to have your best year ever? Grab my Joyful Life Planner and start reflecting, dreaming and planning now!
Click here to see what's inside & see a bonus offer!
What's YOUR plan for this week? Leave a link or a comment below.
(Email readers will need to click through the title of the post to leave a comment.)
You May Also Enjoy: