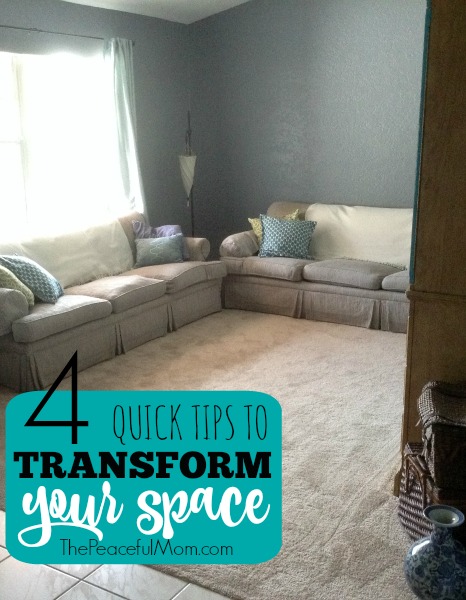 4 Quick Tips to Transform Your Space
This month I'm giving you simple steps that you can take to start your year off right and today we are talking about how to transform your space.
Whether we realize it consciously or not, the spaces around us affect us either positively or negatively. Our homes can energize us and fill us, or they can contribute to our stress level. I personally wanted a calm and inviting home and there are a few steps that I have taken to transform our space.
Choose Gratitude
There are probably aspects of your current living situation that could use some improvement and it's easy to focus only on what needs to be changed. Our family has become much more content, and therefore empowered to make changes, as we have chosen to accept where we are and make the best of it.
During my 20+ year marriage, my husband and I have lived in everything from a tiny condo to a 750 square foot house with no central heating and air to a six bedroom, 3 ½ bath, 3000+ square foot mini-mansion. Each living situation comes with it's benefits and challenges.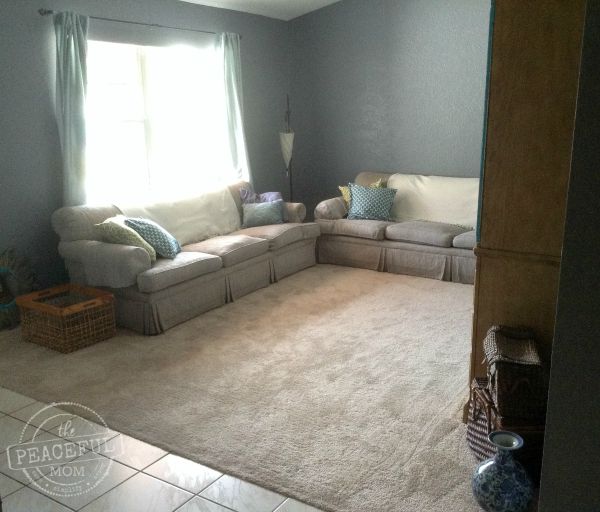 Our current home is a smaller, ranch-style fixer upper that we were able to purchase in August of last year. Having less square footage means that the rooms are small and we are faced with the additional challenge of very little storage space.
I can spend all of my time lamenting the fact that my closets are minuscule, my bathrooms are tiny, and my garage is only big enough for one car, or I can be thankful that we:
own a home rather than renting;
save on electricity because the house is small;
clean the house more easily because there is less to clean;
have space for everyone in our family;
have plumbing, heating/air conditioning and appliances that work;
have functional beds and other furniture.
Even though it 's small there is room for everyone and we make it work. Reminding myself of what we do have helps me to conquer the discontent of looking at what we don't have.
Start Small
Accepting our circumstances and being grateful doesn't mean that we have to live with things as they are. We can make improvements by taking small steps. You may not be able to create a space that is exactly what you want but you may be surprised at how wonderful you feel when you make a few changes.
Choose one small change that you think would make the biggest impact on your life. Is it keeping the dirty dishes out of the sink, staying on top of the laundry pile, clearing the toys and clutter out of the living room every night? Choose one task and focus on accomplishing it consistently.
For me, cleaning the kitchen every night makes the biggest difference in how I feel about my home. My teens help but I make sure everything is clean before I go to bed and I wake up much happier to find that space clear every morning.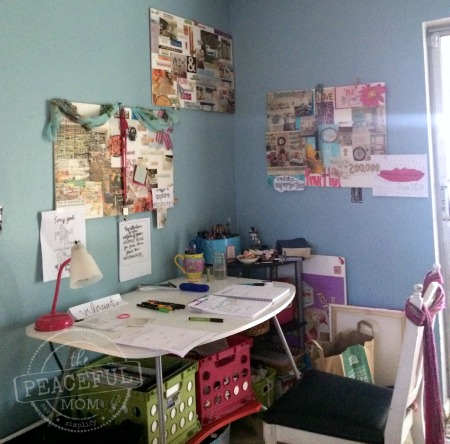 Create a Sacred Space
In addition to making a small change to help you feel better about your home you can create a "sacred space" — a space that makes you feel happy and peaceful no matter what else is going on in life. It could be your master bedroom, your front porch or a corner of your living room.
My sacred space is a corner of our office that I use for my creative space. In our previous home my creative space was a corner of our master bedroom but thankfully now I have room in our office. It's the one spot in our house where I can go to regain my equilibrium and focus on what makes me happy.
To create your sacred space clean one small area in your home and begin to add items that make you truly happy — colorful accessories, flowers, good books, artwork. Start with items that you have around your home and make an effort to keep this area looking nice so you can enjoy some time there every day.
Declutter Often
One of the biggest improvements you can make to your home is decluttering on a regular basis. Constantly seeing stuff piled and stacked around our homes drains us emotionally, mentally and spiritually.
Some organizers suggest making a huge project out of decluttering but I find that 10 Minutes a Day Decluttering works best for me. You can read my review of the Konmari method vs. 10 Minutes a Day Decluttering here and decide what will try.
The key to keeping your space clear and clutter-free is finding a routine and method that works for you, and then using it.
Creating a space that you love is an easy way to bring more peace and happiness into your life. Breakthrough perfectionism and procrastination and do something today to move toward a more beautiful and clear space so you can focus on what is most important in your life.

I've created a practical and inspirational tool to give you step-by-step help to get organized and create a space you love. My 30 Days to an Organized Life ebook and planner takes you systematically through your home so you can simplify your life and focus on your most important priorities.
Click here to find out how to transform your space & your life!