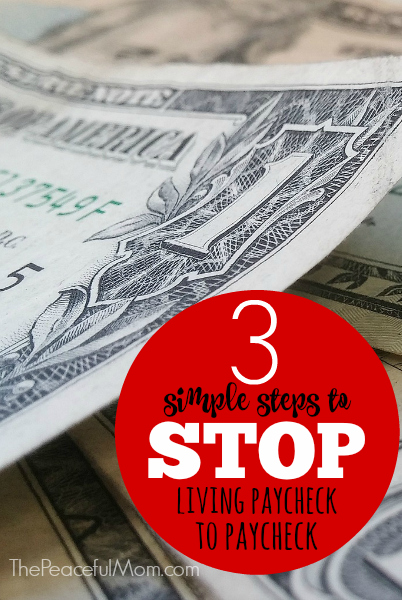 January Jumpstart – tips, tools and strategies to start your year off right!
We are getting organized and this week we are talking about money. In my last post I shared some tips to help you organize your money for the new year and today I want to tell you about three steps we took to stop living paycheck to paycheck.
If you have been following The Peaceful Mom for a few years then you  probably know that in 2011, after selling most of our belongings, we moved to another state to train for a job overseas. Unfortunately, we realized during the training that the organization had some problems and that going overseas with them would have been disastrous for our family.
We essentially had to start over: find new jobs, new friends and restock our entire household. Needless to say, it was extremely stressful and we struggled for over a year to get our life and our finances back on track.
Finally in January of  2012 we made a decision to stop living paycheck to paycheck and make our money work. Our plan can work for you too!
We Stopped Making Excuses
When we first left the training we had very little savings and had to use most of the money to purchase items like furniture and kitchen items. When bills came due we had to pay them out of my husband's paycheck from that week and pray that we had enough money for gas and groceries to get us to the next week.
It was a very stressful way to live, but because we were struggling we would make excuses:
"We're not going to have enough money anyway, so who cares if we spend this $4.00 on drinks at the gas station?"
"We've got an extra $15, but that's too small an amount to pay anything so let's order pizza!"
When we finally decided that we were sick of living on the edge we stopped lying to ourselves that small amounts of money didn't matter. We realized that EVERY dollar counts and we needed to have a plan.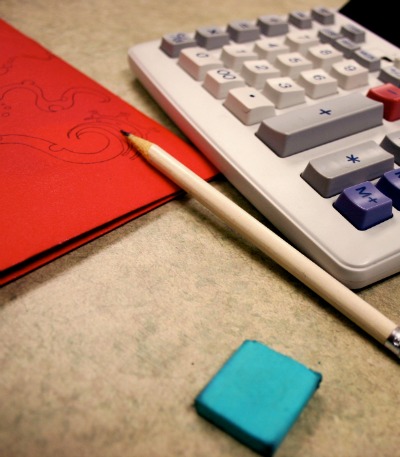 We Created a System That Works for Us
Once we made the decision to use every dollar wisely, I knew that I needed to have a plan for managing our money that involved more than a calculator and a piece of paper. I am very visual and seeing the money in our account led me to believe that I could spend the amount I saw.
To solve this problem we decided to set up a second checking account to save money for upcoming expenses and "trick" ourselves by moving the money out of our primary account on payday. I created a spreadsheet with all of our monthly bills in order of priority and we started putting money into the second account from every paycheck, no matter how small it seemed.
You can see the details of our spreadsheet and how we use this second account here.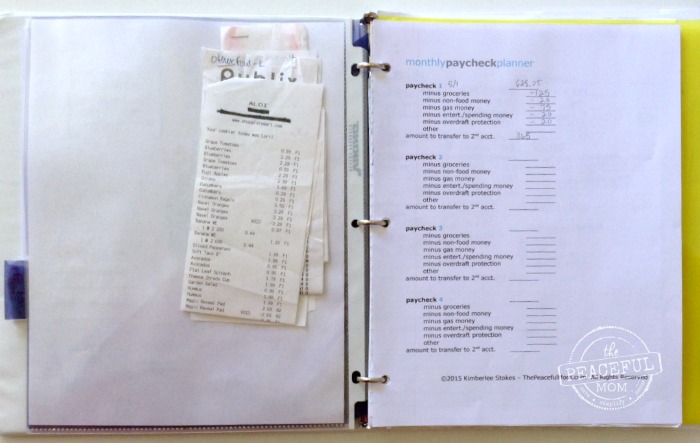 We Planned Every Paycheck
With the second account available to us I only needed to make a habit of directing our paycheck every week. On payday I check our account to see the amount of my husband's paycheck for that week (commission means that each check is different). Then I:
1. Record the direct deposit amount in the checkbook register and add this amount to the current balance to get our new balance.

2. On a post-it note (or you can use this printable Paycheck Planner), I write the new checkbook balance and subtract money needed for basic necessities for this pay period (1 week) from the balance:

groceries* ($100)
non-food items* ($20)
gas for the car ($65)
small "cushion" to avoid overdrafts ($20 in our case, you may need more)

This $205 stays in the primary account and on my errand day I take out $120 from the ATM to use for my shopping that week. We use our debit cards only for gas for the cars.

3.  Transfer remaining money to our second account (read more here) and update category totals for that account. I have divided the amount of each of our monthly bills by four so I know the amount we need to deduct from each weekly paycheck to be able to pay each bill when it is due. For example, I need to take out $254/week for our mortgage, $75/week for our utilities, $21/week for car insurance, etc.

4. Pay current bills due from the second account. If our water bill is due that week, for example, then I write a check from the second account to pay it and subtract that amount from the utilities category on the spreadsheet.

If money is left over once these minimum needs are met, we add some of the money to our emergency fund and spend some of it on non-essential budget categories like eating out, new clothing, etc.
As a result of making these choices, and simply being faithful to add money to the second account a little at a time rather than spending it, we easily pay every bill when it is due — even large bills like our car insurance. And we no longer spend money that should be going towards bills because we can see exactly how much we need for upcoming expenses. Using this method has enabled us to have an emergency fund as well.
If you are struggling to pay your bills I really encourage you to take these steps and stop living paycheck to paycheck. I know that moving the bill money to a separate account is a key for us. If the money stays in our primary account we can always find something to spend it on.
If you truly have no extra money even though you are spending on true necessities only, try one of my 7 Real Ways to Make Money from Home or 8 Ways to Earn Extra Money Fast to bring in some extra cash.
Do you have a tip for how to manage money better? Share in the comments.
You May Also Enjoy: