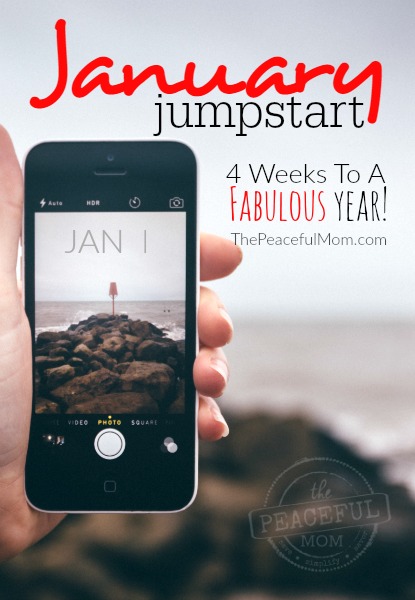 It's that time of year when the world feels fresh and we all want to hit the restart button.
For the next four weeks you can join me for my January Jumpstart for tips, tools and strategies to get your life started off in the right direction. Each week I'll give you specific steps you can take to bring order to your time, your money, your habits, and your space.
This week we are focusing on gaining vision for your life this year.
While New Years Resolutions soon fade now is the perfect time to step back, take a look at the big picture of your life and gain vision for the next 12 months.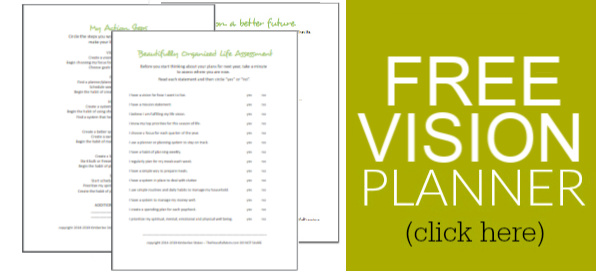 Hopefully you have had a chance to download the FREE Vision Planner for subscribers (click here to sign up!) and you have thought about how you want your life to look.
Creating that vision, however, is not enough.
The key to living the life we want is creating specific action steps then implementing them daily and weekly.
Once you have dreamed some big dreams and decided how you want your life to look, it's time to break those dreams and goals down into realistic, actionable steps and then schedule them on the calendar. I do this by creating action steps for each goal and then adding those steps to my weekly plan. (Click here to read the details of how to create a weekly plan from annual goals.)
Here's a peek at my goals for this year to show you exactly what I mean:
My 2016 Goals
My Spirit
Goal: Maintain a close spiritual connection to God.
Actions:

daily morning brain dump, journaling and prayer session
weekly retreat – pray and plan away from home
nightly gratitude journal – write specific, tiny blessings from the day
My Body
Goals: feel more energetic; tone my arms; lose fat
Actions:

walk daily
eat protein for breakfast
drink 6-8 glasses of water daily
lift weights at least twice a week
go to bed by 10 pm
My Marriage
Goal: Enjoy a vibrant, intimate relationship with my husband.
Actions:

daily chat time
speak kind words/express my gratitude daily
kiss my husband passionately at least once a day
weekly date night ($10 Date Night Ideas)
make or buy a special treat for him once a week
My Children
Goal: Maintain a close relationship with each of my children.
Actions:

pray daily for my children
put down my electronics when someone is speaking to me & look at them
take each child on an individual "date" at least monthly
daily chat time (take a walk or chat at bedtime)
weekly family fun
My Money
Goals: Continue building emergency fund; pay off medical debt; save additional $3000 this year.
Actions:
My Home
Goal: Enjoy a peaceful and comfortable home.
Actions:

daily 10 Minute Declutter starting with living room
continue weekly cleaning schedule
save for new fridge
My Business
Goals: Enjoy what I do and make money doing it.
Actions:

continue to reduce expenses
create at least one e-course this year
research additional ways to make money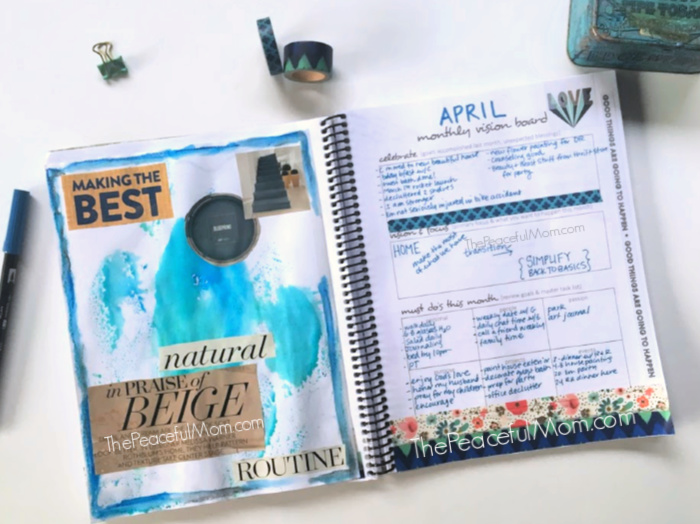 If you'd like more help with creating specific goals and action steps check out my Joyful Life Planner!
Click here to see what's inside!
What are your goals for this year? Leave a link or a comment below!