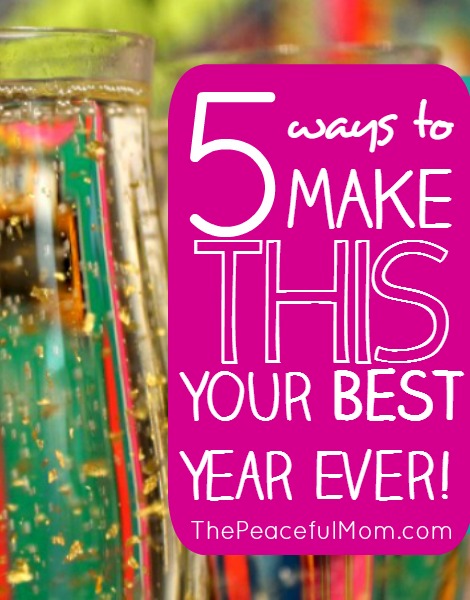 5 Steps to Your Best Year Ever
You might think I'm crazy but the week between Christmas and January 1st is probably my favorite time of the year because it provides an excellent time to set my life up for success for the next 12 months. Now is the perfect time to take these five organizational steps to create an awesome 2017!
Close Out Christmas
Hopefully you were able to print the FREE Happy Holidays Planner that I have available to subscribers (join here). Before you place your planner back on the shelf take a few minutes to do the following:
Complete the Holiday Snapshot — Write some notes while the details of the holidays are still fresh on your mind so that you can have a more peaceful and organized holiday next year. Note supplies you need, activities you enjoyed and ways you can eliminate more stress.
Print an extra copy of the Holiday Spending Planner (featured on Today.com) and plan your budget for next year based on your spending this year. It's a great idea to think of ways you can cut the budget rather than increasing your spending.
Declutter Your Decor
The after Christmas clean up is the prime time to collect ornaments or decorations that you no longer use or love but you can also spend a few minutes in each room of your house and find 5 – 10 items that you can add to the donation pile.
Don't spend a lot of time analyzing each decision, simply grab items you don't use or love and give them away so that someone else can enjoy them. Of course, older children and your spouse should go through their own belongings. Once you have collected the items donate them as soon as possible so that you are not tempted to bring them back into the house.
Reflect on the Past
The first step to truly transforming your life in the New Year is to take an honest look at the previous year. What positive actions did you take? What healthy habits did you establish? What were your problem areas? Take some time now to think about each month of 2015 and note any areas of your life you want to change.
As a part of my year end assessment I also like to look over our spending for the year (I keep a record of everything we spend) and determine habits and patterns that are costing us money. I then make plans to change them.
Envision the Future
In order to make thisyour best year ever you will need to envision exactly what you want in your life. Think about how you want to look, feel and be twelve months from now. When you face yourself next New Year's Eve what will you be glad that you accomplished or changed?
Think big, crazy dreams for every area of your life: spiritual, emotional, physical, relational and financial. If you can't dream it, you can't accomplish it.
Choose Your Focus
Once you have a vision for what you want life to look like you will need to make specific goals and break them down into small, do-able steps that you can easily implement.
Think about your vision for the New Year and decide what ONE problem you could solve or ONE change that you could make that would make the most difference in your life. If it's debt hanging over your head, commit to paying a specific amount off every month and make a list of ways you can meet that goal like learning how to save money on groceries, making extra money or selling your stuff. If you have distance in your marriage implement a weekly date night, find a couple's devotional to go through together or sign up for a marriage class at a local church.

If you're like me you need a little help to create vision and implement your goals for the New Year. That's why I created the Joyful Life Planner so that you can:
evaluate and celebrate the past twelve months
create a personal vision board
choose an Inspired Word of the Year
design a specific plan to implement your goals
create a weekly plan that works for you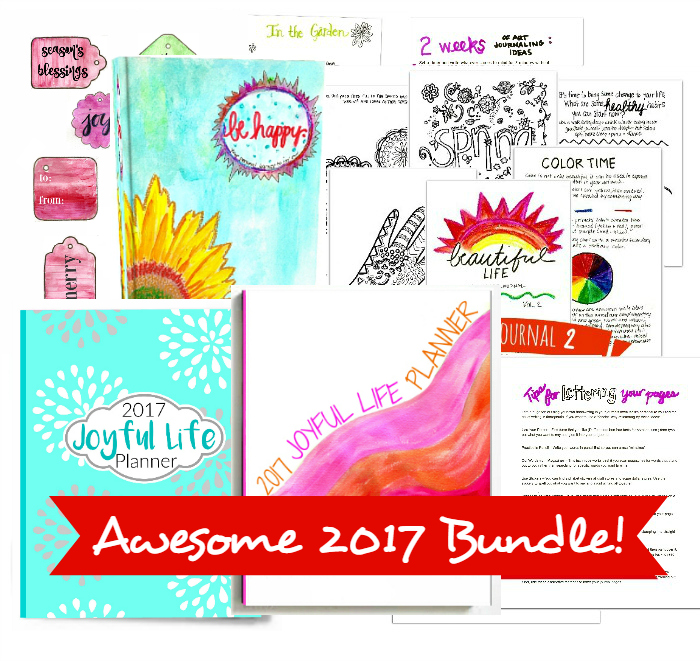 Because this is my favorite time of year I have extended the sale on my Awesome 2016 Bundle which includes: 
2017 Joyful Life Planner Charty Version ($17 value)
2017 Joyful Life Planner Arty Version ($17 value)
Beautiful Life DIY Art Journal volume 1 ($9 value) (Click here to see what's inside!)
Beautiful Life DIY Art Journal volume 2 ($9 value)
Art Journaling Bonus Pack with my best art journaling tips, lettering tips plus 4 weeks of art journaling prompts ($5 value)
24 Hand-Illustrated Printable Christmas Gift Tags — 16 watercolor, 8 b/w to print on colored paper ($10 value)
I've also added an additional bonus: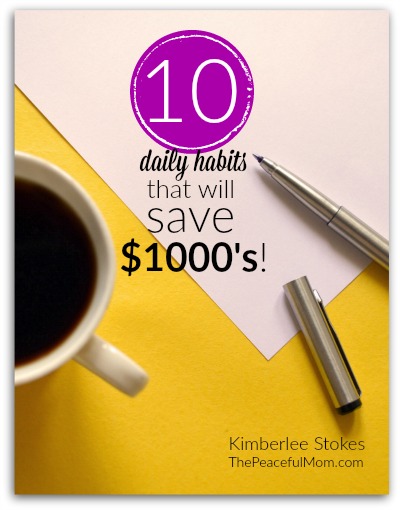 If you purchase the bundle now you will also receive my new mini ebook 10 Daily Habits That Will Save $1000's!
Awesome 2017 Bundle

How do you prepare for the New Year? Leave a comment or a link so we can share ideas. 🙂