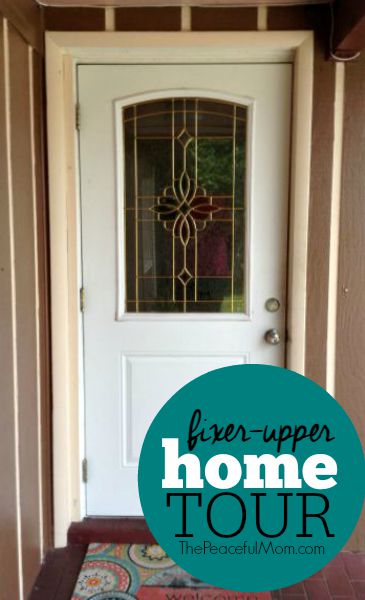 Fixer Upper Home Tour: Dining Room
Welcome back to our Fixer Upper Home Tour! You can read previous Home posts here.
It has been an eventful week here at The Peaceful Mom household. Late last Tuesday night we discovered a wet spot on the carpet in our master bedroom then we realized that about one third of our carpet was completely soaked and there was a huge puddle of water on the floor underneath.
We moved everything out of the room, dried up what we could with towels and draped the carpet pad over a chair to let it dry. Needless to say it was a restless night sleeping in the living room.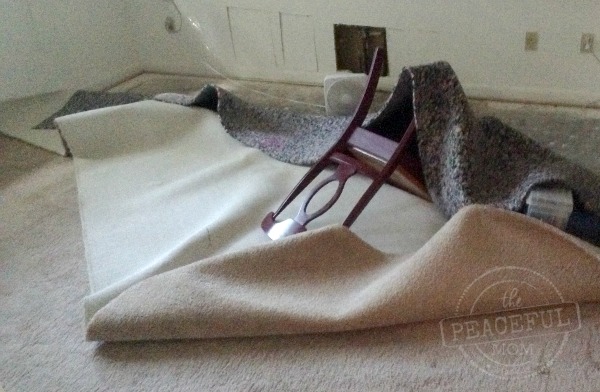 The next morning we called our plumber who had to cut several sections of our bedroom wall to determine where the broken pipe was located. Unfortunately he discovered that the leak is in a pipe under the concrete slab of our foundation. This situation combined with the previous leak in our kitchen means that we really need to have our entire house re-piped so that the plumbing runs through the attic rather than the foundation.
Thankfully the leak is in the hot water pipe so we can temporarily fix it by leaving the hot water turned off most of the time and only turning it on for quick showers. This situation is inconvenient but gives us a little time to save the money for the re-piping which will cost almost $3000 — yikes!
On the bright side we were finally able to find a dining room lighting fixture.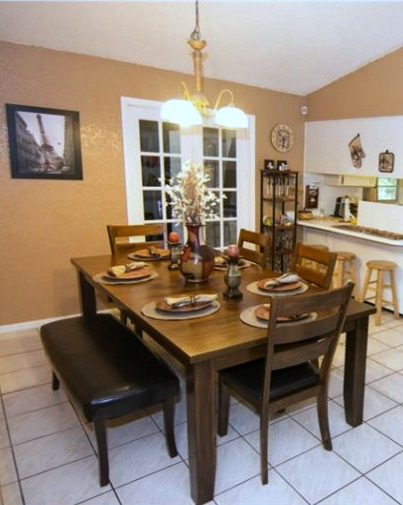 Dining Room Setup of Previous Owners 
When we first moved in I had the contractors take down the old (and really ugly in my opinion!) light when they scraped the popcorn ceilings. We expected to replace it within a week or two but we had to spend money on unexpected repairs so the light had to wait.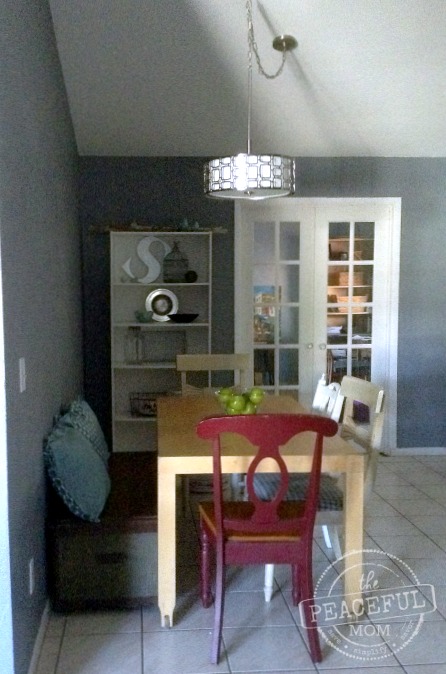 This past week we were able to purchase this dining room light fixture which really completes the room. It was $175 at Lowe's and we were able to have it  installed by a friend for just $25 so we just squeaked by on our budget of $200.
I think the clean lines work well in the space and the nickel finish looks great with the Dark Pewter (Behr) walls. I carried the gray in from the living room to make the space cohesive and accent my white shelving. The Ikea table was purchased at a yard sale a few years ago and the chairs are all thrift store purchases as well as the bench which is a recent find. I want to have a seat cover made but for now I placed some throw cushions along the back to make it a little more comfy.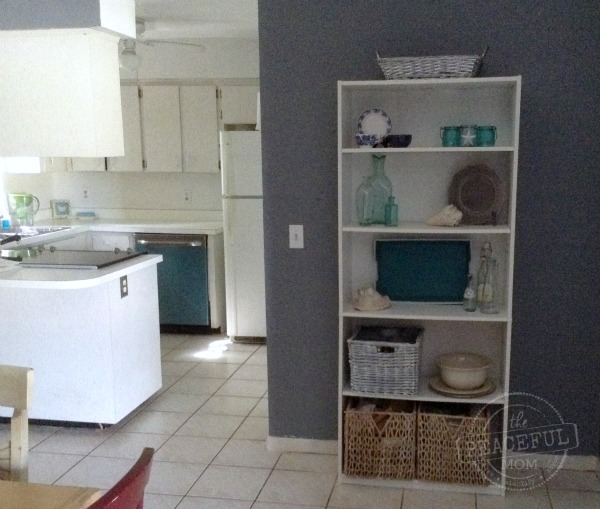 Here's a shot of the wall leading into the kitchen. The additional shelving provides a space for decorative items as well as much needed storage since we have such a tiny kitchen.
Our update is moving along. Although our progress is slow, it's still progress and I'm so happy to live in our own home after so many years so that we can create the space that we want to live in.
What do you think? I am definitely not a designer so I am interested in your feedback.
Leave a comment and let me know. 🙂