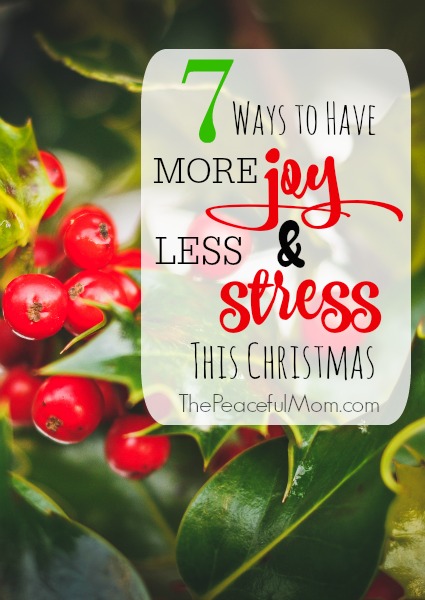 7 Tips to Enjoy More and Stress Less This December
Click HERE to join our community and grab your FREE  Happy Holidays Planner!
(including each of the planners listed below)
December can be one of the most joyous months of the year … as well as the most stressful. Today I have 7 tips to help you enjoy more and stress less this holiday season so you can have fun, enjoy your family and stay on budget.
Decide Your Priorities
There are so many forces pulling on us this time of year. We want to feel happy, give amazing gifts, create Christmas magic for our children, host fabulous parties and avoid spending half of our annual salary doing it all.
I learned a long time ago that I cannot do everything that I would like to do and deciding ahead of time what is truly most important to my family is essential to a sane holiday season. Our goals center around having fun while focusing on relationships more than materialism, and sticking to our budget as much as possible.
Happy Holidays Tip: Take a few minutes now to decide how you want your holidays to look and talk with your family about their desires and expectations.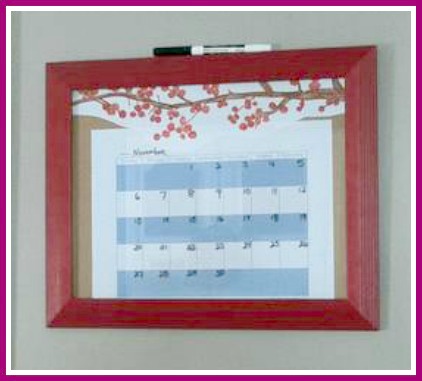 Corral Your Calendar
The holidays are filled with so many fun opportunities but you can't participate in all of them and keep your sanity. Talk with your family about what they look forward to and then schedule those activities on your December calendar. Remember to plan some down time for your family as well.
Some of our favorite activities include:
family outing to a local park with Christmas decorations
window shopping in a quaint downtown shopping village followed by hot cocoa at coffee shop
Christmas Eve church service followed by tour of neighborhood light displays
Christmas Day meal and movies
Don't worry about what "should" be done. Create a holiday season filled with what your family enjoys.
Happy Holidays Tip: Decide the activities that are most important to you and your family. Print the Christmas Activity Planner & Calendar from my Happy Holidays Planner.
Be the Boss of Your Budget
I know, we all hate the "B" word but you will have a much happier January if you will avoid the credit cards and spend only the money you have on hand for your holiday fun. Of course for most of us this will mean making some difficult choices.
Our difficult choices this year are not visiting extended family, giving only one gift to each of our children and skipping our usual Christmas Eve meal out. It is not always pleasant to give up holiday treats or traditions but I would much rather make a decision ahead of time than deal with the negative consequences of overspending.
Happy Holiday Tip: Look at your finances and decide what you can realistically spend this year. Print the Holiday Spending Planner from my Happy Holidays Planner.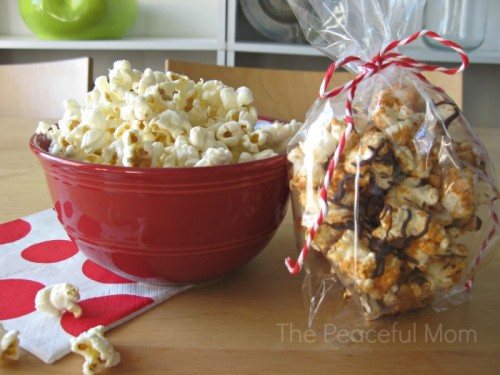 Make a List and Check It Twice
Even Santa knows you have to have a list for all those gifts you want to purchase this year. Creating a list ahead of time will save you time and money because you can avoid the last minute shopping panic or purchasing multiple gifts for the same person. Don't forget to include co-workers, neighbors, teachers and friends on your list if you plan on including them. You don't want any surprises to your budget or schedule.
Happy Holidays Tip: Think about all the people you would like to give to and brainstorm gift ideas. Print The Peaceful Mom Christmas Gift Master List and Christmas Gift Planner from my Happy Holidays Planner.
Simplify Your Decor
One way to significantly de-stress December is to simplify your holiday decor. We decided several years ago that we would skip purchasing a Christmas tree and only decorate a few focal points in our home. If you are not ready to forego the tree try simplifying the decorations to a few ornaments and lights.
Happy Holidays Tip: Decide on a few simple additions to your decor rather than completely decking the halls. Click here for some simple decor ideas or follow my Christmas Decor the Easy Way Pinterest Board.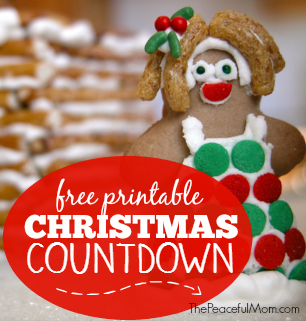 Plan a Fun Christmas Countdown
Part of the fun of December is counting down the days until Christmas. There are many options available from advent calendars to arts and crafts activities. The key is to choose a countdown system that works for your family without causing stress.
Happy Holidays Tip: Purchase or create an Advent calendar or Christmas Countdown. Print the Christmas Countdown Activity List from my Happy Holidays Planner.
Choose Your Holiday Cards
One of our favorite holiday traditions is receiving cards and photos from friends and relatives that we don't see very often. It's fun to catch up and see how much everyone's children have grown over the year. Sending cards and letters to everyone can be expensive though so you may want to try an alternative this year such as sending a digital card or newsletter, or skipping this tradition all together.
We decided two years ago to send a New Year's letter in January which enables me to eliminate one task during December, and gives our friends and family something to read after all of the holiday festivities have slowed down.
Happy Holidays Tip: Decide whether or not you will send cards. Schedule your family photo session, purchase cards and holiday stamps.
With just a little bit of planning, you can experience a truly joy-filled and stress-free December!
We're in this together!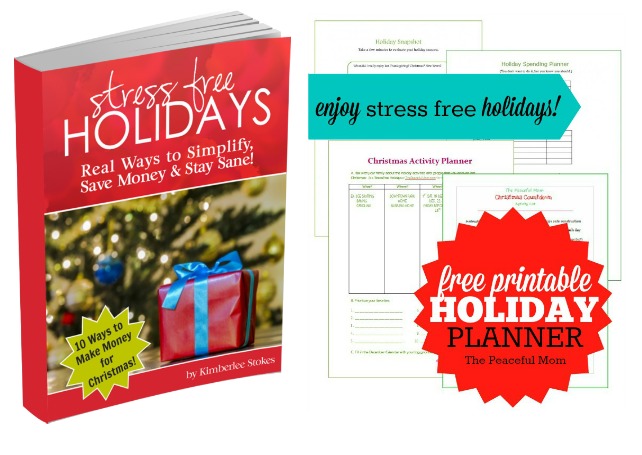 For more ideas for a simpler, happier holiday season grab my Stress Free Holidays ebook:
Simplify Your Expectations and Focus on What's Important to YOU
Create a Holiday Spending Plan that Works
Save Money on Gifts, Décor and Meals
Earn Money for Christmas
Create Easy Recipes to Take to the Next Party
Add the Magic Back Into Christmas
Make Memories with Your Family
Deal with Extended Family Drama Better
Click here to grab the book and FREE Holiday Planner!