The Ultimate Homemaking Bundle is available for just 48 hours until 11:59 p.m. Tuesday.
This bundle is an excellent deal for you if:
(This is an affiliate product so I will make a small percentage from your purchase but I only share products that provide excellent value for you.)
You Want to Save Money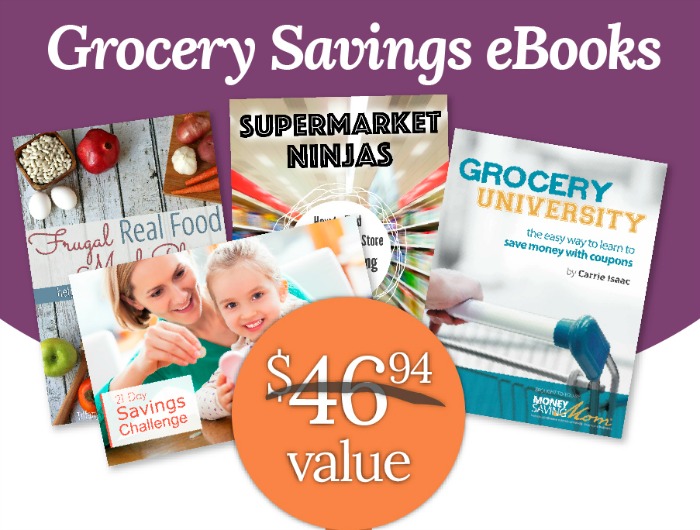 The Ultimate Homemaking Bundle includes these Grocery Savings ebooks and audios worth $46.94 and 3 additional books to help you budget, save money and get your finances under control PLUS 3 Work from Home resources to help you earn more money. Grocery University alone will save you $100's on your grocery bill over the next few months.
 You Need Quick and Easy Meal Solutions

The bundle includes 16 meal plan helps including the popular 25 Gluten Meals under $150 at Aldi plan, Easy Oven-Free Dinners and No Cook Freezer Meals. One of my favorites is the Gluten Free Gifts in a Jar ebook — just in time for Christmas!
You Want to Be More Organized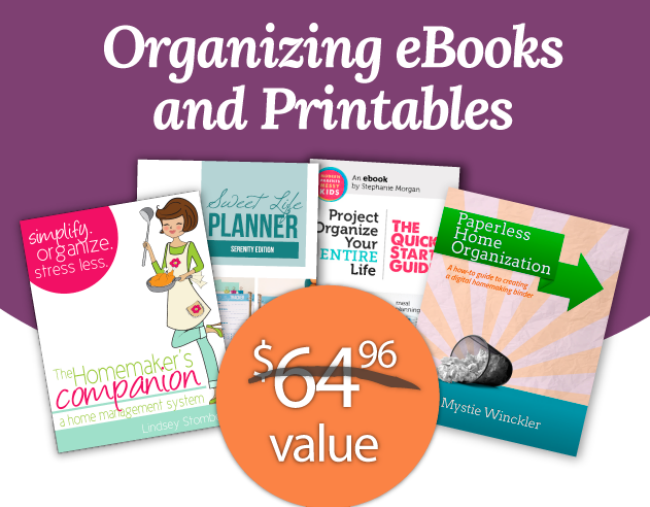 The Ultimate Healthy Living Bundle includes these four organizing resources valued at $64.96 PLUS 4 more organization books and 2 additional printable packs.
You Want to Keep Your Family Healthy This Winter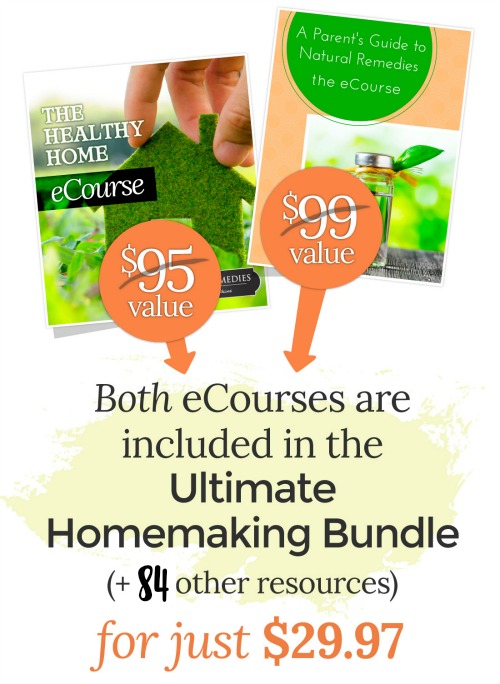 Cold and flu season are just around the corner. Use these 2 excellent resources valued at $194 total to keep your family healthy.
This bundle contains over $900 worth of products for less than $30 with practical help for to save money, earn money, get dinner on the table, stay organized and more.

The Ultimate Homemaking Bundle includes tools to help you in these areas:
Cleaning… create a healthy, toxin-free home
DIY/Homemade… fun and frugal ways to express your personal style
Devotionals and Faith… take a break from the daily grind to renew yourself
Finances… build a budget that works
Cooking & Meal Planning… serve easier, tastier meals in less time
Holidays & Special Events… brighten up old family traditions and create new
Homeschooling… homeschool with grace and ease
Marriage… heat up your marriage
Motherhood… find peace, balance & joy in mothering
Organizing… conquer the clutter and simplify your life
Pregnancy & Babies… enjoy a healthy pregnancy and prepare to nurture your baby
Health & Wellness… soothe aches & pains with natural remedies plus learn self-care techniques to keep you sane
Working from Home… hone your talents, live your passions and earn money to help your family
For only 48 hours you can grab the Ultimate Homemaking Bundle… a complete library of:
63 eBooks
6 eCourses
1 audio download
2 online conferences, and
14 printable packs
…86 carefully selected resources designed to help you nurture the beauty and productivity in your home and family relationships… is only $29.97. (A total value of $913.88 — not including the $275 worth of bonuses! )
That breaks down to 30 cents per book.
Your 30-Day 100% Satisfaction Guarantee
If for any reason, you decide that the Ultimate Homemaking Bundle is not for you, then please send an email to customerservice@ultimate-bundles.com and we will refund 100% of your investment. No questions asked.

Don't Forget the Bonuses…
In addition to the outstanding value of the resources in this bundle you will also receive $275 worth of bonuses (some require shipping and handling charges):
Read the fine print about this bundle and read the answers to frequently asked questions about the bundle.