Would you like to enjoy more peace, joy and purpose in your life?
Let's face it. We could all use a little less stress and chaos in our lives. As a wife, homeschooling mom of four and a business owner I have plenty on my to do list every day but I have found a way to live more peacefully, joyfully and purposefully through a daily prayer walk.
A prayer walk is simply connecting spiritually and talking to God while taking a walk. Typically a prayer walk is done with two or more people who walk together and pray out loud for one or more specific topics or themes but I have adapted the idea to use personally.
Every morning after my "brain dump" (read How to Do a Brain Dump here), I head out the door to walk around my neighborhood or a local park. As soon as I start walking I focus my inner self on God and ask the Holy Spirit what He would have me pray for that day.
I usually pray specific prayers for my family, my business, my friends and my neighborhood. I talk to God about my day and listen for any insight He gives me. While He doesn't speak audibly to me I have clear impressions in my mind and spirit when I open myself up to Him.
By using my exercise time to focus on my spirituality rather than listening to music or a podcast I experience much more peace and my days end up being much more productive.
Try it and let me know what you think.
My plan for this week:
(Read more details about how I plan here.)
PERSONAL –  (daily habits to keep me healthy and happy)
morning "Brain Dump" (read more here)

30 minute prayer walk

drink 6-8 glasses of water

eat protein for breakfast

go to bed by 10 p.m. 
PEOPLE –  (activities that develop relationship with those I love)
date with hubby (dollar movie and ice cream cones)
family picnic in a park
visit with a friend
PASSION –  (creative and soulful habits that bring me joy and help me connect spiritually)
PURPOSE –  (tasks and activities that enable me to fulfill my life purpose)
(wife) tell my husband one quality I like about him every day
(mom) give warm "hello's" and "good-byes" (from The Happiness Project by Gretchen Rubin)
(encourager) write daily, pray with a friend
PROJECTS  –  (tasks to take care of our household and move me toward my dream) 
help my daughter with a school project
paint entertainment center
work on blog project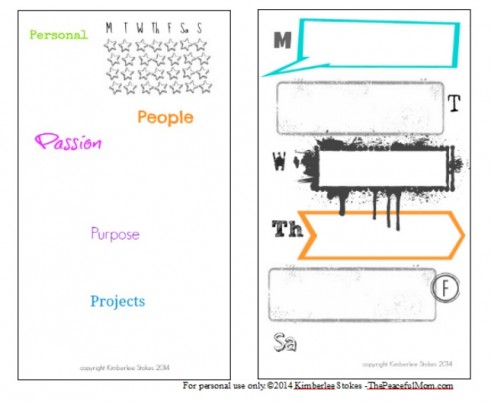 As a gift to my readers Subscribers to The Peaceful Mom Weekly eNotes can download these planning sheets for free!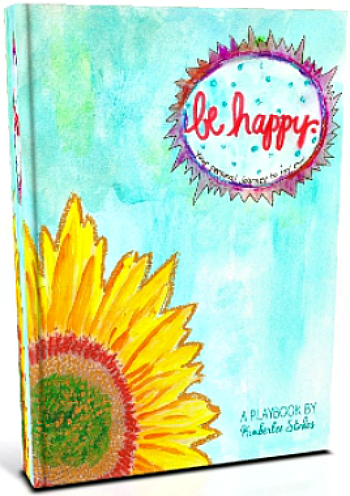 For more ways to live a peaceful, organized and happy life check out my Be Happy ebook. Filled with practical and inspiring tips that I actually use in my own life, it's your guidebook to a joyful life.
Click here to read more & get a
special discount

 offer!

You May Also Like: