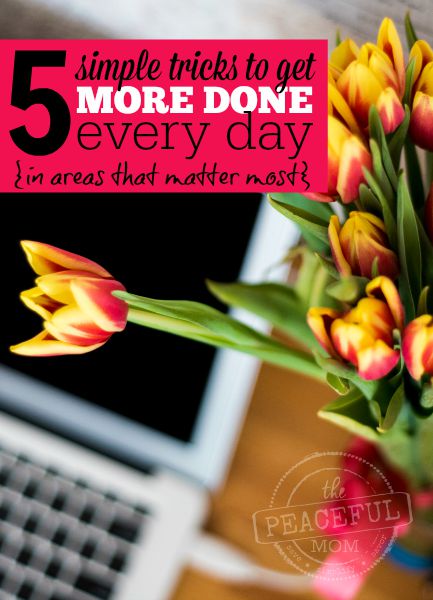 5 Tricks to Get More Done EVERY Day
Do you want to feel more organized, be more peaceful and accomplish more in your day? (Who doesn't?) I have found a few tricks that help me to get more done every day in the areas that matter most and today I'm sharing them so that you can accomplish more as well.
Start With Quiet
Whether you prefer to be an early riser or not, starting your morning with quiet will enable you to have a more organized and peaceful day. Wake up before the littles, leave electronics off and save emails for later.
I like to start my day with a Brain Dump (read more here) as soon as I wake up followed by prayer time and Bible reading so that I can connect spiritually and focus on what is truly most important to me. You may enjoy journaling, drawing, reading or simply sitting with a cup of coffee while you listen to the birds sing. Whatever you prefer, make starting your day quietly a priority and you will have a more peaceful and productive day.
Choose Your Top 3
There will always be plenty to do and when you have children your ability to accomplish tasks is limited at times. To ensure that I am accomplishing what is truly most important I make a specific daily to-do list the night before and I start with my top 3 MUST DO's. Making your list the night before allows your subconscious mind to work on the list while you sleep and you will often wake up with great ideas and insights that will enable you to accomplish your goals in a smarter and possibly more efficient way.
Items on your list may not be what you typically think of as "productive". If you are a mom of small ones your list may be snuggling your baby, reading books to your kids and washing one load of laundry. Make sure that your Top 3 List reflects your actual values rather than what someone else tells you that you should do.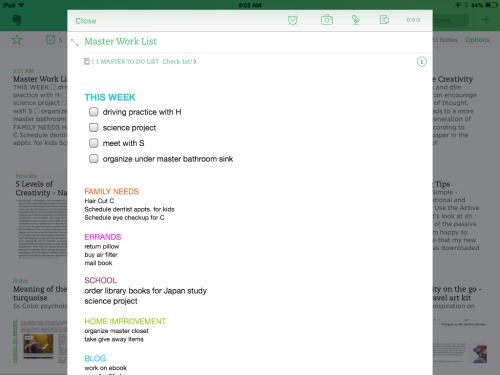 Use a Master List
If you're a mom life is super busy and it's easy to forget projects that are important but which aren't urgent. To prevent letting important tasks slip I keep a Master List in Evernote. I have one for my blog and a separate one for our family and home with categories for each area. As thoughts and ideas come up I immediately add them to the list in the appropriate category. Click here to read more about how to use Evernote to organize your master list.
Use Time Pockets
As moms it seems we rarely enjoy long stretches of uninterrupted time and it is easy to let the little moments slip away but if you make a habit of using the time pockets in your life you will be able to accomplish more. You can focus on one task each day and work on it a little at a time throughout the day or you can keep a list of tasks to do in the in-between times and cross them off as you finish them.
Click here for more ideas on how to use Time Pockets.
Make a Weekly Plan
You know I love my weekly plans. Planning your day is helpful but taking a look at your entire week can help you to accomplish more and to stay focused on your most important priorities. Read more details about how I create my weekly plan here.)
My plan for this week:
PERSONAL –  (daily habits to keep me healthy and happy)
morning "Brain Dump" (read more here)

30 minute prayer walk — a daily walk helps to reduce stress and keeps me focused!

drink 6-8 glasses of water

eat protein for breakfast

go to bed by 10 p.m. (difficult but important!)
PEOPLE –  (activities that develop relationship with those I love)
date with hubby (picnic and walk in the park)
shopping date with daughter #3
family outing to get ice cream
PASSION –  (creative and soulful habits that bring me joy and help me connect spiritually)
art journal
visit to a local park
PURPOSE –  (tasks and activities that enable me to fulfill my life purpose)
(wife) encourage my husband daily
(mom) focus on listening better when my children talk
PROJECTS  –  (tasks to take care of our household and move me toward my dream) 
hang pictures in daughter's room (didn't get done last week)
work on blog project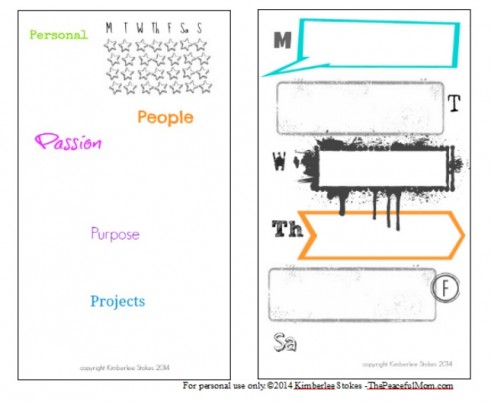 As a gift to my readers Subscribers to The Peaceful Mom Weekly eNotes can download these planning sheets for free!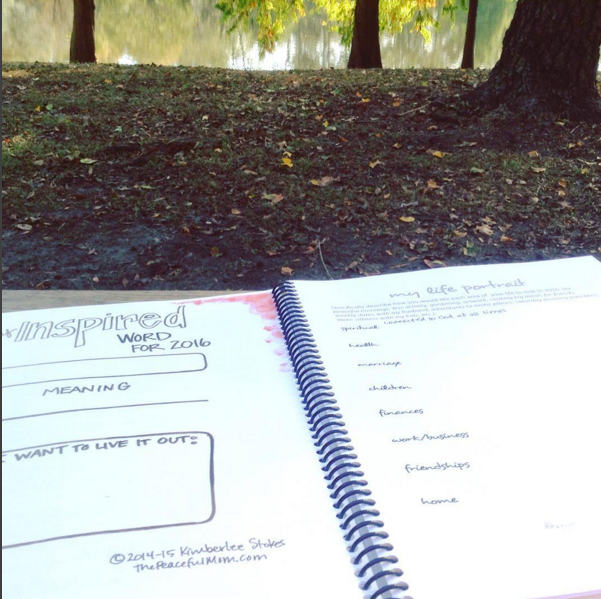 Want to live more purposefully and joyfully this year?
Grab my Joyful Life Planner filled with practical tips and planning tools.
Click here to see what's inside!
You May Also Like: