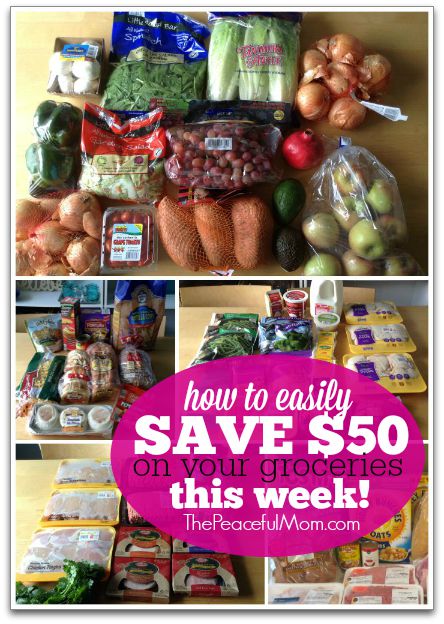 How to Save $50 on Your Groceries This Week
We are continuing our Fast Track Savings Challenge with tips, tricks and inspiration to boost your savings NOW!
This week we are tackling the one area where you can seriously blow the budget — food. I will be posting several tips this week to help you cut your grocery budget so you can save as much money as possible during this challenge!
Today we are going to Take Inventory (scroll down for FREE Kitchen Inventory Printables!)
We all have a few food items tucked away in the back of the pantry and freezer that have been there a while. To immediately save money on your groceries take stock of what you have and use it this week instead of buying more food at the grocery store.
Inventory the Pantry
Let's get started by taking stock of everything you have in your pantry and cabinets. We don't have a lot of extra food in our pantry because I tried to use up as much as possible before our recent move but I still needed to re-organize and make the shelves look a little neater.
Follow these steps to inventory your pantry:
Clear the counters — Make space on your counters and kitchen table.
Remove the Food — Take all of the food out of your pantry and cabinets so you can see what you have.
Organize — Group like items together and be sure to look for any expired food that needs to be thrown out.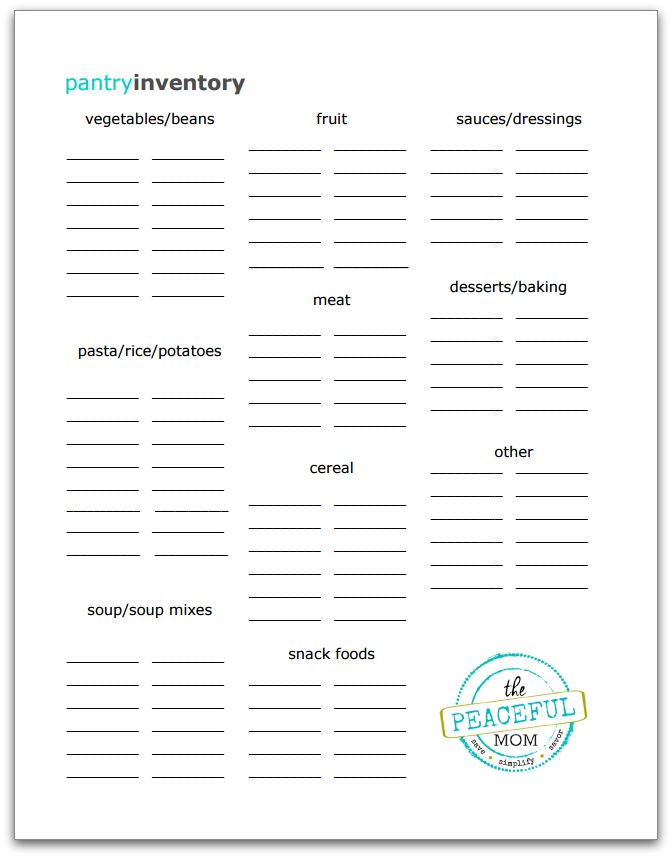 Record the Contents — Print The Peaceful Mom FREE Printable Pantry Inventory Checklist HERE so you can see what you have at a glance.
Clean the Shelves — While you have the shelves cleaned off take a few minutes to wipe everything down so you can put the food back into a clean space.
Replace the Food — Be sure to place open items and older food in the front of your shelves so that you can use those items first. Keep similar foods together so you can easily how many of each item you have.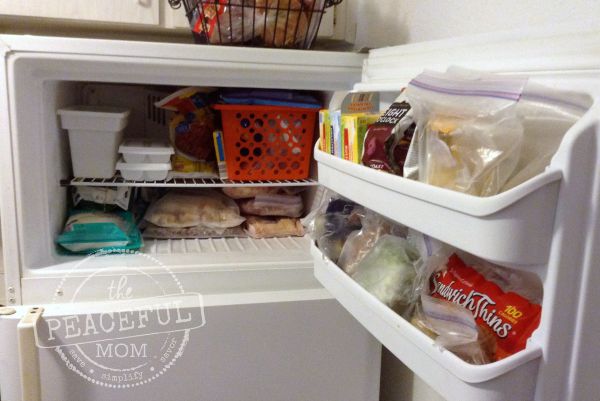 Inventory the Freezer
When you're done with the pantry you can move on to the freezer. You may want to place your freezer items inside a cooler or two and of course you will want to work quickly so that the food doesn't thaw. Even though it's small our freezer was actually quite disorganized and I found some shredded chicken and a roast I had forgotten about. The orange organizer contains frozen veggies and fruit.
Continue with the steps listed above to clean out, organize and inventory what you have in the freezer. Click here to print The Peaceful Mom FREE Printable Freezer Inventory Checklist.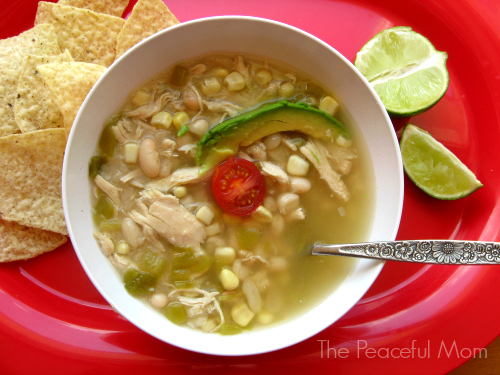 Record Meal Ideas
Once you've completed the pantry and freezer inventories check your refrigerator and make a list of meals you can make from the ingredients you have on hand. Make a short list of any additional items you need to complete the meals and I promise you that your grocery bill will be greatly reduced this week!
Even though I've not yet re-stocked since our move I immediately saw several available meals after my inventory:
Beef and Bean Burritos, rice, steamed corn (pantry: canned refried beans, tomato paste, tortillas, rice, spices; freezer: corn kernels; cooked ground beef)
London Broil, rice, steamed green beans (pantry: rice; freezer: beef roast, green beans)
Southwest Chicken Chili, tortilla chips (pantry: navy beans, chicken broth, tomatoes, chiles, spices; freezer: shredded cooked chicken, corn kernels)
Spaghetti with Meat Sauce, romaine salad (pantry: spaghetti noodles, pasta sauce; freezer: pre-cooked ground beef; fridge: romaine lettuce, Italian dressing)
Soup and Grilled Cheese (pantry: bread, canned soup; fridge: cheese slices, butter)
GF Chocolate Chip Pancakes and Scrambled Eggs (pantry: GF mix, olive oil, chocolate chips; fridge: butter, eggs, milk)
Fettucine Alfredo, steamed broccoli (pantry: fettucini noodles, garlic salt; fridge: butter, cream, grated parmesan; freezer: broccoli)
You may be tempted to skip the detailed inventory process, but even taking a few minutes to dig around in your cupboards and freezer, then using what you have on hand, can yield big grocery savings this week.
Leave a comment and let me know if you plan on taking a kitchen inventory.
You May Also Enjoy: