Fast Track Savings Challenge – Tips to Boost Your Savings Fast!
Okay Ladies, today we start the fun (and work) of saving money.
Today's Savings Mission is to set a savings goal for the month.
1. Choose an amount to save.
The first step in setting your Fast Track Saving Challenge goal is to set a dollar amount that you hope to add to your savings. You will be much more likely to actually save money if you choose a specific amount to save rather than relying on the vague idea that you will "save more money".
Our family is going to save $500 this month to rebuild our emergency fund after all of the expenses of moving into our new house (read more about our new home here).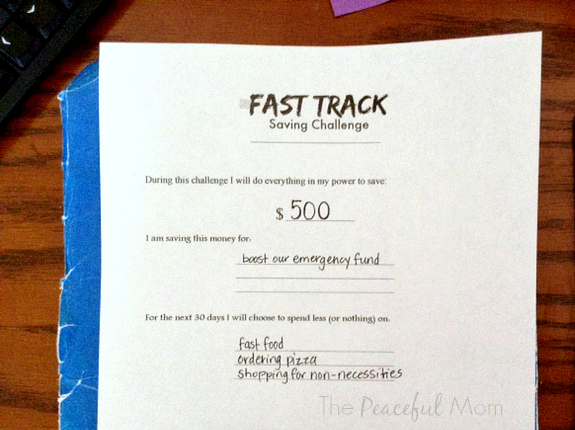 2. Write down your goal.
Studies have shown that people who write down their goals exponentially increase their chances of achieving those goals. Once you (and your husband if you're married) have decided on a dollar amount, write down the amount as well as what you are saving for and place your written goal in a prominent location.
I made a poster to hang on the wall over our desk and a piece of paper to stick on our fridge but you can print the Fast Track Savings Worksheet here or the 1 Month Money Makeover Savings Target Sheet here.
Keeping that savings goal in our sight will help to motivate us and remind us not to spend any extra money.
3. Designate a savings location.
Once you decide your savings goal you will need to decide where you will put the money. Will you add it to your savings account in the bank, place it in a jar in the kitchen or save it in an envelope in your sock drawer?
Having a physical location for the money will give you another psychological boost and a visual cue to motivate you to see some change (pun intended!).
We will be saving money in an envelope at home and then adding the money to our savings account each week.
4. Think about changing your spending. 
To actually add that money to your savings you are going to have to change some of your current habits. I will be sharing ideas this month but right now take the time to think about one or two habits you can change such as ordering pizza on Friday nights or buying lunch out for work.
Having a plan will enable you to save more.
If you're in, leave a comment with your savings goal for this challenge and one spending habit you plan to change for the next few weeks. 
Make Money Online!
Click here for a complete list of The Peaceful Mom's recommended survey sites.