Confession: As organized as I am in other areas, I am a HOARDER of sentimental items.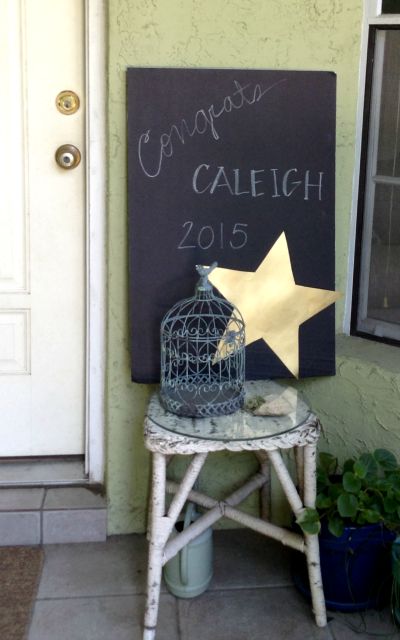 Case in point: This past May I made a sign for my oldest daughter's graduation which I left by our front door until mid-July when I moved it to the garage. And there it stayed until finally this past week I realized that I do not want to take it with us to our new house and I threw it in the trash.
Keeping the sign for three months is bad enough but when I saw the sanitation worker pick it up I almost ran to the street to grab it from him — and it's not even a very good sign!
I. Have. A. Problem.
Soooooo … I have a few storage containers filled with my kids' school work that have been lingering in my garage and now that we're moving I am determined to declutter and sort through the mass/piles/boxes so that we do not carry anything with us that we don't need.
The Current State of Our Living Room
So this week I pulled all of the boxes into the living room and I have been slowly sorting through each piece of memorabilia.
The process of letting go has been challenging but it has enabled me to realize a few truths about parenting.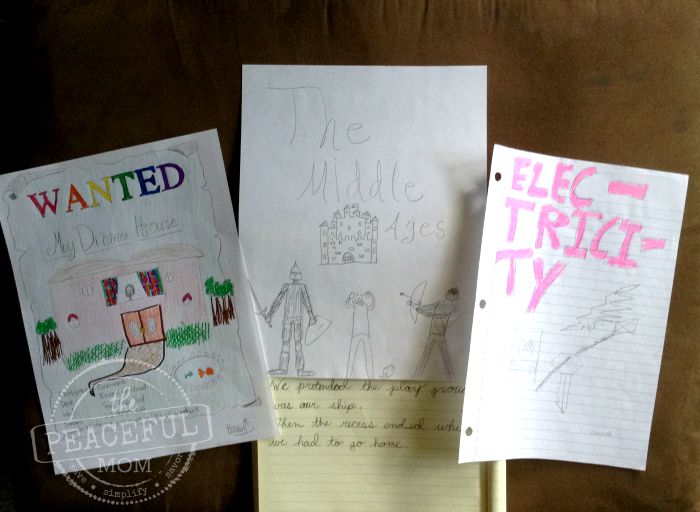 Individuality Is What Matters
In the mounds of paper that I sorted the only items that I care about are the papers that my children created themselves — their own creative writing and drawing, the pieces that reveal a little clue into who they are as individuals. All of the workbooks went into the trash (and yes I let the truck take them away – ha!).
Sometimes what we think is important at the time turns out to be worthless down the road. Of course math and grammar are important but as a young parent I focused on what I thought I "should" do instead of listening to my heart and my children's interests. If I had to do it all over again I would have my children invest in more creative endeavors. Those are the projects that I treasure the most years later.
Endings Are Hard
It's difficult when seasons come to a close. As I sorted through all the papers I found myself crying more than once over the loss of:
the season of toddlerhood when "school" is about hugs and reading and drawings that cannot be deciphered;
the season of young childhood when my children began reading to me and eagerly showed me their new discoveries;
the season of early adolescence when I once again became sleep deprived from all of the late night talks to work through "issues".
Seeing the end of these times with my children is hard. I want to go back to the mornings when we all cuddled up in the bed and read Winnie-the-Pooh, the afternoons we sat on the driveway to draw chalk art, the nights we collected frogs in a bucket and then freed them to go about their way.
Endings are challenging and the only way to deal with them is to welcome the grief for a little while and then say good-bye.
There Are More Treasures Ahead
As much as I grieve the loss of all the seasons that have come before and all of the changes in my children I also rejoice because I can enter a new season with them. New skills, knowledge and maturity mean that we can interact in new ways and my relationship with them can deepen.
Ecclesiastes 7:8 says, "The end of a matter is better than the beginning." The end of a season means some loss and grief but the beginning of the new season brings joy, hope and excitement for what is to come. "Weeping may last for a night but joy comes in the morning."
Having parented for over twenty years now I can truly say that it is the most heart-wrenching and yet glorious part of my life. As my daughter says, children are "life-sucking joy bombs". Parenting takes everything we have but the rewards are so worth every tear, every pain and every challenge.
So be encouraged Mama!
What you are doing every day, however draining and difficult it may be at times, is so worth it. As you let go with the passing of each season, embrace the newness and wonder of the season you are entering and enjoy the journey.
And try not to hoard too many pictures from the refrigerator.
You May Also Enjoy: