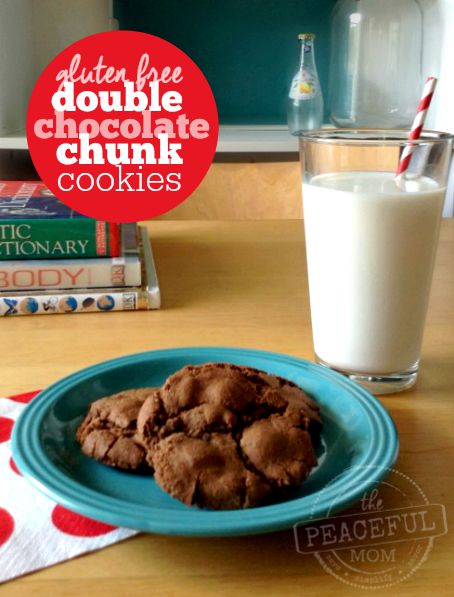 Now that the kids are headed back to school it's fun to make a special snack for them to enjoy in the afternoon. These Gluten Free Double Chocolate Chunk Cookies are super scrumptious and well worth the effort!
These cookies are also perfect for my Chocolate Peppermint Ice Cream Bars.
Gluten Free Double Chocolate Chunk Cookies
INGREDIENTS
2 sticks unsalted butter plus 1 tablespoon
½ cup cocoa powder
2 cups white rice flour*
¼ cup cornstarch
2 tablespoons tapioca flour/starch*
1 teaspoon xanthan gum*
1 teaspoon salt
1 teaspoon baking soda
½ cup brown sugar
1 ¾ cup sugar
1 whole large egg
1 large egg yolk
2 tablespoons milk
1 ½ teaspoons pure vanilla extract
6 ounces good quality milk chocolate, half cut into ¼ inch chunks, half coarsely chopped (or 1 ½ cups chocolate chips)
INSTRUCTIONS
In a small sauce pan melt butter over low heat, then add cocoa and stir until combined.

Pour mixture into a large bowl.

In a medium bowl, sift together flour, cornstarch, tapioca starch, xanthan gum, salt and baking soda.

Add both sugars to bowl with butter then mix with a mixer for one minute.

Add egg, egg yolk, milk and vanilla then mix until combined.

Slowly incorporate flour.

Fold in chocolate chunks or chips

Chill dough for one hour.

Preheat oven to 350 degrees Fahrenheit.

Shape dough into rounded tablespoon and place on parchment lined baking sheet two inches apart.

Bake for five minutes then rotate to other side and bake for an additional five minutes.

Cool cookies for two minutes on the pan and then move them to a wire rack.
Yield: 2 dozen
*We use Bob's Red Mill Products for this recipe. Click here to see where to purchase them.
You May Also Enjoy: