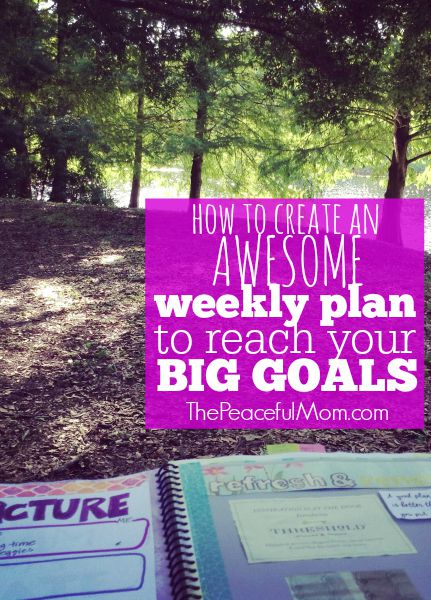 Get Organized: How to Make a Weekly Plan from Your Annual Goals
Some of you who are using the Joyful Life Planner have asked how to fit your annual goals fit into a weekly plan so today I am showing you my process. Of course you should find a system that works for you but hopefully seeing my plan can give you some ideas.
Each December I make a list of goals that I want to reach for the upcoming year in several areas of my life and I break those goals down into action steps. This year's goals looked like this:
My Goals for This Year

My Spirit

Goal: Maintain a close spiritual connection to God.

My Body

Goals: Lose 30 pounds; tone my arms; feel more energetic.

My Marriage

Goal: Enjoy a vibrant relationship with my husband.

My Children

Goal: Maintain a close relationship with each of my children.

My Money

Goals: Continue building $1000 emergency fund; pay off medical bills; save additional $3000 this year.

My Home

Goal: Enjoy a peaceful and comfortable home.

My Business

Goals: Reduce expenses; increase income by 25% by the end of the year.
Click here to see the Action Steps for each annual goal.
Each week I review my Annual Goals and Action Steps along with appointments and tasks I need to accomplish in the next seven days and I create a plan. I prefer to use my 5P's format because it reminds me what is truly most important:
PERSONAL & PASSION categories: Self care items that enable me to reach my Spirit and Body goals, and which enable me to be energized so that I can meet all of my responsibilities.
PEOPLE & PURPOSE categories: Tasks that enable me to develop and maintain relationships with my husband, children and close friends.
PROJECT category: Action steps for financial, home and business goals. I keep this category at the bottom of the page to remind me that self-care and relationships are always more important than my to-do list.
Here's a peek at my plan for this week: 
PERSONAL –  (daily habits to keep me healthy and happy)
morning "Brain Dump" (read more here)

30 minute prayer walk

drink 6-8 glasses of water

eat protein for breakfast

write in my gratitude journal

go to bed by 10 p.m.
PEOPLE –  (activities that develop relationship with those I love)
date with hubby (lunch date at a favorite local cafe)
dinner out with son
PASSION –  (creative and soulful habits that bring me joy and help me connect spiritually)
art journal daily
long walk in a park
PURPOSE –  (tasks and activities that enable me to fulfill my life purpose)
(wife) tell my husband a specific reason I love him every day
(mom) pray daily for my children
(encourager) coffee date with a friend
PROJECTS  –  (tasks to take care of our household and my business) 
major declutter session to prepare for our move
sell books
pack at least two boxes a day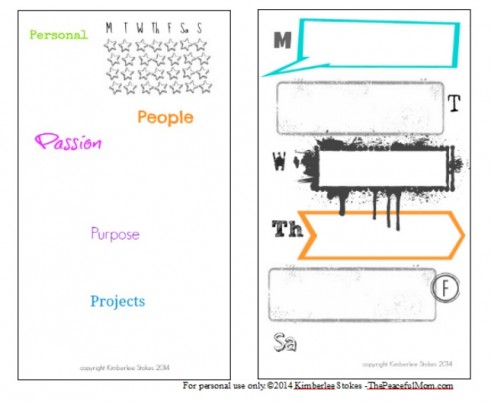 If you would like to use my plan you can download these planning sheets for free when you subscribe to The Peaceful Mom Weekly eNotes with tips & tools to help you save money, get organized and enjoy life.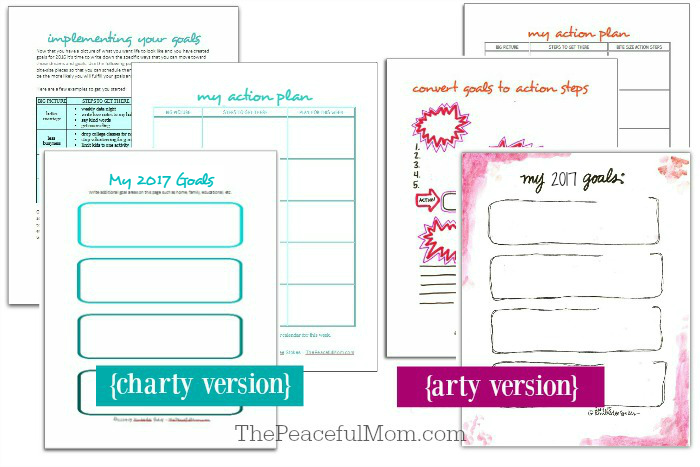 Want more help for implementing goals so you can to live purposefully and joyfully this year?
Grab my Joyful Life Planner filled with practical tips and planning tools.
Click here to see what's inside!
You May Also Like: