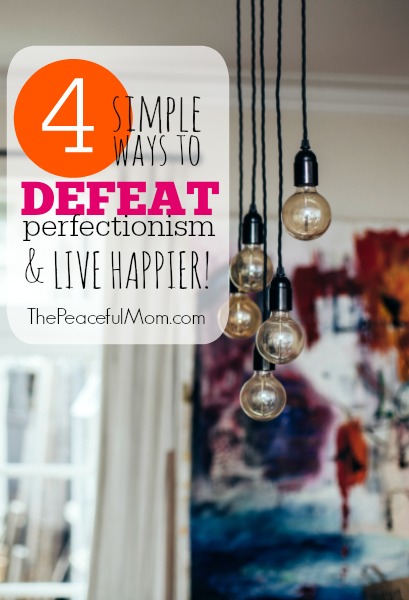 4 Simple Ways to Break Perfectionism and Live Happier
Want to simplify your life and enjoy less stress? I have a tip for you:
Obliterate perfectionism.
I'm a recovering perfection-aholic myself but trying to be perfect and do everything perfectly kept me stressed out, constantly frustrated and distracted from what truly matters in my life.
Over the years I have found some ways to overcome my quest for the "ideal" life and I want to share a few of my ideas so you can leave perfectionism behind as well.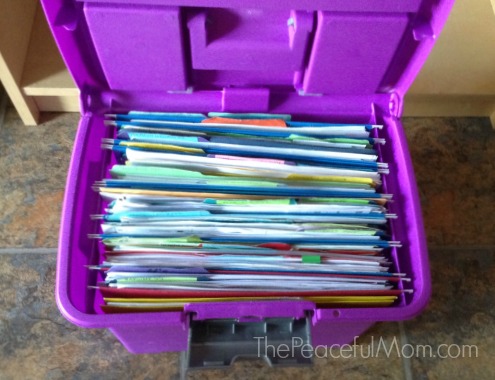 ORGANIZE LESS
Sometimes details matter, like when you balance your checking account, but other times completing a job until it's "perfect" is an unnecessary waste of time and you can skip the details with few or no consequences. Last week when I decluttered my paperwork I could have spent extra time making the file box look pretty by adding nice tabs to the hanging file folders but I chose not to spend the time. I can still find what I need and I used the time that I saved for more important priorities.
Other ways I avoid over-organization:
storing washcloths in a small basket rather than folding them individually;
throwing plastic lids in one plastic container instead of organizing them by size;
using a basic plan and simple routines for my week rather than scheduling every single moment of my day.
Save time and stress by organizing on a large scale but skipping some of the details.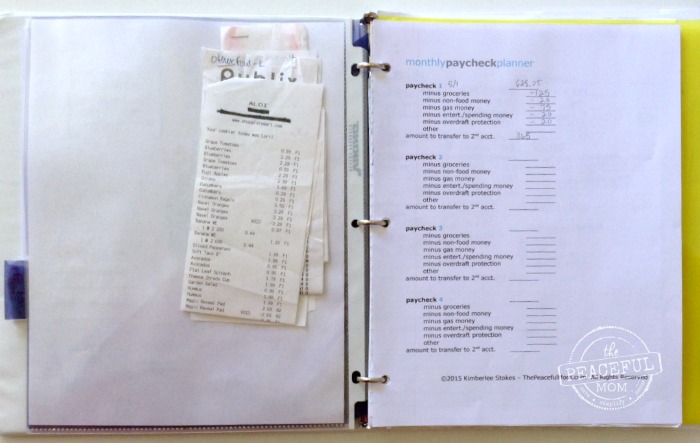 WORK WITH WHAT YOU HAVE
If you've been around The Peaceful Mom for a while then you know that we live on a less-than-average income for our family size. I could let our circumstances be a constant source of frustration (believe me, there are times that I am frustrated!) but I have learned that doing what I can and making small steps toward our financial goals works much better than being perfectionistic and doing nothing until we "make more money."
It's easy to think that spending $3 – $5 won't make a difference in our overall financial picture but by saving a few dollars here and there rather than spending them we are making progress toward our financial goals even if it's slow.
I also use this idea in my time management. Previously I thought that if I didn't have time to complete a project that I shouldn't start it. Now if I have an extra five or ten minutes I will work on a task that I want to accomplish and make progress rather than giving in to procrastination and doing nothing.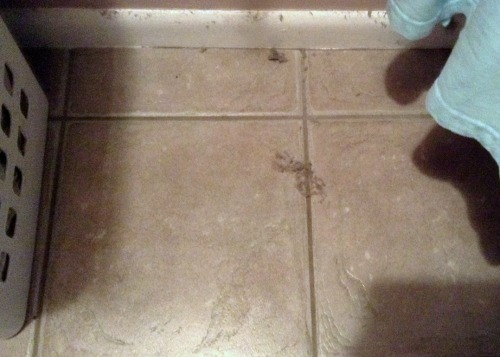 actual dust on my closet floor
FOCUS ON YOUR TRUE PRIORITIES
In a perfect world my house would always be completely clean and tidy. In my world I don't have time to keep my home completely spotless, homeschool, spend relaxed time with my family, cook dinner and run a business. I have to choose my priorities.
I decided that the most important household tasks for our family are clean laundry, clean dishes and clean bathrooms so I focus on those and keeping the main areas of the house decluttered. The dust bunnies under the bed (and in the closet) will get vacuumed up eventually.
I mentioned in my How to Declutter Your Schedule post here that I have a "Stop Doing List". One of the items on that list when I had four children ages five and under was to stop folding and let my preschool children fold our towels and their clothes. My linen closet looked a little bit messier because things were not folded perfectly but my children learned to help and the clean clothes didn't stay in a basket in the living room.
Who cares if I open a drawer and my child's underwear is in a pile rather than folded neatly?
Life is too short to worry about details like this when I could use the time I would spend folding "perfectly" to do something fun with my kids.
GIVE GRACE
The most important (and sometimes difficult!) area where I am leaving perfectionism in the dust is in my relationships with others, especially my immediate family.
My husband and I have many truly happy moments but we also have disagreements and sometimes we even have a heated argument. When I expect my husband to perfectly meet my needs and respond to my emotions, to never disagree or argue and to never be irritated with me then I set myself up for disappointment and bitterness. I try to remember that it's not realistic to think that two people will always agree and always feel "mushy" toward each other. Life happens, people get irritated and sometimes those irritations leak into our marriage.
It's the same with my children. If I expect them to be perfect and never make mistakes I place tremendous pressure on them and I cause our relationship to be about performance rather than love and acceptance. I have room for improvement in this area but I have come a long way in learning to give grace instead of expecting perfection.
Fear of not measuring up or of not doing everything right imprisons you and creates stress you don't need. Make a choice today to destroy perfectionism in your life and live happily ever after!
How do you overcome perfectionism in your own life? Leave a comment. 🙂
You May Also Enjoy: