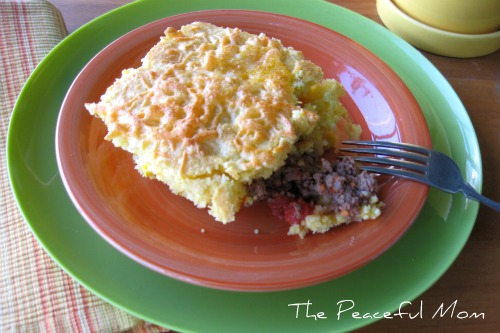 Did I mention that our family loves cornbread? This super easy Mexicali Cornbread Casserole mixes our love of cornbread with spicy south-of-the-border ingredients to create a delicious combination.
Mexicali Cornbread Casserole
A tasty south-of-the border casserole from ThePeacefulMom.com!
Ingredients
1 tablespoon extra virgin olive oil or avocado oil
1 small onion, diced
1 bell pepper, diced
1 pound lean ground beef
1 (16 ounce) can diced tomatoes
1 (15 ounce) can black beans, drained
1 tablespoon taco seasoning
2 cups frozen kernels, divided
1 (8.5 ounce) package corn muffin mix, prepared
2 cups Mexican Style shredded cheese
Instructions
Heat oven to 350 degrees F.
Pour 1 tablespoon of olive oil into a large skillet over medium heat.
Add pepper and onion and cook until almost tender.
Add ground beef into skillet and stir to brown it.
Drain the fat.
Stir in undrained tomatoes, black beans, 1 cup of the corn kernels and the taco seasoning.
Cook and stir 3 minutes or until heated through.
Spoon meat mixture into a 13x9-inch baking dish.
Prepare cornbread batter as directed on package but add 1 cup cheddar cheese and 1 cup frozen corn kernels.
Spread cornbread mixture over meat mixture. Top with 1 cup of shredded cheese.
Bake 30 minutes or until the cornbread is lightly brown and done through.
Let stand 5 mintues before serving.
Notes
Make this gluten free by making your cornbread from scratch using corn meal rather than a cornbread mix.
https://thepeacefulmom.com/2015/07/01/mexicali-cornbread-casserole/
Make an easy side dish by tossing together 1 cup red grape tomatoes, halved; 1/4 cup coarsely chopped cilantro; 1/2 cup corn kernels; and if desired, 1/3 cup green or black olives, halved. You can also spoon this over the casserole.