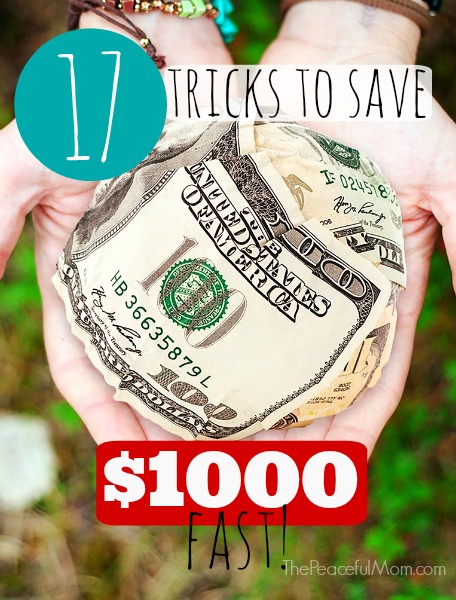 Need to save money? Use these 17 tricks to save $1000 fast! [Check out my post How to Make $400 This Month Using Your Smart Phone HERE.]
Reward Yourself
Develop your own shopping rewards program to add money to your savings quickly. Every time you shop get $5 cash back at the register and stash it in an envelope at home –or move an extra $5 from checking to long-term savings. Think of it as tipping yourself. Adding this extra "tip" may also help you re-think whether or not you want to make that purchase after all.
Un-Shop
You can also reward yourself by not shopping. Whenever you resist the urge to buy something add that amount of cash to a savings envelope in your wallet or transfer that amount from your checking account to your savings account.
Use Gift Cards
A super helpful way to plan your non-essential spending is to buy gift cards for entertainment purchases. For example, if you love books and you want to budget only $20 a month for those purchases, buy a gift card in that amount to your favorite book store and use only the gift card when buying books. You can also buy gift cards for movie theaters and many restaurants and retailers.
Earn Amazon, Starbucks and other gift cards by using Swagbucks. Read more here.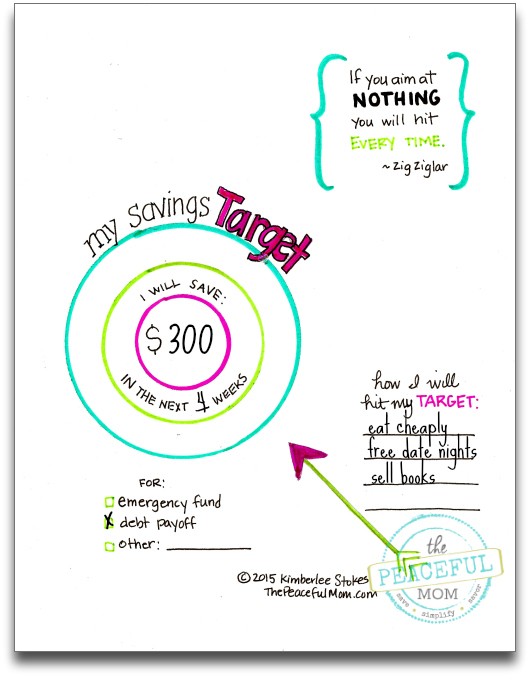 Write It Down
Thinking about saving may seem like enough but you will be far more likely to save $1000 if you take the simple step of writing your goal down on paper. A study conducted by Gail Matthews, PhD, of Dominican University found 61% of those who wrote down their goals accomplished their objectives compared to only 43% of those who only thought about them.
Use these printables to record your goal:
Savings Target printable (pictured above)
Spread Out Your Fun
Saving money usually means cutting back on your spending but removing all the fun from your budget can make you feel deprived. Rather than focusing on completely giving up those things you love plan for them like a special event. Instead of having specialty coffee every day, save it for Fridays and bank the money you would have spent. Love going to the movies? Instead of going every week plan a once-a-month movie night and go during matinee hours to save more money.
Use Your Phone
Use your phone to call your utilities, cable company and cell phone provider to ask for possible discounts. You can also switch to a lower cost phone plan by using less data and saving your web surfing for times when you have free wifi.
You may even be able to get lower interest rates on credit cards or consolidate your student loans to a lower monthly payment then add the money to savings. Check with an accountant to see if you can change your income tax withholding and bring home more money every paycheck.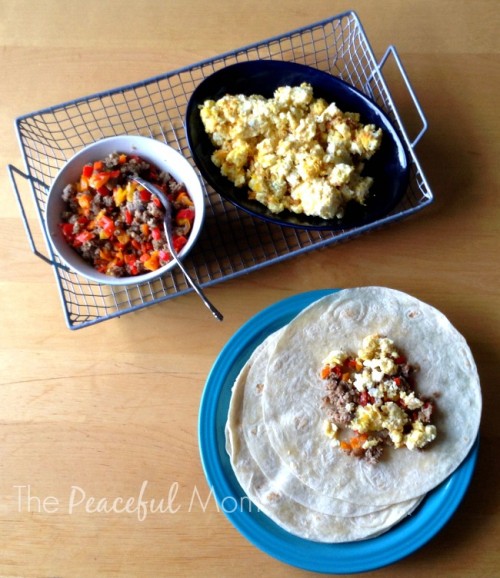 Serve Breakfast for Dinner
Save on your grocery bill this month by serving breakfast foods for dinner. Eggs are a cheap source of protein and they are so versatile. Make these Freezer-Friendly Breakfast Burritos or pancakes with scrambled eggs.
Track Your Progress
Seeing positive movement in your finances can motivate you to save even more. You can track your progress with a spreadsheet, a chart on the fridge or my Debt Blaster Game. Visualizing your improvement sends a powerful message to your brain that your sacrifices are paying off which can make saving that $1000 much easier.
Get Paid For Searching the Web
If you're spending time on the internet anyway you might as well get paid for it. Swagbucks and other companies pay you for searching and completing online surveys.
Click here for my top recommended survey companies.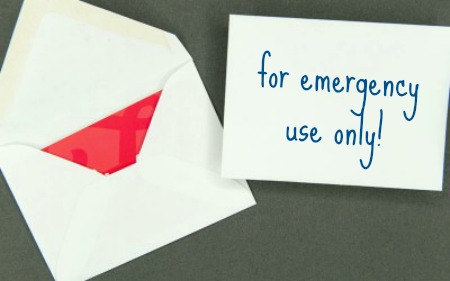 Wrap Your Debit Card
Place your debit or credit cards inside a gift card envelope and paste or draw a picture of your savings goal on the outside. Now when you go to spend money you will remember a reason not to.
Revamp Your Habits
A study conducted Uptal Dholakia, PhD, a professor at Rice University found that people who developed money-saving habits were able to save more money. Dholakia says,"According to our research, any effort to routinize the process could potentially increase the amount of savings."
Helpful habits could be menu planning to avoid takeout, going to a park on the weekends rather than the mall and packing your lunch for work each evening after dinner.
Take It Off The Top
You've heard the saying, "Pay yourself first." Starting with this paycheck take your spending money for the week out in cash and immediately place $10 of it in a separate part of your wallet. When you return home add the $10 to a savings envelope.
Use Automatic Withdrawal
If you're like me and have difficulty not spending money when you see it in your account, set up automatic withdrawal at your bank so that when your paycheck is direct-deposited $50 or more goes directly into a savings account.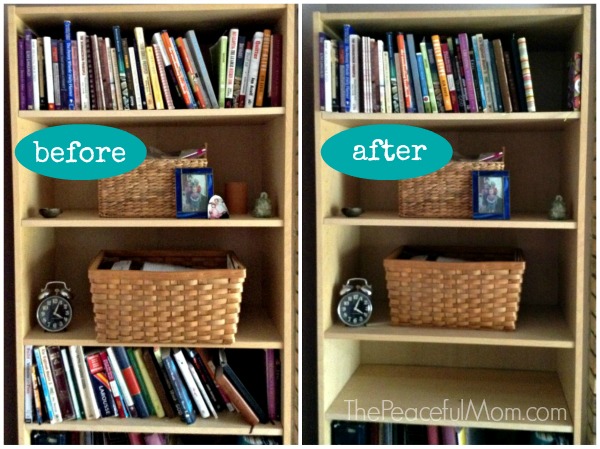 Sell Your Books & DVDs
Selling items you have around the house can bring in some extra cash for your emergency fund or savings account.
Click here for tips on How to Sell Your Stuff.
Institute a Weekend Cooking Party
Avoid spending money to eat out by preparing food ahead on the weekends. Make a big salad, grill some meat and cook a pot of pasta or do a 1 Hour Freezer Cooking session. You can then use these ingredients for easy meals over the next few days rather than ordering pizza when you're too tired to cook.
Keep the Change
If you use cash for your purchases (and I suggest you do) create the habit of saving all of your change including small bills. Add the money to a jar at home and when the jar is full, roll the coins and take them along with the bills to deposit in the bank. You can also "round up" your debit card purchases and transfer the difference to your savings account.
Plan Stay-at-Home Weekends
Rather than blowing money on expensive entertainment options plan to stay at home this month. Have a picnic in your backyard, an afternoon movie marathon, invite friends for dessert or work on some projects around the house. Add the money you saved to your emergency fund.
You can save $1000 fast with just a few simple changes to your normal life. Once you try these tricks you may decide to stick with them to save money in the long-term.
Do you have any tricks that help you to save money? Leave a comment.
You May Also Enjoy: