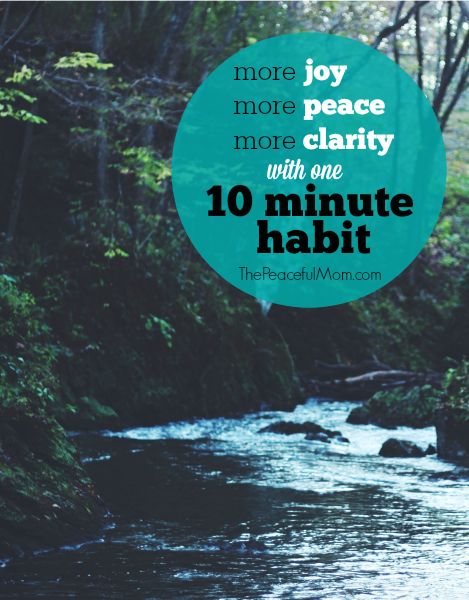 With four teens, homeschooling and working from home my life can quickly become stressful and in no time I am feeling cranky, overwhelmed, tired and stressed out.
I have discovered one super quick way to cut through all the stress and overwhelm: 
The habit of decluttering 10 minutes a day.
I know, you may be disappointed that this is my "secret ingredient" but I find that I am most anxious, unsettled and disorganized when I have piles and stacks of papers, books and household items lying around even if they are "hidden" in closets or my garage.
To combat this problem I developed my 10 Minutes a Day Decluttering Method. At first it was simply a way to break through my procrastination but as I have continued this habit I have discovered:
more peace
less stress
mental clarity
happiness
I want YOU to be happy, joyful and peaceful too so I am encouraging you to join me.
Choose one area of your home and work on it for just 10 minutes a day for 1 week and you will see dramatic improvements in your energy, stress level and ability to think clearly — all with a minimum commitment.
I recently added a step to my decluttering process after reading the Life-Changing Magic of Tidying up (read my Konmari vs. 10 Minutes A Day Decluttering Test here). Now as I declutter I am using Marie Kondo's idea to ask if an item "sparks joy" in me. This makes my decluttering super quick and efficient. I am discarding far more in my ten minute sessions than I ever did before and it feels wonderful!
Last week after I decluttered my clothing and books I moved to my kitchen.
I worked on one cabinet at a time by pulling out everything in that cabinet and placing it on the counter. I then spent only ten minutes touching each item, paying attention to how I felt about it and asking if it brought me joy. I immediately placed any dishes to the side that did not meet my criteria and after the 10 minutes was up I placed the dishes that I wanted to keep back in my cabinet and went about the rest of my day.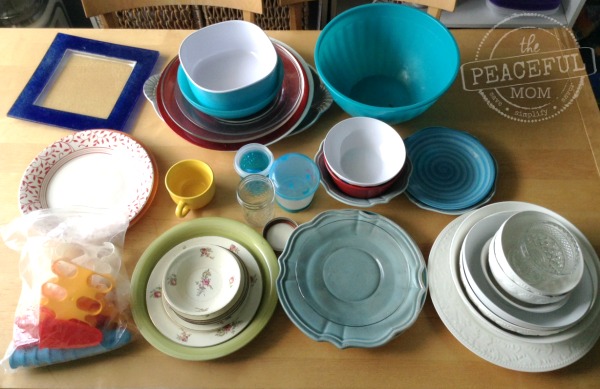 I was able to discard 56 items in only 2 ten minute sessions!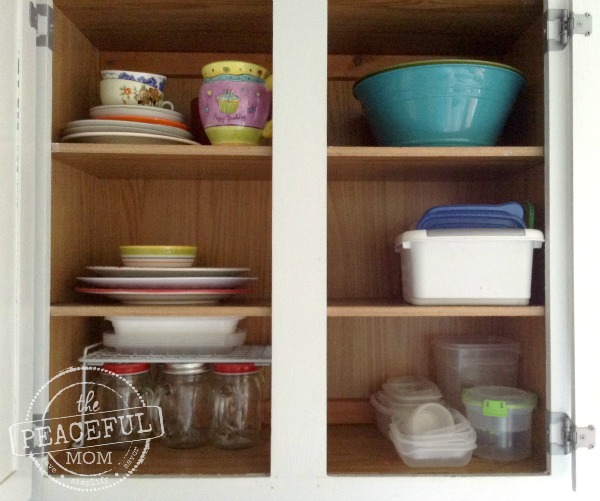 I love how empty my cabinets look now.
Here is a shot of our car full of stuff on the way to the donation center after only 50 minutes of decluttering spread out over 5 days:
We gave away:
3 paper grocery bags filled with clothes and shoes
3 thirteen gallon garbage bags filled with clothing
1 small plastic bag of stuffed animals
1 small plastic bag of miscellaneous items
Getting rid of the stuff crowding our home has brought me so much joy and an amazing feeling of freedom. I cannot begin to tell you the difference this makes in my life!
If you would like to join me this week leave a comment with the area you will be decluttering. Let's cheer each other on!
You May Also Enjoy: