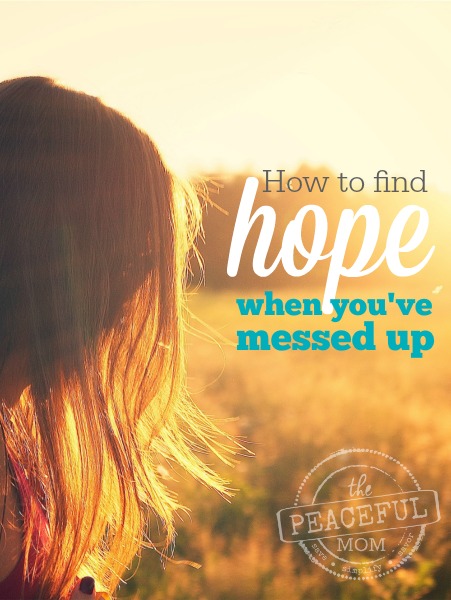 Public Service Announcement: I mess up… a lot!
It's easy to present a glossy, perfect-looking life when you blog but let me tell you that my real life is just like yours — filled with both blessings and challenges, successes and failures. Lately our entire family has experienced a few "fails":
*I shopped this week without a list or specific menu plan while I was tired and hungry. It was the Bermuda Triangle of shopping days and resulted in my blowing the grocery budget by almost $50 when we are trying to save as much money as possible.
*Last week my daughter failed her driver's test at the last minute when she let down her guard and accidentally drove past a "no entry" sign.
*I yelled at my 14 year old when she forgot to do a chore I had asked her to complete — not a recommended parenting technique!
*My husband and I argued over a stupid misunderstanding.
*I became super anxious when our fridge broke down and imagined all kinds of negative circumstances when it ended up simply needing a small part and being no big deal.
None of these are serious and life-threatening issues but we all wish we had done better, and you probably had a couple of those "wish I had done better" moments in your life this week too. If not, you will more than likely have one soon.
So what do you do when you fail miserably? 
Ask Forgiveness
Sometimes our mess-ups affect others around us. My daughter had no need to ask forgiveness about failing her driving test but I definitely needed to ask my 14 year old's forgiveness for being irritated and yelling at her, and my husband's forgiveness for blowing the budget and arguing.
Asking forgiveness doesn't change the fact that you messed up but it goes a long way toward restoring your relationship with the person you offended or hurt.
Forgive Yourself
Okay, so you messed up, Asking someone else's forgiveness is probably a lot easier than forgiving yourself but it is just as important. I personally have a tendency to obsess over my mistakes and feel badly for a long time afterwards. I am slowly learning that I have to let it go (cue Frozen song here) and move on. You can't undo the past – you can only try to do better in the future.
Try Again
Once you make a big mistake it's easy to feel like you should give up but the best plan of action is to just keep moving. My daughter was seriously discouraged about her mistakes in the driving test and talked about not going back but we encouraged her to take the test again soon and this past Monday she aced the test and got her license. Her discouragement over her failure turned to joy when she finally succeeded.
I could choose to give up on trying to meet our grocery budget but instead I'm going to try harder this week. I'm going in with a plan, a list and a full stomach! You know the saying,"If at first you don't succeed try, try again."
Keep Hope Alive
Even if you continue to mess up in an area over and over, don't give up hope! Ask for God's help to do better next time and trust that your circumstances can change. Celebrate your tiny successes and improvements and when you have a bad day, go to sleep at night knowing that you get a do-over when the sun rises the next morning.
We all fail at one time or another but truly there are just not that many mistakes in life that are fatal and we can't let our failures rule our lives. We just need to pick ourselves up and move forward one step (or grocery shopping trip) at a time.
Have you had any mess-ups lately? How did you overcome them? Share in the comments.