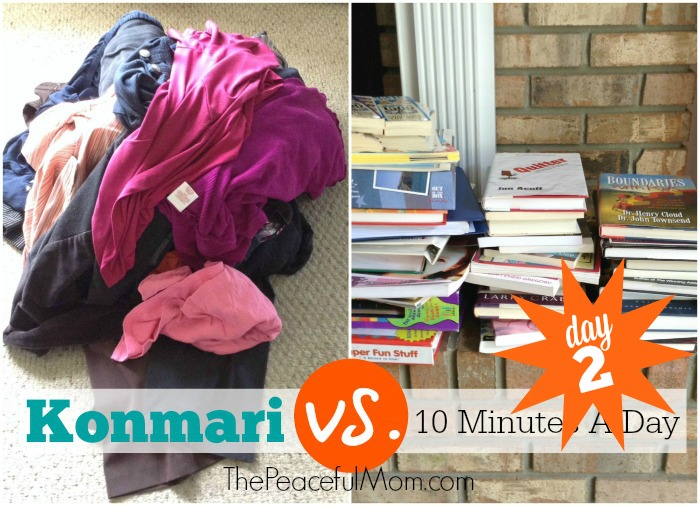 Yesterday I shared the Konmari decluttering method with you and the results of my using that method to declutter my clothing. (Read that post here.) Today I'm sharing the final results of my  Konmari vs. 10 Minutes a Day Decluttering test.
For the next part of my decluttering test I chose to declutter my books — the second category of the Konmari method. For this part of the test I chose to take one bookshelf at a time using my 10 Minutes a Day Decluttering method but asking myself the Konmari question of whether or not the book brought me joy.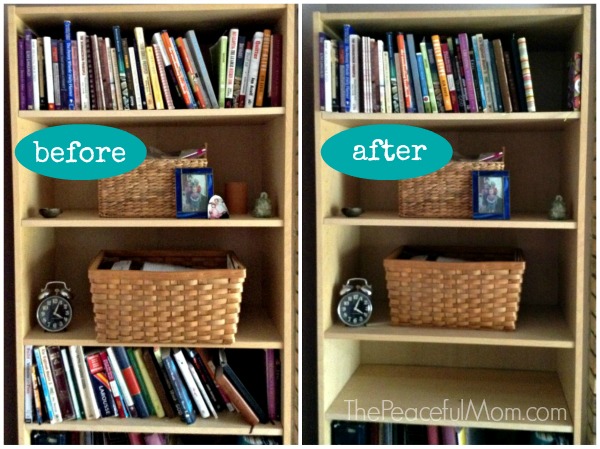 I started with the top shelf and touched each book noticing how I felt about it. In just ten minutes I was able to go through two shelves and discard 22 books. I LOVE having an entire shelf empty now! (I will be moving the books on the top shelf down to the empty shelf but I have to adjust the shelves first.)
I left the photo albums on the bottom shelf until later as Marie Kondo suggests. Sentimental items are the most difficult to part with and she encourages you to really learn what "sparking joy" means with other categories first so that when you work through your sentimental items you are stronger and more able to get rid of items that you might otherwise keep.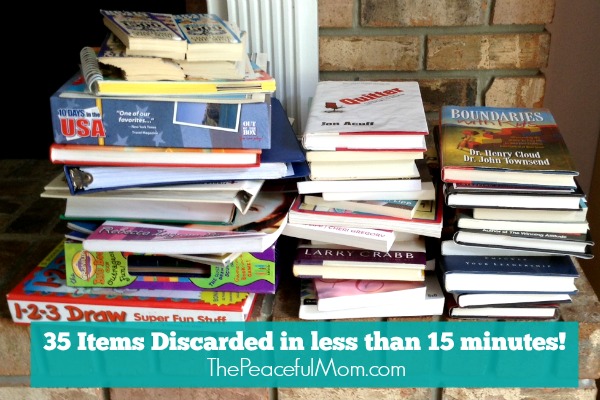 I was so motivated by the speed of my progress that I chose to continue with another 10 minute session later that day on the bookshelf that holds our educational books and games. It took me only five minutes to purge two additional shelves giving me a total of 35 items discarded in less than 15 minutes!
Leaving the books on the shelf saved time because I didn't have to replace the books I wanted to keep and even though I have two shelves left I don't have a mess on my floor draining me every time I walk past it. I can go back to those remaining shelves when I have time and discard the books that I don't want to keep.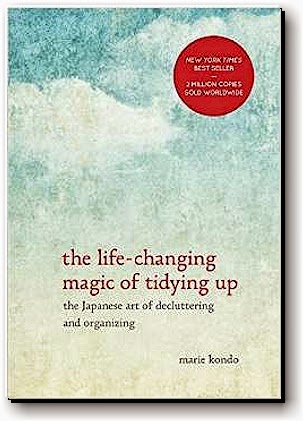 After reading The Life-Changing Magic of Tidying Up: The Japanese Art of Decluttering and Organizing and trying the Konmari method I have to say that it is wonderfully freeing and results in many physical, emotional and spiritual benefits. Making the mind shift to keep only those items that bring you joy is a radical, beautiful, life-giving change to the typical way of dealing with our belongings. Asking the question "Does it spark joy?" is an excellent way to cut through all the other thoughts in your head that prevent you from letting go of stuff and will enable you to keep what you truly love and discard the rest that is weighing you down.
There is definitely a benefit to following the Konmari method completely by pulling out all of your belongings in one category and looking at them as a whole. When items are dispersed throughout your house it is difficult to comprehend how much extra you have, but once you see it all together the visual impact of the clutter enables you realize the weight of having so much stuff. Marie says that not one of her clients after using her method ever returns to a life of clutter. That is a bold promise and one that makes completely using her method worthwhile.
I did find that asking the "Does it spark joy?" question using the 10 Minutes a Day method also had benefits (less mess, enabled me to fit decluttering into my busy schedule instead of waiting) although the resulting relief from decluttering my books this way was less dramatic than when I decluttered all of my clothes in one session. I personally find that decluttering in smaller periods of time is more motivational as it breaks through my tendency to procrastinate on bigger jobs. I will most likely continue with my adapted method.
The bottom line is that decluttering your home is essential to living a joyful and peaceful life.
I strongly believe that you should find a method of decluttering and purging that works for your lifestyle and your personality. I suggest using the Konmari method if you can make the time to devote to it, but if hauling all of your stuff out and piling it on the floor seems too overwhelming you can still benefit from using the "sparks joy" question and decluttering in smaller periods of time. Another idea is to complete several 10 minute sessions in one category and then pull the remaining items out to go through them a final time.
Of course Konmari zealots will say that you are not getting the benefit of her method unless you do it completely, but I say perfectionism kills. Making progress one step at a time is better than never starting the decluttering process at all. Use her question as your determining factor and do one small section of your home a day and you will end up in a happier and cleaner home than you have now.
Which method do you plan to use? Leave a comment.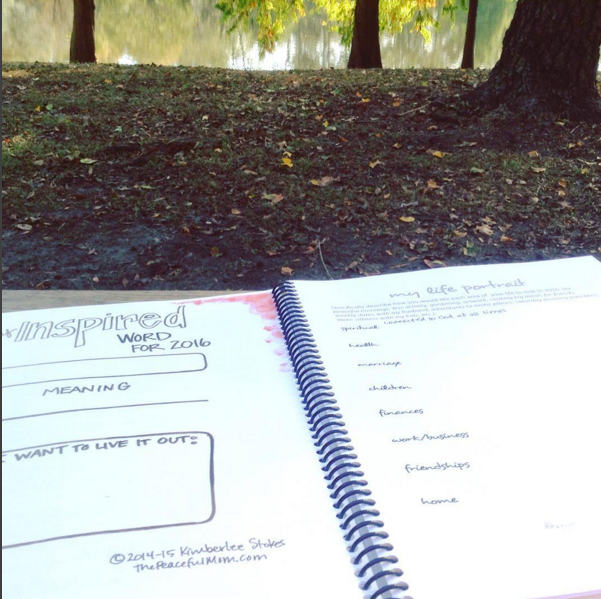 Want to be more purposeful, joyful and organized this year?
My Joyful Life Planner is the tool you need to finally get your life on track and keep it that way!
Click here to see what's inside!
RESOURCES:
Buy the book The Life-Changing Magic of Tidying Up: The Japanese Art of Decluttering and Organizing here.
You can print a free Konmari checklist here.