Konmari decluttering – how it worked for me.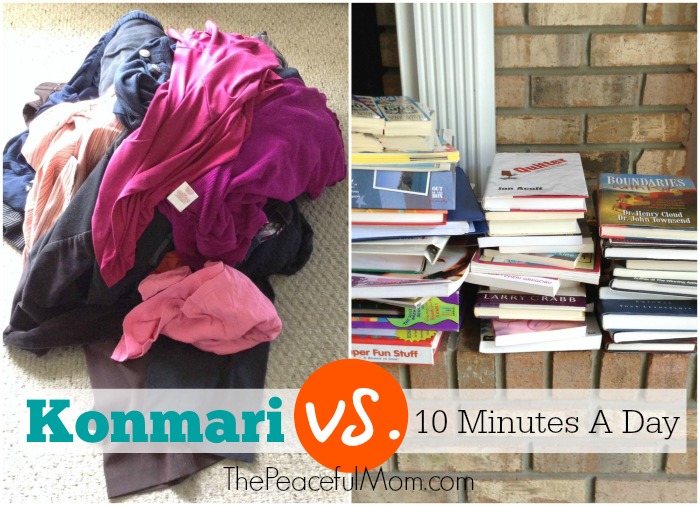 I'm sure that by now you have heard the word "Konmari" and maybe you've already tried it. Today I'm sharing the first results of my Konmari test and letting you know what I think.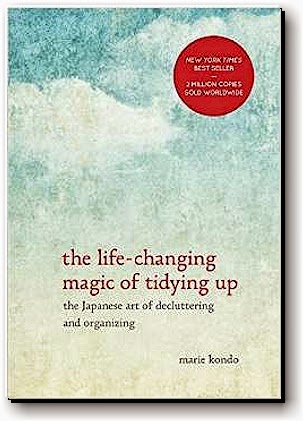 Konmari is a method of decluttering developed by Japanese organizer Marie Kondo and described in the book The Life-Changing Magic of Tidying Up: The Japanese Art of Decluttering and Organizing
 — and it's taking the interwebs by storm. [UPDATE: Watch "Tidying Up" on Netflix.]
Usually when fads take over I try to ignore them as I am not what marketers call an "early adopter". I like to wait things out and see the results others have before I try something, but as I continued to see testimonies of people who have literally had life-changing experiences using Marie Kondo's techniques I finally decided to buy the book.
Marie has studied organizing since she was just five years old, started her own organizing business as a teenager and is so successful that she has a three month waiting list for clients in her native Japan. [UPDATE: She is no longer taking clients herself, but has a team that works for her.]
The basic premise of the Konmari method is to put your house in order once and for all by:
decluttering items by category (rather than location) in a specific order;
piling every item in the selected category on the floor;
quickly deciding if you should keep the item by asking the simple question: "Does it spark joy?"
I was intrigued by this question so I decided to do a test to see which method I liked better: Konmari or my usual 10 Minutes a Day Decluttering (read the details here). 
I set aside time one morning last week to follow the Konmari method with my clothing (the first category you address when using this method). In her book Marie notes that most people are shocked once they see the totality of their belongings in one pile so I was prepared to be completely embarrassed by the amount of clothing I had and I also expected to take over an hour going through them all.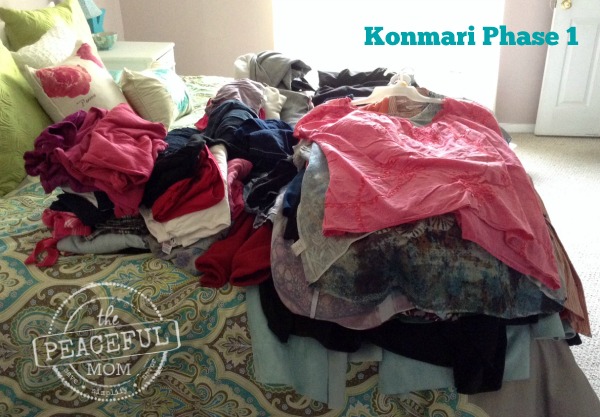 Instead I was actually pleasantly surprised to find that I had fewer clothes than I thought. I admit that I cheated slightly because I placed my clothes on the bed instead of the floor and I left the hanging clothes on their hangers. If I had actually removed them from the hangers and piled them up, it might have looked like I have more clothing.
I started by picking up each of my hanging items one at a time and noticing the feeling I had when I touched them. If I didn't feel instantly happy I placed the item in a pile on the floor to discard. It took me only five minutes to work through my hanging clothes in this way and I was excited to see the clothing that I had left were the items that I really love and wear most of the time anyway.
I then moved to my folded clothing using the same method of touching each piece and noting how I felt about it. In 22 minutes I had worked through each non-hanging item for a total of 27 minutes of sorting — MUCH less time than I had anticipated.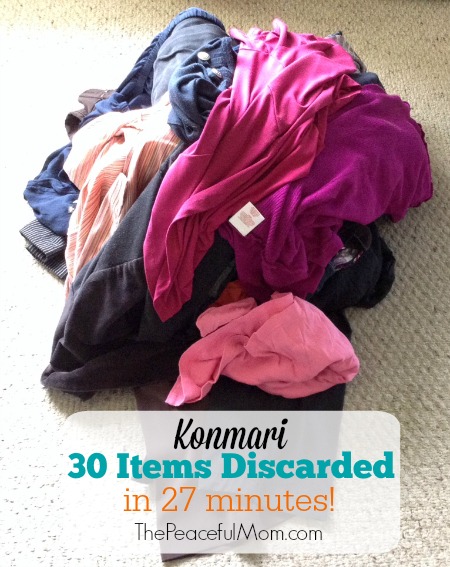 I ended up with 30 items to give away and such an amazing feeling of freedom and happiness that I immediately wanted to continue on to every area of my home. In the interest of science and giving you an unbiased report, however, I chose to wait before Konmari-ing my whole house.
What I Like A Lot About the Konmari Method
In the past I have avoided pulling every item out of an area to declutter because I would quickly reach decision fatigue and then leave the items I had pulled out in a pile on the floor to "deal with later". By piling up only one category of items and asking if an item sparks joy I was able to cut through the usual thoughts I have when decluttering:
What if I need this later?
I paid so much for this that I shouldn't get rid of it.
But my Grandmother gave me this.
I was therefore able to work quickly and avoid decision fatigue.
I realized once I was done with my clothing that I had felt drained walking into my closet before. Now I feel energized because I have a closet full of clothing I love and I feel happy just walking into the space. It makes it easier to get dressed because I know anything I grab will look good on me and I will feel good wearing it.
I love that one entire category of my belongings is completely done and when I finished I felt a huge sense of relief and freedom. I love seeing the empty space in my closet now.
What I Like Less About the Konmari Method
I am not a huge fan of the Zen philosophy [update: Shintoist-influenced philosophy] that Marie Kondo shares throughout the book. She believes that objects are actually alive and encourages you to thank them for their service to you. As a Christian I would simply change that by thanking God the Father for providing the item. I am still being grateful, but not talking to inanimate objects as if they have spirits.
I do believe that we can feel drained or energized around our belongings and feel negative or positive emotions, but I believe that is because of the experiences we have had surrounding the object not because the objects have the power to act on us as separate live beings. I also believe that the Holy Spirit can help us with everyday decisions such as what to keep and what to get rid of and so saying a little prayer before you start the process can help.
Of course, you are free to believe as you choose, but if you are a Christian it's good to check what you read with what the Bible says.
Decluttering by focusing on what truly brings you joy will not only bring you more peace and happiness as you eliminate those items that evoke negative thoughts or memories, it will also enable you to discover who you really are. Marie tells stories in her book about clients who have made significant life changes as they rid themselves of the distraction of stuff and discover what truly brings them joy.
In my next post (see Part 2 here) I will share how the 10 Minutes a Day Decluttering Method compares to Konmari and which I will be using going forward.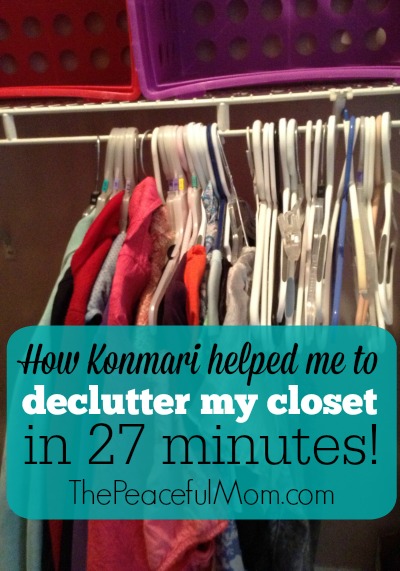 Want to be more organized?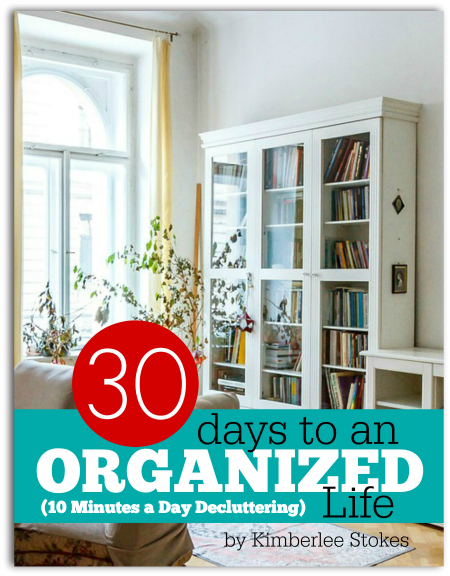 Join our 30 Days to Organized Community
and grab my FREE 10 Minute Decluttering Tool Kit.
Click HERE to join!

30 Days to Organized is filled with practical step-by-step tips and strategies to help you organize your time, money and space!
Click here to see what's inside!
What do you think? Have you read the book and tried the Konmari method? Leave a comment.
You May Also Enjoy: