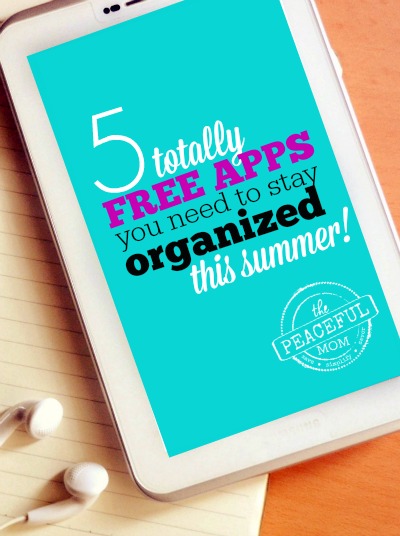 5 FREE Organizing Apps You Need This Summer
Summer can be a bit overwhelming with juggling activities, play dates and all the usual tasks you need to keep up with. Try these 5 FREE organizing apps to help you stay calm and together as the weather gets warmer.
Cozi is an app designed specifically for families. It includes a shareable calendar function in which you can color code each member of the family so you can keep all of your schedules straight. You can also manage your grocery list, to-dos and even share photos and memories with relatives. It includes lists for emergency preparedness, Flylady cleaning zones and recipes that can be imported into the calendar, to-do list or shopping list with a few clicks and then edited to fit your own needs — as well as a family journal function.
It's easy to add appointments so you can keep track of them as well as adding Google Calendars but some users have complained about functionality.
Cost: FREE
GroceryIQ is a customizable website and app that lets you easily enter items on your grocery list and share the list so that anyone can pick up items you need while at the store. Lists can be uniquely named to use at different stores or on different shopping trips. You have access to a database with millions of items with pictures so that whoever is shopping knows exactly what you want (including size, price and even the store aisle).
You can type items in manually or use the super handy barcode scanner function. GroceryIQ will also give you sales and access to coupons for items you are purchasing and allow you to upload your store loyalty card. GroceryIQ is one of the top grocery list apps because of it's features and usability.
Cost: FREE
Speaking of groceries, Remember the Milk is a task-organizing app that takes your grocery list to another level. This app helps you set goals, prioritize, manage your time wisely and organize your to-do lists, schedules and multiple project deadlines.
The user interface is simple to use. Simply type in the name of the tasks and organize them according to name, list (work, home, school, etc), priority, due date and time. You can choose to use all of the categories or only a few. Task lists can be accessed via any mobile device as well as Google Calendar. There is also a keyword search option and "complete" and "incomplete" tabs which make it clear what's left to do. This is a terrific app for teens to learn to be more organized and productive.
Cost: FREE ($25 a year to upgrade to a PRO account with more features)
For those of you with summer travel plans Tripit is super helpful. You can cut and paste all of your travel information (i.e. airline confirmations, train ticket purchases, and hotel reservations) into a single document or forward all of your confirmation emails to plans@tripit.com and let the site build a folder for you. Information can then be shared digitally rather than carrying a bunch of papers with you.
Your trip folder with links for tracking your flight status, checking seating charts and a simple map of the local area can be viewed even when you don't have a network connection. You can also set up TripIt to automatically grab travel-related emails if you use Gmail.
Cost: FREE ($49 annual fee to upgrade for added features like flight delay alerts and alternative flight options) s.
If you've been hanging around here for a while then you know that I love Evernote. It's the ultimate file cabinet for everything in your life with a super easy search function so you can find it all again. You can take screen shots of kids' activities you want to try, scan documents, save recipes or project ideas and so much more!
Cost: FREE (upgrade to Premium for an annual charge)
An additional app that is very helpful but not free is:
One of the ways that I stay organized during my day is by using routines. It has taken me a while to make my morning and evening routines automatic but if you want a shortcut you will love the Home Routines app.
The app is intended for use with household chores but you can include personal care items as well. You create lists of items that need to be done around the same time each day or on the same day each week and then you will receive a reminder. When you mark a task as complete you will receive a gold star (great for those of us who feel good when we accomplish something!).
The app chooses one focus zone each week then you can customize morning and evening tasks and choose your focus rooms for each week.
Cost: $4.99
What apps do you use to stay organized? Leave a comment. 🙂
*Affiliate links are included in this post. Read our disclosure policy here for more information.
 Earn money online!
Click here for a complete list of The Peaceful Mom's recommended survey sites.