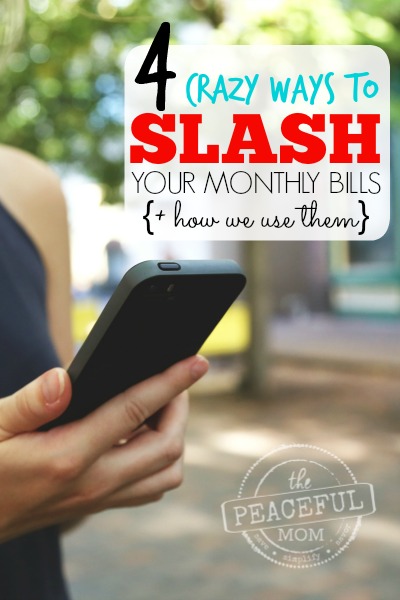 4 Crazy Ways to Save Money Every Month    
We could all use a little fine-tuning to our spending habits but sometimes you really need to go crazy to cut the budget. Whether you experience a medical emergency, an unexpected job layoff or another financial crisis I four crazy solutions that you can use in the short-term, or longer if you decide you enjoy the savings.
These ideas will challenge your comfort level but they are worth the sacrifice if your financial circumstances require drastic action. If you are not in crisis but would like to slash your monthly bills you can try our family's solution for each area.
Drop the Internet
You may believe that having access to the internet in your home is a "need" rather than a "want" but when you are in dire financial circumstances you may want to consider dropping this service. Yes, it is inconvenient but most libraries offer free WiFi as well as many coffee shops.
Budget Slashing Solution: Cancel your internet service. 
Our Solution: A few years ago we lived in a temporary rental without internet access. Three mornings a week I drove to a local McDonald's that offered free wifi, made a purchase off their dollar menu and worked for an hour on my blog. 
Currently we are paying $95 a month for the convenience of internet service so that I can work from home and be available to home school our children. After re-assessing our budget this past week we will researching alternate plans this week and hopefully switching to a cheaper service.
Lose Your Cell Phone
In today's technology-driven society it's blasphemous to suggest that a person can survive without a cell phone but it is possible. Hollywood movie producer Travis Cody actually went without a cell phone for 30 days and with a few adjustments he was able to work, conduct personal business and go about his every day life without it. He wrote about his experience in his book Cure Overwhelm Now: Slash the Stress, Get More Done … and Have More Fun  (click here and scroll to the bottom of the page to read more).
Losing your phone all together may be too drastic a step for you but you can easily sell your smart-phone and move to a pay-as-you-go plan with a flip phone. Your friends may make fun of your phone but you will be able to put that money toward your mortgage or groceries.
Budget Slashing Solution: Drop your cell phone plan all together, or if that seems too drastic, sell your smart-phone and move to a pay-as-you-go plan with a flip phone.
Our Solution: We currently have a family share plan that reduces our costs by $30 a month and my 14 year old and I have flip phones with no data.
Turn Off Your A/C
Utilities like electricity and running water are a modern convenience that we take for granted. I am not suggesting that you should cancel all of your utilities but if you are in an emergency situation you can save quite a bit of money each month by using them sparingly and enduring a little bit of discomfort.
Budget Slashing Solution: Cut your electric bill drastically by turning off your air-conditioning or turning the thermostat up to 79-80 degrees in the summer (down to 67-68 degrees in the winter) and using fans to cool off. Hang your clothes to dry and unplug all appliances when not in use. To keep your house cooler cook with a toaster oven or crock pot rather than using the oven.
To save on your water bill you can take showers every other day; reuse bath towels for several days; wash clothing only when necessary (don't wash a shirt that doesn't smell dirty). And if you are very desperate I have heard of saving money by only flushing solids, if you know what I mean.
Our Solution: In the summer we turn the thermostat up to 78 or 79 during the day and use ceiling fans to cool us off. (Remember fans make you feel cooler but do nothing to actually lower the temperature of a room.)
In the winter we use the heat sparingly and compensate by wearing more clothing and using heavy blankets when we sleep. We hang up and air dry all of our laundry to dry except for towels and sheets.
Sell Your Car
After housing, transportation can take the biggest chunk out of your monthly budget. If you currently own two cars consider selling one and carpooling, riding a bike or taking the bus to work. If you have a car payment consider selling your car and purchasing a cheaper one with cash. You will not only save your car payment but you will save on insurance costs as well.
Budget Slashing Solution: Sell your car and use alternate transportation.
Our Solution: We choose to own one car and I work my errands around my husband's schedule. If there are days that I need the car when he is working I drive him to work or to a bus stop in the morning. Is it inconvenient to have one car? Yes! But the savings are worth it for our family.
Whether you are experiencing an emergency or simply want to be intense about paying off debt these budget cuts can help you to drastically slash your monthly bills until you can afford to spend more.
What crazy money saving ideas have you used? Share in the comments.
photo credit: Stoonn, FreeDigitalPhotos.net