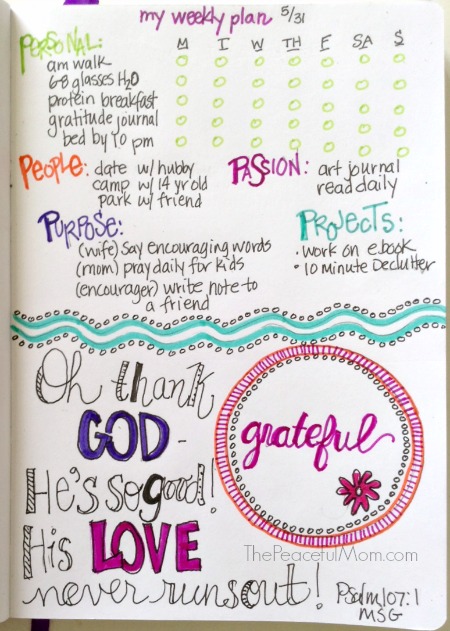 Get Organized! Manage your time, simplify your life and live your true priorities with a weekly plan.
Take a look at my plan and create your own with my FREE customizable planner! Read more details about how I plan here.
This week I will be busy taking my 14 year old to a horseback riding day camp which she is super excited about. I am limiting my projects since I will be out of the house so much.
My plan for this week:
PERSONAL – protein for breakfast; walk at least 5 days; go to bed by 10 p.m.; drink 6-8 glasses of water daily; daily "Brain Dump" (read more here);  gratitude journal
PEOPLE –  date with hubby (in-home movie night); take my 14 year old to day camp all week; go to a local park with a friend
PASSION –  art journal every day; catch up on reading some of the free Kindle books I have downloaded (updated on Fridays on the blog)
PURPOSE –   (wife) say encouraging words to my husband; (mom) pray daily for my kids; (encourager); write a note to a friend
PROJECTS  – work on my current eBook project; 10 Minutes a Day Decluttering
Once I create my plan in my art journal I schedule everything in my personal planner to make sure that it all gets done.
What do you have planned this week? Leave a comment or a link to your planning post. 🙂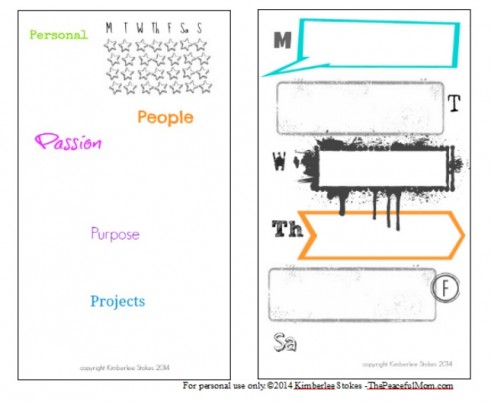 As a gift to my readers Subscribers to The Peaceful Mom Weekly eNotes can download these planning sheets for free!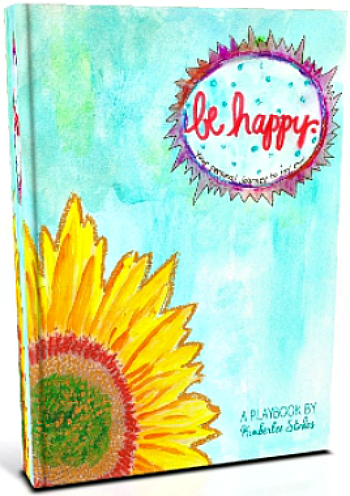 Want to live more intentionally and experience more joy?
Grab my "be happy" ebook.
You May Also Like: