As we have continued the 1 Month Money Makeover I have shared about setting savings goals, organizing your finances, specific ways to save money and a fun way to pay off debt faster. Today I want to talk about an often over-looked aspect of finances but first let me tell you a story. 
Last December our family made a trip a few hours away to attend a wedding and visit with extended family. While we were there I went shopping with my mom and my daughters and I found a delicate blue silk scarf that looked beautiful with my winter coat. I purchased it and started wearing it immediately.
At the end of our visit my husband and I found out that there was a homeless family staying overnight in the same hotel. One of the hotel employees had discovered that the dad, mom and two teenage children had been living in the woods and the employee had paid for a night in the hotel but she didn't have enough money for a second night for the family.
I immediately knew that we had to do something. We gathered the food we had with us for the trip home along with some toiletries and clothing and took them down to the family in the lobby. We talked with them, prayed with them and just before we left them I placed the blue scarf around the mom's shoulders to symbolize God restoring life and beauty to her. After we left them we secretly paid for another night's stay for them.
I was so happy to give the scarf but a little bit sad that I had only been able to wear it for a few days. Of course I realized that blessing this family meant far more than the material goods ever could but I let myself feel a little bit sad about giving it up.
Fast forward to this past Sunday, five months later. A friend at church walked up to me after the service wearing a scarf that looks just like the one that I gave away. She placed it around my neck and said that God told her to give it to me. She had no idea about the back story before she gave me the scarf but once I told her we both thoroughly enjoyed sharing a God moment together.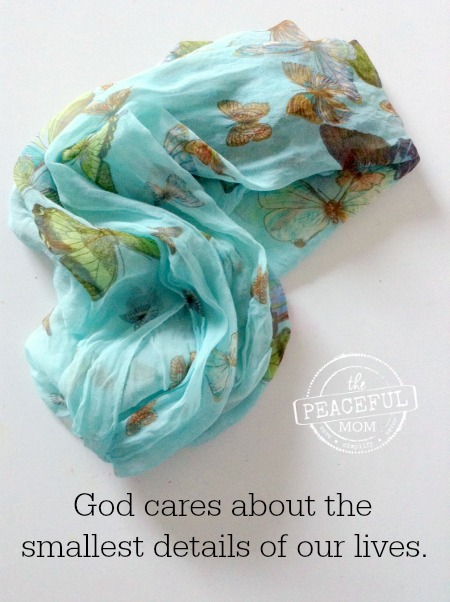 God cares about the smallest details of your life and when you choose to trust Him He will take care of you — your needs and even your "wants". He knew that I really liked the scarf that I gave away and He gave it back to me.
I have heard people say, "You can't out-give God." I can tell you from personal experience that this is true. Our family doesn't always receive back the exact item or amount of money that we give away but we ALWAYS receive blessings that we cannot account for except that God is providing for us. (You can read more of those God Provision stories here.)
The key to turning your finances around is inviting God
into your financial life through prayer and giving.
It may seem logical to hold on to your money rather than giving it when you are in a tight place but by giving money you open yourself to receive all that God has for you.
"If you decide for God, living a life of God-worship, it follows that you don't fuss about what's on the table at mealtimes or whether the clothes in your closet are in fashion. There is far more to your life than the food you put in your stomach, more to your outer appearance than the clothes you hang on your body. Look at the birds, free and unfettered, not tied down to a job description, careless in the care of God. And you count far more to him than birds.

…Instead of looking at the fashions, walk out into the fields and look at the wildflowers. They never primp or shop, but have you ever seen color and design quite like it? The ten best-dressed men and women in the country look shabby alongside them.

If God gives such attention to the appearance of wildflowers—most of which are never even seen—don't you think he'll attend to you, take pride in you, do his best for you? What I'm trying to do here is to get you to relax, to not be so preoccupied with getting, so you can respond to God's giving. People who don't know God and the way he works fuss over these things, but you know both God and how he works. Steep your life in God-reality, God-initiative, God-provisions. Don't worry about missing out. You'll find all your everyday human concerns will be met."

— Matthew 6: 26-33 The Message (emphasis mine)
Today's Money Mission: I encourage you to invite God into your finances through prayer and through generosity to others. There are some aspects of life that cannot be explained by the natural world. Your budget may not work out on paper but if you are trusting God and doing your best to follow Him I PROMISE that He will come through for you.
Sign up for my Weekly eNotes for tips & tools to help you:
save money
get organized
enjoy life
Click here for a list of  all the 1 Month Money Makeover posts.
You May Also Enjoy: