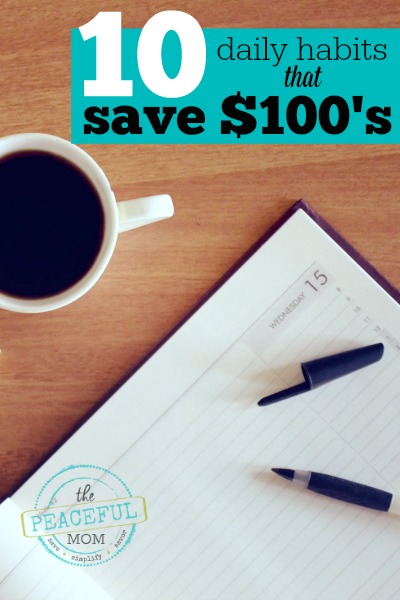 In my last post I gave you 41 Changes You Can Make to Save $1000 a Month. Today I want to encourage you to change your focus and think small.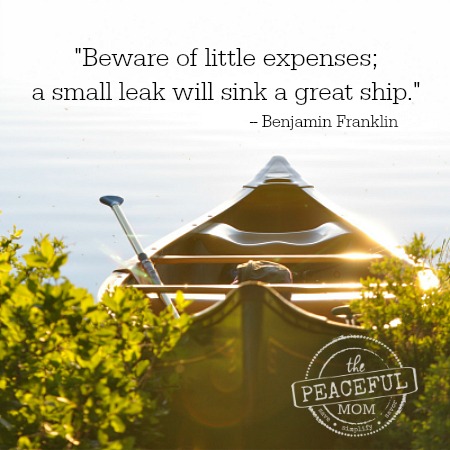 Many times when we think about transforming our finances we focus on big changes we can make like refinancing our mortgage or selling our car. The key to truly changing your financial situation, however, is making small changes in your everyday habits. Try these 10 Tiny Habits that Will Save You $100's.
Do a Morning Money Review
If you want to change your spending patterns and save more money start your day with a Morning Money Review. Take a few minutes each morning to remind yourself of your financial goals (print a Big Money Vision Page here), check your account balances and plan your spending for the day. Starting the day with this focus will enable you to stay firm when tempting spending situations arise later on.
Start Dinner Before Lunch
I mentioned in my last post that creating a weekly menu plan and grocery list can save you hundreds of dollars a month but once you have the plan you need use it. Create the habit of checking your meal plan each morning so you can get a head start on dinner. Starting early means you won't end up realizing at 5:00 that the chicken isn't thawed which causes you to call for pizza delivery. See my tips for Morning Meal Prep here.
Eat Cheap
Speaking of meals, a great way to cut your grocery budget is to focus on making at least one meal a day budget-friendly. Take your lunch, eat oatmeal for breakfast or prepare an inexpensive dinner. You can also institute a once-a-week cheap night. Serve smoothies and popcorn while you watch a movie on Friday night or start a weekly "Funny Face" pancake night when the kids get to decorate their pancakes with fruit. Your "cheap" night might become a family favorite.
Bring a Water Bottle
One simple change that can save you big is taking a water bottle with you every time you leave the house. Drinking water is not only healthy for you but it will save you hundreds of dollars over time because you aren't going through the drive-through or to a convenience store because someone is thirsty.
You can also fill water bottles half full of water, freeze them overnight and add water before you leave. This will keep the water cold while you're out.
Pack Snacks
In addition to taking a water bottle pack a few snacks such as trail mix or nuts whenever you are going out. If someone gets the munchies you have food in the car and you don't have to spend money on fast food.
Use Cash
I know how convenient it is to use your debit or credit card when shopping but using cash will give you a visual reminder of how much you have to spend and can help you stick to your plan. If you are a Big Spender/Shopaholic/Impulse-Buying/I-Love-That-Shopper's-High kind of gal like I am you may have to leave the plastic at home and only carry the cash you have budgeted. If you are afraid of missing out on that awesome, unexpected deal you find you can choose something else in your cart to place back on the shelf.
Record Your Expenses
Forming the habit of writing down everything you spend will not only be eye-opening, it will also help you to curb impulse spending. Knowing you have to write down the $12 you spent on that cute summer tank top may not make it quite as cute. It is also embarrassing to see that you spent $75 this month on drive -through purchases.
Skip Shopping
Every time you enter a store you are subjected to sales and marketing tactics designed to make you spend your hard earned cash. Avoid the temptation of impulse spending by moving your shopping for non-food items to once a month.
To make this work keep a running list of necessities on the front of the fridge and remind family members to add products to the list when they are half-full.
Go to Bed Earlier
Going to bed late may seem like a good idea when you want some alone time while the kids are asleep but cutting your hours of sleep means you wake up with a foggy brain and drag through the day without energy. This sleep-deprived state lowers your will power and can cause you to make poor decisions that cost you money — such as stopping by the coffee shop to grab a "pick-me-up" drink or making other impulse purchases. These small amounts of money don't seem significant in the moment but they cost you hundreds of dollars over time.
Avoid Shopping at Night
Speaking of staying up late, if you are a night-owl make sure that you avoid shopping websites late in the evening. If you really must purchase something save the link and look at it again after you have had a good night's sleep.
Today's Money Mission: Choose one new habit to implement today.
What tips do you have for creating positive money habits? Leave a comment.
Sign up for my Weekly eNotes for tips & tools to help you:
save money
get organized
enjoy life
Click here for a list of  Money Makeover posts.
You May Also Enjoy: