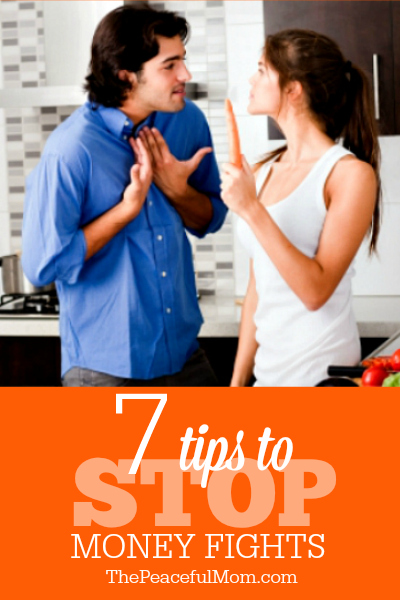 I mentioned yesterday that I would be sharing ways to hit your Savings Target but I'm interrupting our regularly scheduled programming to address another topic: How to Stop Arguing About Money.
As we are moving along in our 1 Month Money Makeover I have received quite a few comments from readers whose spouses are not on board with getting the finances in order and talking to them about it only creates conflict.
Let me encourage you that you are not alone. Inevitably you are married to someone who has a different personality than you do. Savers end up marrying spenders, logical and analytical types are sometimes attracted to more creative and free-spirited partners. These differences are magnified when we start talking about finances because our patterns of dealing with money are formed in childhood and they are difficult to change.
I get it. For years my husband and I fought about money. "Budget" was not in our vocabulary and I pretty much spent whatever I wanted but then complained when he bought anything we hadn't discussed. In the past few years we have discovered how to get on the same page with our finances and how to stop arguing about money.
Build Your Relationship
The best way to resolve your money conflicts is to grow your relationship. When you have a solid foundation of friendship, love and respect it is much easier to talk about difficult issues like money.
We have found it helpful to have weekly date nights during which we avoid talking about problems and just try to have fun. Building your relationship in this way encourages unity and team work in your marriage and enables you to tackle the problems in a more cooperative way.
Of course, one date night isn't going to solve all of your problems but making a consistent habit of building up your spouse and having fun together goes a long way toward gaining his cooperation. And you don't have to spend a lot of money on dates and create more financial issues. Click here for 43 $10 Date Ideas.

Listen More
Your partner probably isn't going to change so you need to find a way to work with his personality and goals. Make sure that you are considering your spouse's needs and listening to what he really wants. If he works hard for money only to have it all go to bills and responsibilities he can feel frustrated and discouraged.
Be open to compromise. You should each have input into how the money will be allocated. This might mean that you cannot save as much as you would like or pay down your debt as quickly as you want but if you don't work together your arguments will continue and you may end up with a permanently damaged relationship.
Add "Fun" Money to the Budget
One way to make sure your spouse feels heard is to create a budget category for "free" money. Each partner should have some money that they can spend however they wish without reporting to the other spouse.
If your finances are tight this "fun" money is even more important. It can be as little as $5 a week but at least you each have something that you can call your own.
Use Cash
A common cause of money fights is one spouse spending something from the account that is not in the budget. To avoid this problem it's a great idea to use cash and to agree together not to use debit or credit cards for miscellaneous spending. We have also found it helpful to move all bill money and savings out of our primary checking account immediately so it doesn't look like we have more to spend than we actually do. You can read more about our second account here.
Many financial counselors advise sharing one account as a married couple. If your spouse is not on board with you and is spending recklessly it may be helpful to set up a separate account like this to ensure that you have the money you need for the bills.
Talk Less
When you have a financial problem and your spouse doesn't seem to be listening, it is tempting to talk more and more about the issue. It seems counter-intuitive, but talking less often with more specificity works better.
Surprisingly, while I am the spend-a-holic in our marriage I am also the more detail-oriented partner. This means that I like to talk about numbers and strategies. If I talk about the details of our finances too often though my husband's eyes glaze over.
What works for us is for me to write everything on paper and schedule a once a week, 10 Minute Money Meeting with my husband. I share exactly how much money we have, how much we need and where everything is going. I get his ideas and feedback and adjust the plan where needed. Once we agree to the plan I avoid talking about the money unless we have an emergency issue arise.
This arrangement works well for us because I am able to communicate on a regular basis about what is going on, but my husband doesn't feel nagged to death by the details.
Get Outside Help
One of the best things that we have done for our marriage and our finances is to take the Dave Ramsey Financial Peace class (click here to find a class in your area). Attending the weekly class made it okay to talk about money and actually forced us to talk about it because we had homework!
It also helped to be in a group with others who also had financial issues. No one had to share specifics about their budgets, but the support of other people trying to get their financial lives in order was very encouraging.
You may also want to talk with a pastor, trusted friend or a professional counselor. You can click here to find a financial counselor in your area. (Please note that these counselors charge a fee.)
Pray
I am listing this option last but truly prayer should be our first line of defense in keeping our marriages strong. We cannot do this alone and we have a Heavenly Father who wants to help.
Commit to praying daily for your husband and your financial situation and I am certain that you will see improvement. Even better, start praying together. God answers our prayers!
It is really difficult when our spouses are not on the same page with us and especially with finances.There is no simple answer but by implementing the suggestions above you can change your situation. For more helpful ideas read How to Stop Money Fights here.
Today's Money Mission: Choose one or more strategies to implement this week:

Weekly Date Night
Listen Better
Fun Money
Use Cash
10 Minute Money Meeting
Get Help
Pray
What suggestions do you have for creating financial unity in your marriage? Leave a comment.
Sign up for my Weekly eNotes for tips & tools to help you:
save money
get organized
enjoy life
Click here for a list of  Money Makeover posts.
You May Also Enjoy: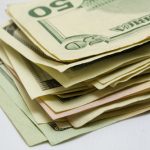 photo credit: photostock; FreeDigitalPhotos.net