Welcome back to Day 2 of our 1 Month Money Makeover!
Did you complete your Grateful/Growth Play Sheet? Did it help you to gain a better perspective on your situation?
Today I am talking about overcoming discouragement about our finances.
Many times when we are experiencing financial difficulties we become overwhelmed with the problems and the negatives of our money picture. We can lose hope that our situation will ever change.
I recently felt this way.
After years of being debt-free we currently owe thousands of dollars in medical debt which we have no realistic way of paying in the near future. After my daughter's accident last October I had to take months off from my business which meant that my income dropped significantly. We are still recovering from that financial hit and we don't even have enough extra money right now to make small payments on the debt.
When I added up the total of what we owe I felt completely overwhelmed and hopeless but I knew that drowning in my negative emotions wouldn't help anything. What I needed was HOPE.
HOPE that we would find a solution and work our way out of this hole.
HOPE that our financial situation will not always be the same.
HOPE that God sees our problems and will help us.
I decided to let go of my despair that nothing would ever change and to dream a big dream. I chose to think about what could be rather than focusing on what appears to be  — to envision a positive future rather than a negative one.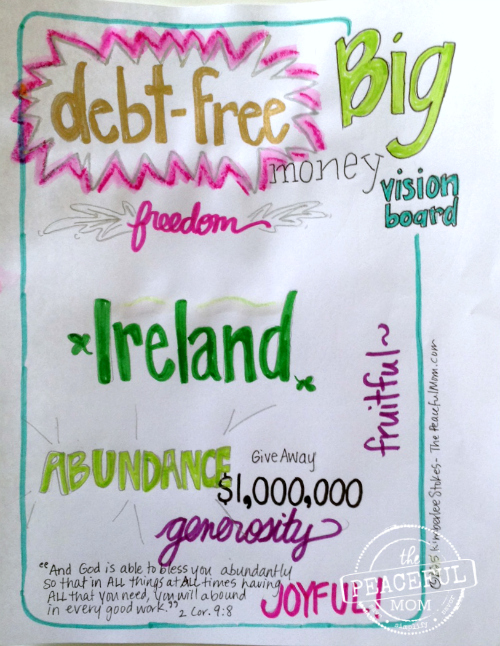 I decided to create a Big Money Vision Board with my hopes and dreams for the future.
So what's your Big Money Dream?
To take cruise or family beach vacation? To buy a newer car, pay for a kitchen update, travel to Europe? To start a business, buy a house?
I encourage you to write your dreams down and to start saving $1 to $5 each week toward this dream. This amount may seem tiny but it can make a big impact yet it's small enough to not interfere with your other goals like paying down debt. Saving something each week toward your dream will inspire you and give you hope.
Today's Money Mission: Print the My Big Money Vision Board Page here. Write, draw, doodle or paste pictures of your BIG dreams.

Print the My Big Money Dream Play Sheet here and write an amount that you will save each week toward the dream and choose a location where you will save it.
Want to share your dream? Leave a comment.
Sign up for my Weekly eNotes for tips & tools to help you:
save money
get organized
enjoy life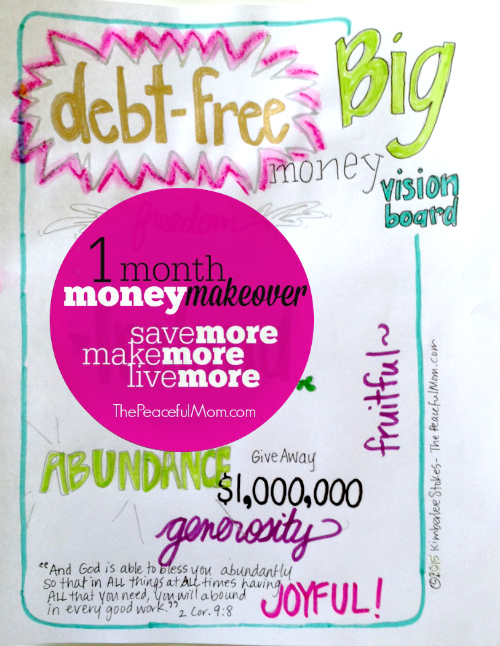 Click here for a list of  Money Makeover posts.
You May Also Enjoy: