30 Days to an Organized Life Day 29
Were you able to spend a few minutes bringing more order to your linen closet?
Today we are continuing with the hidden clutter in our homes by decluttering the junk drawer(s).
We all have one — the drawer where you dump everything you're not quite sure what to do with — and it's usually a drawer in the kitchen. It is probably a combination of office and hardware supplies, tiny toys, paper and general junkiness.
You may not think much about it but I promise that clearing out and organizing that drawer will being you peace. You will be happier every time you open it.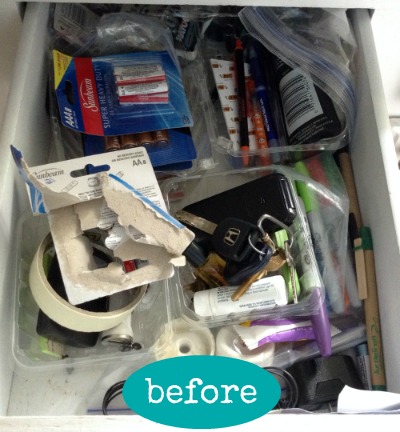 Complete and utter disaster!
Our junk drawer was definitely full of junk! I took 10 minutes to do the following:
remove everything from the drawer and lay it out on the counter;
sort the piles into like items (pens, keys, phones and chargers, batteries, etc.);
move items that belong in our tool box or office into separate piles;
place everything back in the drawer in a more organized way.
Once I was done I moved the items from tool box and office back where they belong.
I spent only 10 minutes and it made a HUGE difference. It feels so good to know that there are no clutter monsters hiding in that drawer now.
And, yes, we are using recycled berry containers as drawer dividers and a bread bag clip to keep the phone charger cord untangled. Don't let perfection or lack of money keep you from organizing your home. Click here for more ideas to organize on a budget.
Today's Task 1: Spend 10 minutes cleaning out your junk drawer. If you have more than one choose the one that you use the most.

Join the 30 Days to Organized Community for:
weekly tips and inspiration plus a

10 Minute Decluttering Tool Kit

30 Days to Organized Planner
Share with your friends using the hashtag #TPM30Days so they can join in as well.
Join me on Instagram here and Facebook here for more inspiration and share your photos with the hashtag #TPM30Days.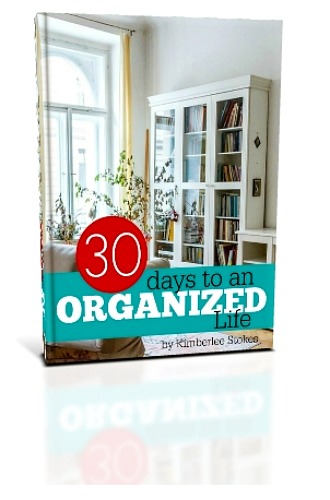 Want the entire 30 Day Challenge at once so you can work at your own pace?
Grab the 30 Days to an Organized Life ebook.
You May Also Enjoy: