Affiliate links are included in this post. Click here to read our disclosure.
Do you love that feeling of getting WAY more than you paid for? The excitement of new and wonderful gifts that you can't wait to open and try?
If you are a reader of The Peaceful Mom I KNOW that you want to save money, make meal time easier, organize your life better and make your house more of a home.

That's why I want to remind you that there is just 1 day left to get the 2015 Ultimate Homemaking Bundle before it goes away for good. I want to make sure you don't miss out and you can experience that excitement for yourself!
I have personally checked out the resources in this bundle and I am truly excited about all of the tools and printables included.
Just to give you an idea of the value you are receiving, the two eCourses included (A Parent's Guide to Natural Remedies and The Healthy Home) are valued at $194 alone PLUS you get 97 additional ebooks and courses.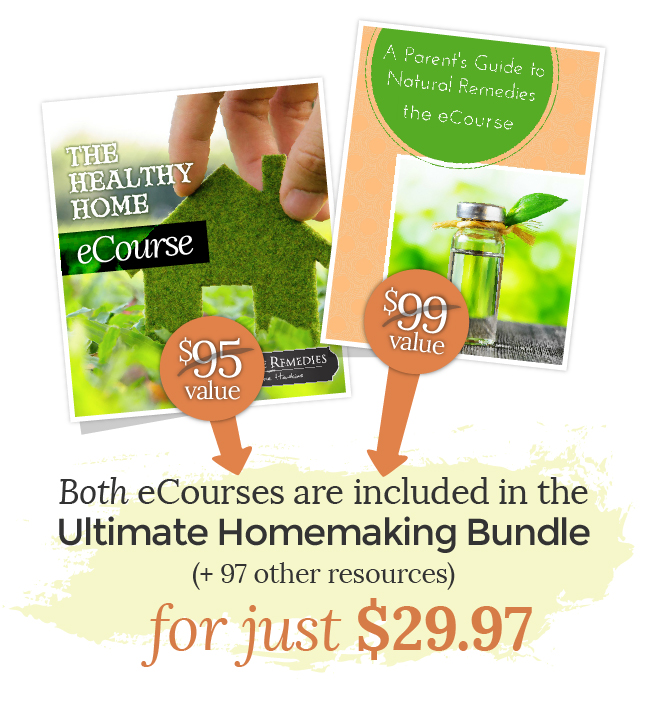 PLUS you get:
MEAL PLANNING
Costco Slow Cooker Freezer Meals by Erin Chase
DIY Breakfast Station by Kim Sorgius
Easy Oven Free Dinners by Tabitha Philen (awesome for Summer!)
No Cook Freezer Meals by Kelly McNelis
Frugal Real Food Meal Plans by Tiffany Terczak
ListPlanIt: Meals ePlanner by Jennifer Tankersly
Supercharged Food for Kids by Lee Holmes
PLUS 8 additional resources!
GLUTEN FREE
Gluten Free Gifts in Jars by Kelly Roenicke (perfect for Christmas!)
The Healthy Breakfast Book by Katie Kimball
7 Simple Steps to Better Grain-Free Baking by Kelly Smith
Gluten Free & Grain Free Breads, Batters, and Doughs by Halle Cottis
Gluten Free Aldi Meal Plan by Lauren Greutman
MONEY SAVING
Become a Frugalista: Money-Saving Secrets for the Frugal Family Manager by Susan Heid
Build a Budget that Works by Jessi Fearon
Hope: Thriving While Unemployed by Carl & Angi Schneider
How To Save Money: A 21-Day Challenge To Save $500/Month by Bob Lotich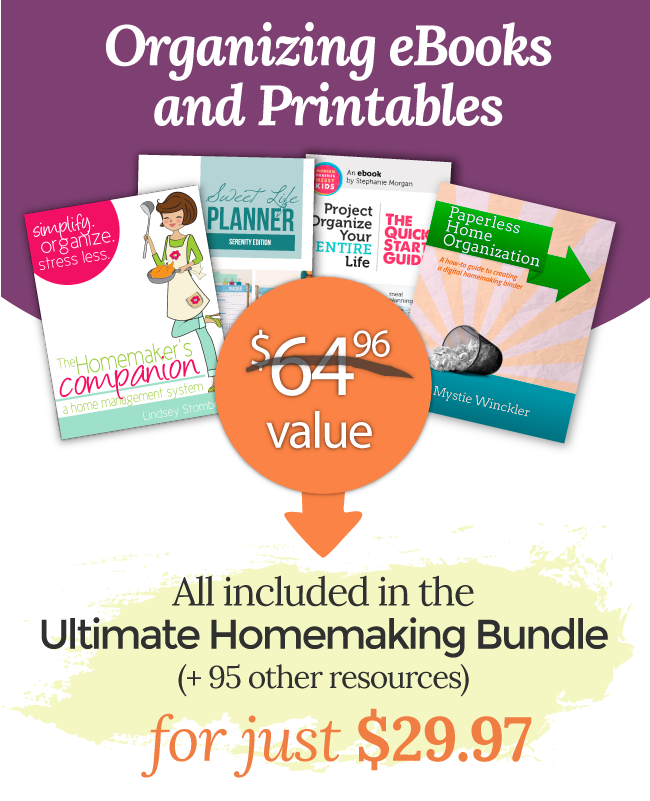 ORGANIZATION
The organization books are some of my favorites! These are truly some of the best organization book and planners available.
Controlling the Spin Within: Managing the Mundane, Surviving the Insane by Holly Dvorak
Drowning in Clutter? Don't Grab a Floatie…Drain the Ocean by Dana White
One Bite at a Time: 52 Projects for Making Life Simpler by Tsh Oxenreider (soooo helpful!)
Paperless Home Organization by Mystie Winckler
Project Organize Your Entire Life by Stephanie Morgan
Your Simple Home Handbook by Elsie Callender
HOME: Planned by Mandy Ballard
Sweet Life Printable Planner (Serenity Edition) by Laura Smith
The Homemaker's Companion: A Home Management System by Lindsey Stomberg
The Homemaker's Quiet Time Journal by Crystal Brothers
WORKING FROM HOME
How She Does It by Anne Bogel
How to be a Work at Home Mom by Prerna Malik
How to Blog for Profit (Without Selling Your Soul) by Ruth Soukup

Plus Holiday, Cleaning, Homeschooling, DIY, Faith, Marriage, Motherhood, Pregnancy and DIY resources all for the ridiculously low price of $29.97 with a 30 Day Money-Back Guarantee!
If you want to go from being disorganized, stressed and frustrated to peaceful, calm and organized these tools will enable you to do just that. [And don't worry about reading them all at once. Just choose a couple to start with and work your way through them at your own pace!]
But this steal of a deal ends in just: