30 Days to an Organized Life Day 25
We talked about conquering the paper pile on Day 23 but today I want to specifically address organizing your bill paying.
If you're like me bill paying falls into the category of Stuff I Hate To Do But Have To Because I Guess I Am An Adult Now. Cleaning toilets, dusting and grocery shopping are on that list as well but somebody has to wear the grown-up pants around here.
If you hate bill paying as much as I do then you may want to convert all of your bills to auto-draft so that you don't have to think about due dates and late fees. The money is simply withdrawn from your account automatically and you are free to go about your more rewarding life activities.
This method poses two problems however.
First, if you are disorganized or tend to keep a low balance in your account an automatic withdrawal may overdraw your account and set up a chain reaction of overdraft charges. To prevent this from happening set an alert on your phone for a couple of days before each bill is due so you can check the amount of money in your account — or make sure to keep several hundred dollars extra in your account at all times as "insurance" against this problem. (If you're laughing at this thought right now, keep reading. I've got help for you.)
Secondly auto-draft enables you to go on auto-pilot which may seem like a good idea but it could prevent you from staying on top of balancing your account or keeping track of how much you are paying for your bills. Any business that has access to your account can overcharge you and if you are not paying attention you end up losing that money. In addition you may miss a problem with your bill or your service. If your water bill, for example, is $50 higher this month there's a good chance that you have a hidden water leak. With autodraft, however, you won't know about it because you don't actually look at the bill. (Of course the increase in your bill could have occurred because your middle-school aged son suddenly discovers personal hygiene — ask me how I know.)
Because I am a recovering control-freak and don't want to give access to our money to ANYONE I personally prefer the "do-it-yourself" method. Here's a look at what I do:
Open Bills Immediately
When a bill comes in my door from the mailbox I immediately, do-not-pass-Go, do-not-collect-$200 even if you love Monopoly, open it and discard the envelope it was sent in. I then take a deep breath, check the amount and either breathe a sigh of relief  or say a little prayer.
Do not, I repeat, do not place that unopened bill in a pile, file or drawer to "deal with later". Denial is the first step to bankruptcy.
Choose a Filing System
The best option for dealing with that bill is sitting down and paying it immediately. If you are still working on organizing your money or you are living paycheck-to-paycheck, however, you may not be able to pay bills immediately once you receive them.
I prefer to pay bills once a week so I
make a note of the due date;
write a note on the calendar on the pay day before the due date;
file the bill in a pocket in my Brain in a Binder.
If I can't immediately take those three steps I place it in the NOW folder on my desk (read about my 3 Folder Paper Organization System here) and I take care of it the next day during my 10 Minutes a Day Paperwork Session.
For electronic statements I immediately move the email to my "Bills" folder which I have set up in my inbox.
Create a Routine for Paying Bills
If you cannot or choose not to pay bills immediately you will need to set up a system so that you can remember to pay them. The easiest method is to pay them on the same day every week or on your pay days. When you first begin this system you will need to write "pay bills" on the calendar until this task becomes a habit.
Every payday I check my calendar to see what's due and I grab the bill(s) from my Brain in a Binder or I open the appropriate email in the "bills" folder in my inbox.
Once I have paid the bill and deducted that amount from my checkbook register I file the bill in my "paid bills" folder which I store with our tax documents for the year.
The key to making this plan work is to ALWAYS place the bills in the planner and write a note on the calendar immediately when the bill comes in the mail. If you put the bill down on a table or desk, you will probably find it there under a pile of papers a month later and realize that you didn't pay it on time.
Of course, you also need to have the money to pay the bill.
If you are behind right now, check out my How to Handle a Money Crisis post here.
Today's Task 1: Spend 10 minutes preparing your new bill paying system. Label a folder or find a pocket to use in a binder where you will file your bills to be paid. Open any bills you currently have, write the due dates on your calendar (remember to write them on the payday BEFORE they are due), then file them in your folder or binder.

Today's Task 2: Schedule a regular time to pay bills and write it on your calendar.
Click here to sign up for the 30 Day Challenge daily emails during the month of April so you don't miss anything PLUS grab your FREE 30 Days ePlanner!
Share with your friends using the hashtag #TPM30Days so they can join in as well.
Join me on Instagram here and Facebook here for more inspiration and share your photos with the hashtag #TPM30Days.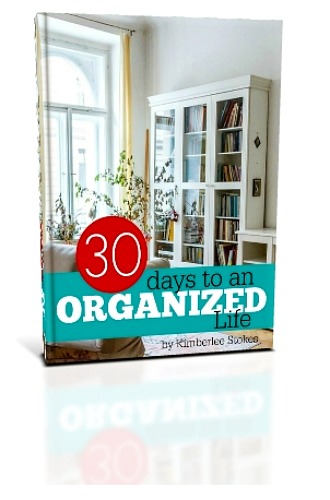 Want the entire 30 Day Challenge at once so you can work at your own pace?
Grab the 30 Days to an Organized Life ebook.
You May Also Enjoy: