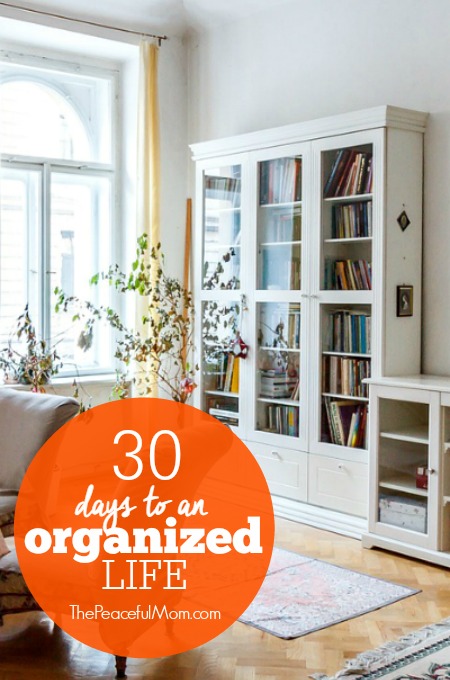 30 Days to an Organized Life Day 24
How did your 10 Minute Paper Pile Fix go?
Today we're talking about organizing your money by planning your paycheck. Having a specific plan for what you do with your money each pay period will enable you to save more, spend more wisely and reach your financial goals.
Our family uses a combination of cash and checking accounts to manage our money. Every pay day I have a morning appointment with myself when I do the following:
Check Current Account Balance
I check the direct deposit amount of my husband's check and the current balance in our checking account. To make the calculations easy for this example let's say the current checking account balance is $600.
Subtract Money For Basic Necessities
On the paycheck planner in my Budget Binder, I write the new checking balance and subtract the money needed for basic necessities for this pay period from the balance. In our example the math looks like this:
current balance: $600

– $125 groceries

– $15 non-food items

– $80 gas for the car

– $20 date/spending money

– $20 small "cushion" to avoid overdrafts (you may need more)

Total: $260. (I take out the cash for the groceries. spending money and non-food items on my shopping day.)

This leaves $340 "extra" in our primary account.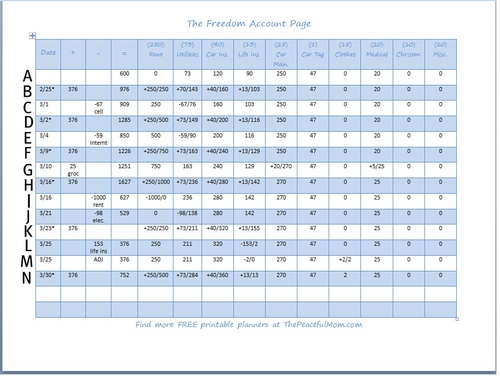 Transfer Money to 2nd Account
You can read more about Why We Have Two Checking Accounts here but basically every pay period I transfer our "extra" money ($340 in our example) into a separate account that is used to pay monthly bills (rent, utilities, car insurance, etc.) and irregular expenses (medical needs, clothing, car maintenance, etc.).
I keep a spreadsheet with the amount I need to deposit each week and the current total in each category so I can track this account. Monthly bills are divided by the number of paychecks in a month — 4 for us — so I know how much I need to save from each paycheck to be able to pay the bill when it is due.
Any additional money we make above our basic needs and the designated amounts for each category in this second account goes into our savings account to meet our current savings goals or can be spent on non-essential items like eating out, new clothing, etc.
Pay Current Bills Due
Once I've transferred the money to the second account, I then pay the bills that are due before our next pay period from the second account. I subtract the amounts paid from each category and recalculate the balance. This may seem like extra work, but I have found that actually hand-writing and calculating the amounts keeps me more aware of the budget and helps me not to overspend.
You obviously don't have to plan your paycheck the way we do, but you do need to find a method that works for you. Every dollar from every paycheck needs a "job" (a designated way to spend or save it) so you don't just blow your money because you see it sitting in your account.
There are many online services and apps that can help you do this, so find the method that works best for you and stick with it.
Directing each dollar from your pay to a specific purpose will bring you peace and enable you to take control of your finances.

If you'd like to try our method, I have a FREE printable Monthly Paycheck Planner that you can add to your 30 Days ePlanner or your Budget Binder. Click HERE to print a copy.
Today's Task 1: Spend 10-20 minutes planning your next paycheck. Think about your long term goals and try to incorporate them into your plan. If you are in a bad financial situation right now read How to Handle a Money Crisis here.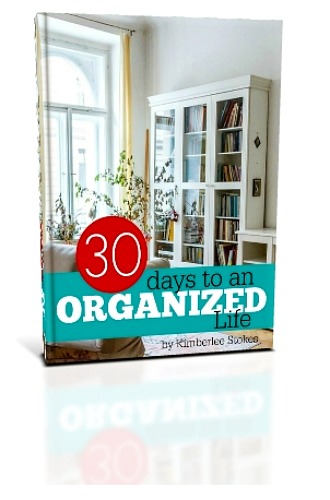 Want the entire 30 Day Challenge at once so you can work at your own pace?
Grab the 30 Days to an Organized Life ebook.
You May Also Enjoy: