30 Days to an Organized Life Day 23
Today we are talking about paper. It's the avalanche that just won't stop and without a plan for dealing with it you can easily be buried alive (or at least all of the surfaces in your home can be covered by the stuff.)
I have 2 desks — one for creative endeavors and one for business — and they can both become disaster areas if I don't stay on top of them. Here are my tips for conquering the paper problem.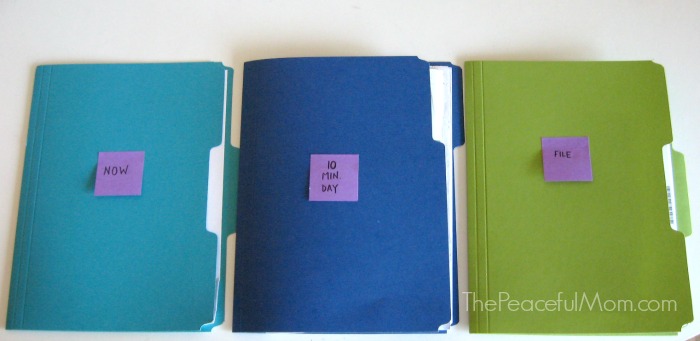 Do a 10 Minute Paper Pile Fix
The first step to freedom from paper pileup is to deal with the backlog of paper sitting around your home. I have a 10 Minute Paper Pile Fix (read more here) that works wonders. Doing a quick sort of your piles can reduce your stress immediately.
Develop a System
Set a reminder to go through paperwork for 10 minutes EVERY day. Start with your "NOW" folder and move to the "10 MINUTES A DAY" folder from your 10 Minute Paper Pile Fix.
Pay bills and balance your accounts once a week.
Once a month go through your files and discard anything you no longer need.
Deal With Mail Immediately
The minute the mail comes in the door open every piece of it and sort it. I use four categories: trash, shred, bill, and file.
Envelopes, solicitations and advertisements immediately go to the trash. Credit card applications go into the shred pile*. Bills go into the financial section of my Brain in a Binder and I immediately write the due date on my calendar. Other papers are divided into my 3 folder system mentioned above. Those that need to be dealt with immediately go into the NOW folder and will be handled during the next day's 10 minute paperwork session.
*Note: I put the papers to shred in a box and let my 14 year old shred them. I don't suggest allowing younger children to have access to the shredder because they might decide to go on a scavenger hunt for paper to shred and shred something important.
Cut Kid Clutter
One of the biggest sources of paper clutter is the kids' school and artwork. While some of these are keepsakes, most of them should be enjoyed for the day or week on the front of the fridge or a special bulletin board and then stored away or discarded. It can be difficult to let go of your child's artwork but scanning it digitally is a terrific solution. You can even make a special digital photobook at the end of the year with all of the creations.
Another option is to store special papers in a photo album or file box. Help your child choose what to keep and send the extras to grandparents to enjoy or throw them away.
Go Digital
In addition to scanning your child's art work you can also scan your own important paperwork. Using an app like Evernote (sign up for FREE here) is a great way to keep them organized because with Evernote Premium you can search the text in scanned documents to easily find them. This method is especially useful for storing ideas and inspirations from magazines so you can eliminate that source of paper clutter.
Today's Task 1: Do a 10 Minute Paper Pile Fix (read the details here) and sort all of the papers on your desk (and on your kitchen counter!). Stay focused. You are not doing anything except sorting all the papers into the "Now", "10 Minutes a Day" and "File" folders so you can deal with them later.

Today's Task 2: Add a 10 Minutes a Day Organize Paper task to your calendar or as a reminder on your phone. It will become a habit more easily if you organize your papers directly after another daily task such as eating lunch or dropping the kids off at school.
Have any tips for dealing with all the paper? Leave a comment or a link below.
Click here to sign up for the 30 Day Challenge daily emails during the month of April so you don't miss anything PLUS grab your FREE 30 Days ePlanner!
Share with your friends using the hashtag #TPM30Days so they can join in as well.
Join me on Instagram here and Facebook here for more inspiration and share your photos with the hashtag #TPM30Days.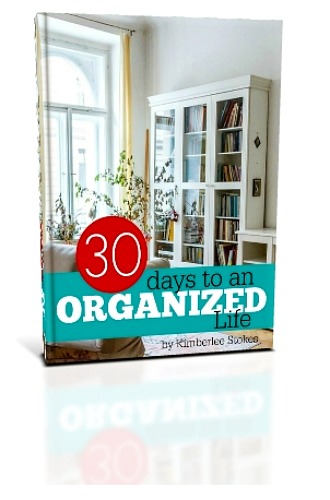 Want the entire 30 Day Challenge at once so you can work at your own pace?
Grab the 30 Days to an Organized Life ebook.
You May Also Enjoy: