This post is brought to you by Third Day Naturals.
We all want to take better care of our families and one of my current projects is eliminating the chemicals in our personal care products.
I recently discovered a family-owned and run small business that offers all-natural, simple and effective bath and body products that are surprisingly affordable.
Third Day Naturals is owned by Sarah and Robert, a homeschooling family with four children living in the beautiful Hudson Valley region of New York. After moving from the big city several years ago and deciding to live more simply Sarah and Robert started making their own frugal house cleaning products with everyday household items.
They then began to dabble in making soaps and skincare products from natural ingredients like coconut oil, fresh herbs, citrus and essential oils. After asking friends and family to test their products they realized what a hit they were and three years ago began selling online. Now Third Day Naturals has expanded into gift shops and health food stores.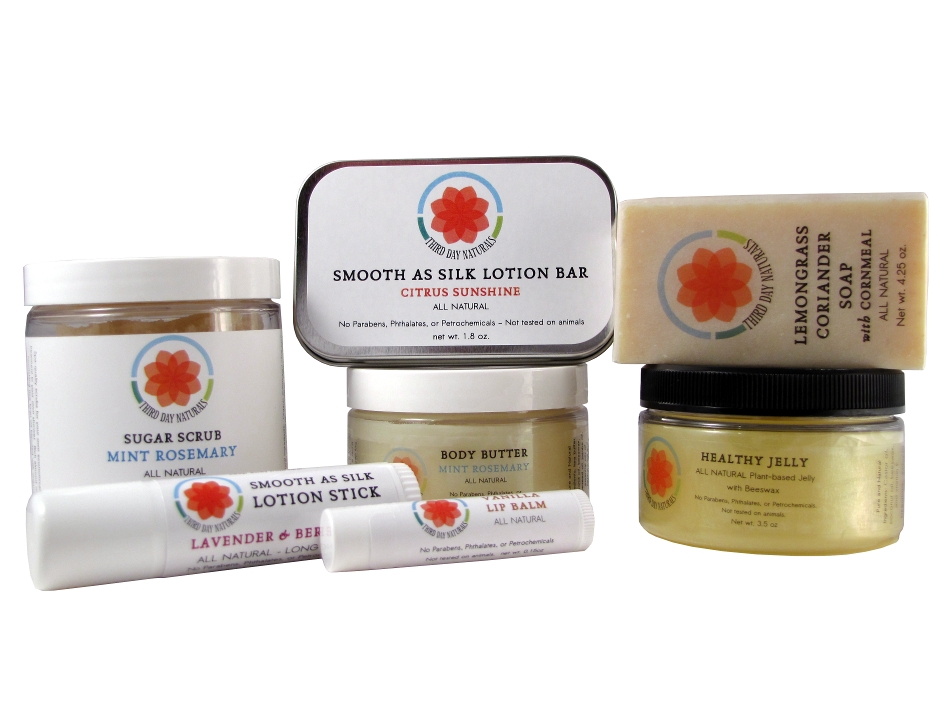 Robert and Sarah happily sent me a generous sample of their products to try.
I first noticed the simple but beautiful packaging then I was then met with the aromatic, fresh fragrances: natural vanilla, rosemary, lemongrass, citrus. I immediately wanted to try the products.
My faves were absolutely the Mint Rosemary Sugar Scrub and the Vanilla Body Butter. The sugar scrub felt like a luxurious spa treatment and left my legs feeling smooth and moisturized. I loved the Body Butter so much that I have it on my desk so that I can keep my hands soft and hydrated.
These would make a truly unique and special gift for Mother's Day and you will receive FREE shipping on all orders over $35. Drop a hint to your hubby or purchase some products for your own mother to let her know you care.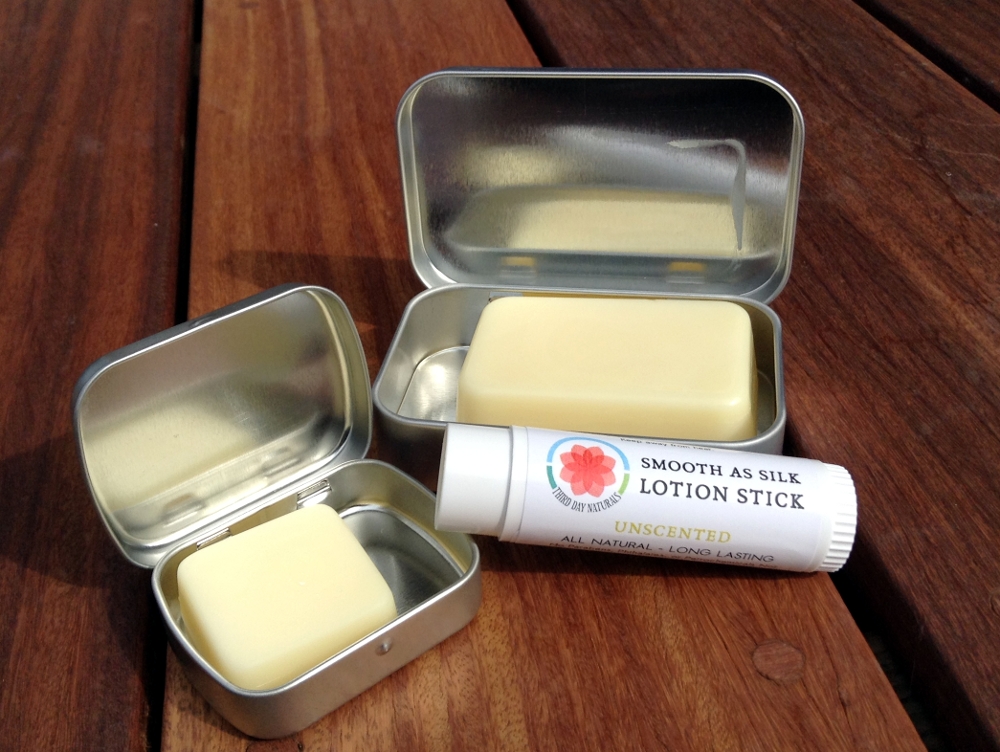 In addition to Body Butter, Third Day Naturals offer a wide variety of moisturizing products like lotion bars and sticks which are convenient to take with you.
Third Day Naturals also has delightful all natural soaps. They utilize sustainably harvested oils and butters in all soaps, scents them with only essential oils — not the cheaper fragrance oils — and adds color and texture with clays, herbs, and plant extracts. Ingredient names are pronounceable and easily recognized, and yet the products' effectiveness can't be beat.
Third Day Naturals products can easily replace the chemical-laden health and beauty products in your home. Their time-tested Wonder Balm is created with a proprietary recipe Sarah has used in their home for almost 10 years and it can easily replace that triple anti-biotic ointment in your medicine cabinet. Their delightful soaps can replace the body wash or soap bar in your shower with a long list of ingredients you can't pronounce and their Healthy Jelly is a fantastic replacement for petroleum jelly.
I am so excited that Third Day Naturals is offering my readers a chance to win a $50 gift pack that includes your choice of:
1 Bar of Soap
1 Sugar Scrub
1 Full Size Lotion Bar
1 Travel Size Lotion Stick
1 Lip Balm
1 Healthy Jelly (unscented)
1 Body Butter
How to Enter:
1 entry per household.
Click here to sign up for the Third Day Naturals eMail list to learn about new products.
Leave a comment on this post saying that you signed up and which product you would like to try.
Contest Rules:
1 winner (U.S. only) will be randomly selected from the comments on this post at 9:00 a.m. EST on Tuesday, April 28th. Winner will be verified then notified by email. If original winner does not respond within 48 hours a new winner will be randomly selected and notified by email. All products will be delivered by Third Day Naturals.