30 Days to an Organized Life Day 17
One of the main areas most families use day-to day is the Family Room or Living Room. It's where we watch television, play games, read, relax and hang out. It's also a magnet for clutter.
Because we use the space every day surfaces like coffee tables and end tables gather books, magazines, newspapers, dirty dishes and other miscellaneous clutter. The floor may be strewn with toys, coats and book bags.
Keeping the space clean is a daily challenge but a little trick I like to use is the 10 Minute Tidy. Every evening I ask family members to clear out and put away anything belonging to them. I then straighten the pillows and make the room as neat as possible so it's ready for the next day's fun.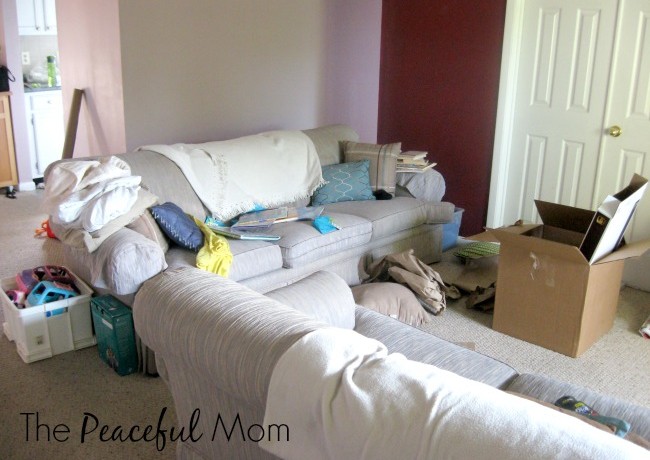 This before photo was actually taken a few months before the 30 Day Challenge but it shows you the way my livingroom looked on a regular basis. 
If you saw my $26 Room Makeover Post then you know that we are in a rental home and I am stuck with this dark accent wall and a tan color on the other walls that looks pink at certain times of the day — not my favorite wall colors. To brighten things up I added turquoise accessories to bring in some cooler colors but I wasn't thrilled with the way they looked with the burgundy.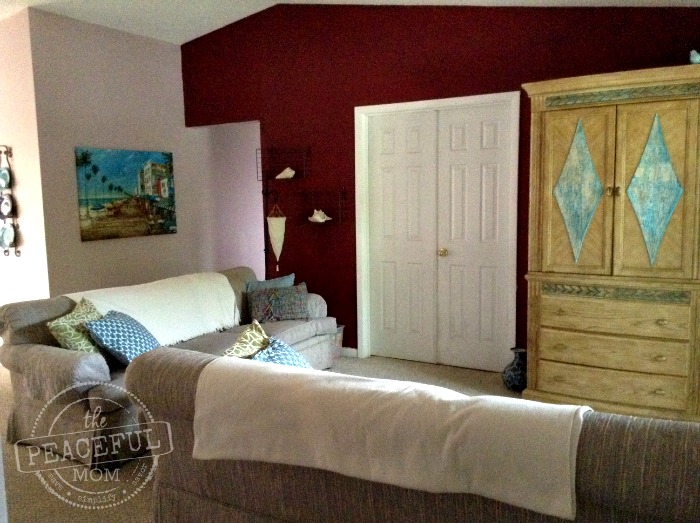 I was so happy to find the $24 painting that is now on the wall on the left. The colors in the painting tie the other colors in the room together perfectly and it just makes me happy when I look at it. I am still not excited about the entertainment center that I attempted to paint but I have not made time to start working on it again.
Now that I have a nicer room I am much more motivated to keep it clean and uncluttered so I actually had nothing to do in this room for today's challenge.
Today's Task 1: Spend 10 – 20 minutes decluttering and clearing surfaces in your Family Room or Living Room.

Today's Task 2: For extra credit set up a FOR SALE box and add cds, dvds and games that you want to sell. Click here for Tips on How to Sell Your Stuff.
I would love to hear what you plan to do or see photos of your before and after. Leave a comment or a link below.
Click here to sign up for the 30 Day Challenge daily emails during the month of April so you don't miss anything PLUS grab your FREE 30 Days ePlanner!
Share with your friends using the hashtag #TPM30Days so they can join in as well.
Join me on Instagram here and Facebook here for more inspiration and share your photos with the hashtag #TPM30Days.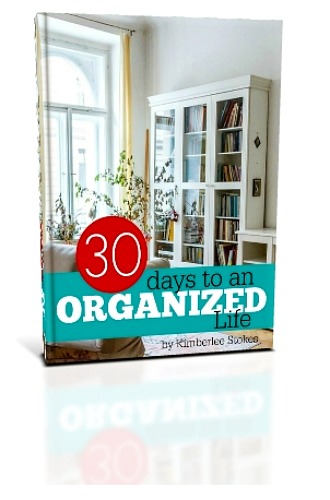 Want the entire 30 Day Challenge at once so you can work at your own pace?
Grab the 30 Days to an Organized Life ebook.
You May Also Enjoy: