30 Days to an Organized Life Day 16
Yesterday we talked about decluttering your schedule but today we are back to the physical clutter in your home. We are decluttering and organizing the Master Bathroom.
Maybe it's different at your house but my master bathroom is the most neglected of all the rooms in my house because no one outside our family sees it. The cabinet doors under the sink are always closed so I don't have to look at the disorganized mess underneath and it is more convenient to leave all of our products on the counter because we use them every day.
BUT physical clutter no matter where it hides is a drain on us emotionally and mentally, so let's get rid of that mess Ladies!
Today's Task 1: Spend 10-20 minutes in your Master Bathroom. Quickly grab anything that doesn't belong there and put it in a box, bag or basket to put away later. Remove products you no longer use and throw them away (yes, really!). Find storage solutions for the items on your counter. Use a temporary solution like a cardboard shoe box until you can purchase something that works better for you.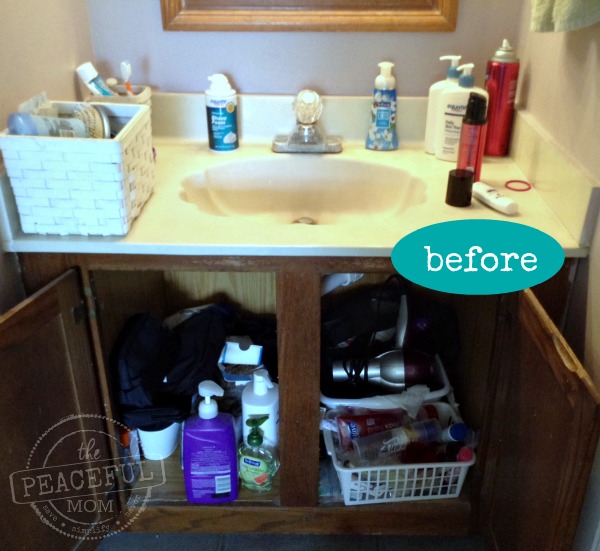 Products everywhere!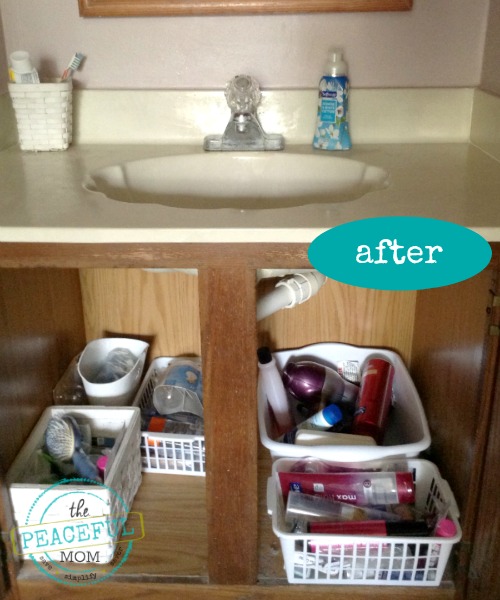 Much better!
Remember our motto: Progress not Perfection. Don't try to fix every problem but do what you can in the time you have.
I would love to see your progress! Leave a comment or a link below.
Click here to sign up for the 30 Day Challenge daily emails during the month of April so you don't miss anything PLUS grab your FREE 30 Days ePlanner!
Share with your friends using the hashtag #TPM30Days so they can join in as well.
Join me on Instagram here and Facebook here for more inspiration and share your photos with the hashtag #TPM30Days.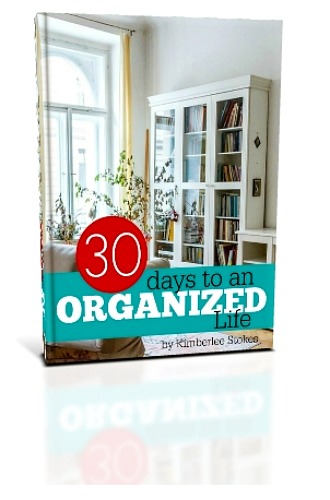 Want the entire 30 Day Challenge at once so you can work at your own pace?
Grab the 30 Days to an Organized Life ebook.
You May Also Enjoy: