30 Days to an Organized Life Day 14
Do you have piles of clothes around your home? Do you constantly feel overwhelmed by the never-ending cycle of keeping clean clothes in the dresser drawers?
Today we are talking about Laundry.
Unless you want to live in a cave keeping your family's clothes clean is a necessity of life. It's easy to put off though because it is one of those not-so-fun responsibilities of adulthood. We can hide the piles for a while but eventually we have to have something to wear and going shopping for a new outfit every day just isn't reasonable.
Try these tips to make doing the laundry a little more palatable.
Create a Routine
To stay on top of the laundry piles you must make laundry a regular part of your schedule. If you choose the Once-a-Day Method you can start a load first thing in the morning, move it to the dryer after breakfast and fold it as soon as you are done. If you work outside the home you can start a load as soon as you arrive home, move it to the dryer after dinner and fold it while you watch television.
If you prefer the Once a Week Method choose one day a week when you always do the laundry. You may need to make an appointment with yourself and write it on your calendar so you don't miss it. Start the laundry first thing in the morning and set a timer so you don't forget to move each load to the next step.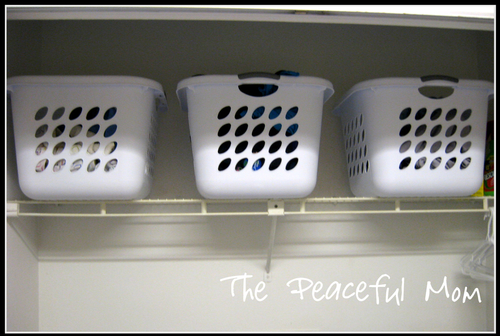 Organize the Baskets
Doing laundry is much more pleasant when you feel like you have some control over it. One way you can gain control is by designating baskets for each type of laundry load you do. I use the 3 Basket Method: darks (colors that might bleed), lights (colors that will not bleed), towels (washcloths, rags and towels that need to be washed in hot water). If you have a lot of white clothing you may want to add an additional basket for those clothes. I don't use a basket for sheets because I remove them from the bed when I am ready to wash them and put them back on the bed immediately (no folding – woohoo!).
Another way to organize laundry is by giving each child his or her own basket and washing a complete load of only that child's clothing. The child can then take the basket of clean clothes to his room, fold it and put it away.
As a mom of teens I have everyone doing their own laundry but I still use the 3 Basket Method for my husband's clothes and my clothes.
Recruit Help
Of course teenagers can help but even the smallest child can do something. Toddlers can help to match socks and fold small items like washcloths and their own pants or shorts. They can carry clothing to their room and put it away in the drawer.
Children as young as 4 or 5 can fold towels and clothing. The clothing may not be folded according to Martha Stewart standards but the key is to get your children involved, teach them responsibility and eventually work yourself out of a job. No one is going to open your linen closet and judge you for a few sloppily folded towels. If they do, don't invite them over again. 🙂
Children between the ages of 10 and 12 can start washing their own laundry. Post a written list of the steps and provide lots of supervision until they get the hang of it. (No, we don't add bleach to the load with jeans.) You will have a couple of weeks of more intense work but then you can enjoy years without hearing "But I needed that for the game tonight." It's no longer your problem.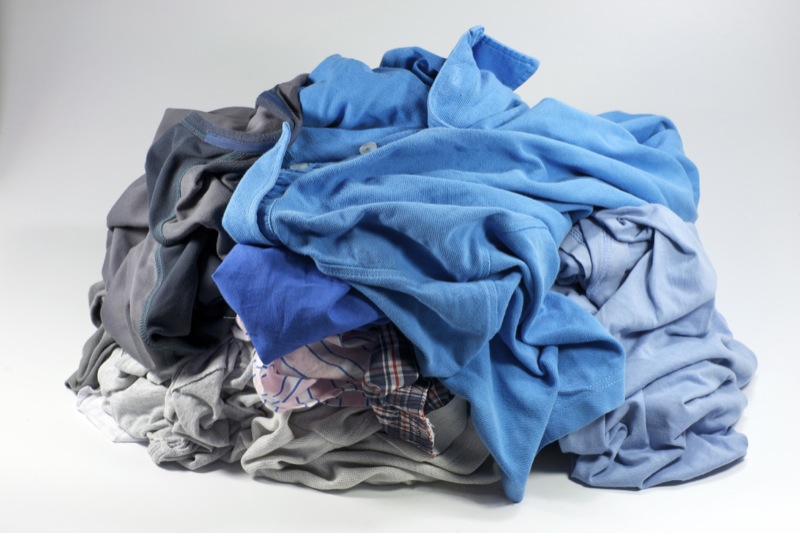 Today's Task 1: Spend 10 minutes decluttering your Laundry Room to make doing laundry more pleasant.

Today's Task 2: Choose a laundry system. Forming a new habit takes time so write a note to remind yourself or set an alarm on your phone.
I would love to hear whether you prefer once a day or a once a week laundry. Leave a comment or a link below.
Click here to sign up for the 30 Day Challenge daily emails during the month of April so you don't miss anything PLUS grab your FREE 30 Days ePlanner!
Share with your friends using the hashtag #TPM30Days so they can join in as well.
Join me on Instagram here and Facebook here for more inspiration and share your photos with the hashtag #TPM30Days.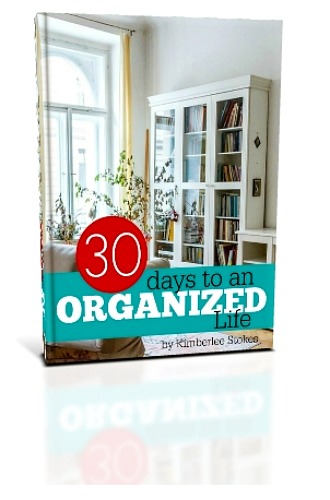 Want the entire 30 Day Challenge at once so you can work at your own pace?
Grab the 30 Days to an Organized Life ebook.
You May Also Enjoy: