Want to get your home life organized (who doesn't)?
The folks from the Ultimate Homemaking Bundle have a FREE mini video eCourse available right now.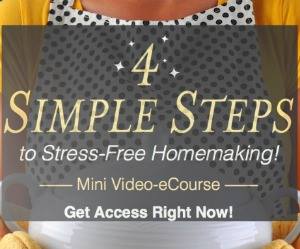 In 4 Simple Steps to Stress-Free Homemaking you will learn 4 simple secrets that can keep your home peaceful and calm. I took the course last week and loved the simplicity of it. In fact, these steps are so simple you might be tempted to ignore them but I promise that if you try them you will see an immediate improvement in your home and your stress level.
What comes with this eCourse?
4 videos: These videos are all less than 10 minutes long, so it won't take up a lot of time to watch them. But they each pack a punch!
4 printable worksheets: We don't want to just leave you with the teaching; we want you to brainstorm ways to implement it in your life!
FREE REWARDS by sharing this FREE eCourse with your friends as well!
What rewards can you earn?
Share this FREE eCourse with 5 friends to get a FREE 1-year magazine subscription!
But you need to sign up now. You can only get the eCourse for the next few days.
Click here to sign up for this FREE Video eCourse.