30 Days to an Organized Life Day 10
One of the downsides of doing a 30 Day Challenge is the daily-ness of the tasks. It's so easy to become overwhelmed and end up not doing anything at all. I have heard from several of you that you are "behind" on completing all the days.
I just want to encourage you to please remember that our motto is:
Progress Not Perfection.
If you complete ONE tiny task each day or even one task EACH WEEK that makes your life a little more organized then you are a success. Did you hear that? A SUCCESS!
Simply pin (or bookmark) this page to refer to these posts later when you have more time.
Today we are working in the Kitchen.
One of the quickest ways to make your kitchen feel calm and peaceful (after clearing the dirty dishes from the sink) is to clear the counters. Cluttered spaces drain us emotionally and mentally even if we don't realize it consciously. Simply clearing a space can energize you and even make you a little happier.
To keep your kitchen clean and clutter free it helps to keep non-food related items out of the kitchen. Move items like mail, kids' papers and items you don't use very often to another area of your home or contain them in a bin or basket. As much as possible devote your kitchen to food preparation and eating.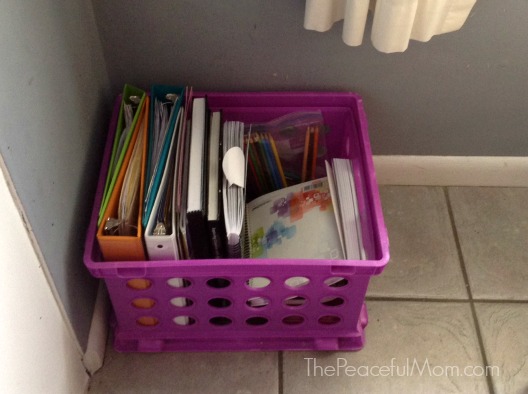 One of my daughters likes to use the kitchen table to do school work so we have a crate tucked into a corner of the kitchen where she stores her supplies and books. When she is done working everything goes back into the crate so we can keep the area looking neat and clean.
Today's Task 1: Spend 10 minutes in your Kitchen clearing a counter.

Today's Task 2: If you have a couple of extra minutes find a home for one or two items that you have have on the counter but which are just taking up space or which belong in another room.

Just so you know, things get out of control at my house too. My kitchen was an absolute disaster earlier this week. Just walking into it made me feel stressed.

I admit that I worked longer than 10 minutes but I had to clear everything for the sake of my sanity. I cleaned the toaster and put it in a lower cabinet so I could enjoy the open space. Of course it takes a couple of minutes to do that but it's worth it to me to have a clear counter.
I would love to hear your tiny successes or just let me know that you need some encouragement. Leave a comment below.
Click here to sign up for the 30 Day Challenge daily emails during the month of April so you don't miss anything PLUS grab your FREE 30 Days ePlanner!
Share with your friends using the hashtag #TPM30Days so they can join in as well.
Join me on Instagram here and Facebook here for more inspiration and share your photos with the hashtag #TPM30Days.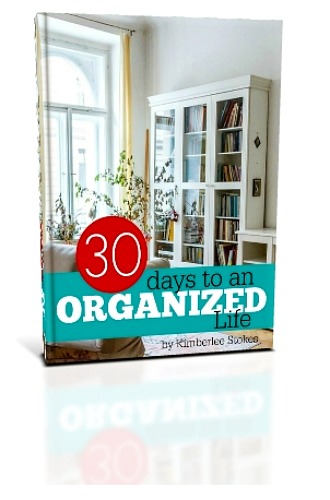 Want the entire 30 Day Challenge at once so you can work at your own pace?
Grab the 30 Days to an Organized Life ebook.
You May Also Enjoy: