30 Days to an Organized Life Day 6
How did your Master Bedroom 10 minute declutter go? Does your bedroom feel calmer and more peaceful now?
Now that we have cleaned up your room a bit let's talk about sleep. You may not realize it but one of the primary components of an organized life is making sure that you get enough sleep. Studies show that women who get enough sleep are happier, healthier, calmer and better able to handle stress.
Most adults need a minimum of 7.5 hours but I believe that moms need more in order to handle the stress of all the demands placed on them. Sleep deprivation causes overeating, brain "fog", poor decision-making, and lack of impulse control. You can "cheat" this need for sleep by consuming a lot of caffeine to give you energy but eventually you will discover negative health consequences.
The quickest way to improve your quality of life is to get more sleep.
Knowing you need more sleep and actually getting the sleep you need are two entirely different matters. As I mentioned earlier new habits are formed when we keep things simple so we are going to write down some very simple steps you can take to encourage your new "get to bed on time" goal.
Determine Your Bedtime
Write down the time that you need to get up in the morning. Make sure to give yourself plenty of time to get ready for the day. (If you are a stay-at-home mom you will want to use a time that is 30 minutes to an hour before your kids usually wake up.)
Now count back eight hours from your wake-up time. For example, if you need to be up by 6 a.m. then you will need to be in the bed by 10 p.m. the night before. This is your goal for bedtime. This bedtime might come as a shock to those of you who are night owls but if your wake up time is a firm boundary you need to find a way to get enough sleep.
List Your Responsibilities
Make a list of all that needs to be done before you can go to sleep: clean the kitchen, bathe the kids, read stories, tuck the kids in bed, talk to your spouse, etc. Make an estimate of how long these activities take. This will give you an idea of what time you need to start the before bed routine.
Think About "You" Time
Make a list of activities that you can do to calm yourself before bed. For example: turn off your electronics, read a book, take a shower or a bubble bath, journal. If you are in the habit of watching television or movies late into the night consider recording your favorite shows to watch on the weekend when you have a more relaxed schedule.
Now that you have that information we are going to move toward a better bedtime by creating some new bedtime habits.
To effectively start a new habit you need to:
keep the new habit super simple;
attach the new habit to something you already do every day (after I get up, after I drop the kids off at school, etc.);
practice the new habit;
celebrate when you accomplish it.
So here are a few examples of habits that you can create to help yourself get to bed on time:
*After I get up from dinner I will place my pajamas on my bed.

*After I brush my teeth I will put on my pajamas.

*After I put on my pajamas I will write 3 things I am grateful for in my journal.

*After I get the kids in bed I will turn off my electronics and read 1 page in a book.
Make your habit super simple, directly related to getting in the bed on time and attach it to something you already do every day.
Today's Task 1: Print the Happy Habits page from your ePlanner and write down five habits which will help you to get to bed on time so you can get enough sleep. Write your habits in this format: "After I ____ I will ____". Now choose one habit that you will start today. You can write your habit on a piece of paper and post it in a prominent place to remind yourself to do it tonight.
If all of this information overwhelms you please remember we are keeping things simple and aiming for Progress not Perfection.
I would love to hear Your happy bedtime habit. Leave a comment or a link below.
Click here to join the 30 Days to Organized community and grab your FREE 30 Days ePlanner!
Share with your friends using the hashtag #TPM30Days so they can join in as well.
Join me on Instagram here and Facebook here for more inspiration and share your photos with the hashtag #TPM30Days.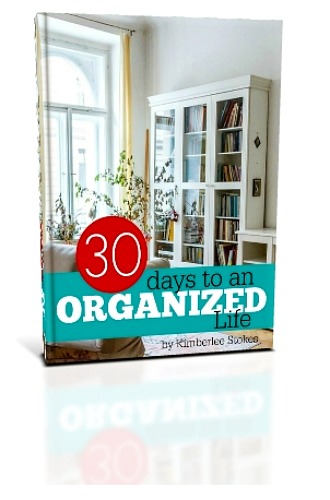 Want the entire 30 Day Challenge at once so you can work at your own pace?
Grab the 30 Days to an Organized Life ebook.
You May Also Enjoy: