30 Days to an Organized Life Day 4
How did your 10 minute declutter go? Does your Master Bedroom Closet feel a little more organized now?
Today we are continuing in the Master Bedroom.
Most of us use our bedrooms for a multitude of activities including watching television, working, hanging out with the kids and even eating but truly your bedroom should be a restful haven that is conducive to sleep. I will talk more about sleep in a future post but for today I want you to think about how you can make your room more restful and peaceful.
A few ideas are moving the television and other electronics to another room, getting rid of the pile of clothing on your treadmill and removing those projects that you will get to "one day".  Anything that creates stress or anxiety or stimulates your brain should be removed. Take a few minutes to look around your room and pay attention to how you feel about each area. Then decide what you want to change.
Today's Task 1: Spend 10 minutes in your Master Bedroom clearing a surface. Clear the pile from your nightstand, declutter the top of your dresser or put away the pile of clothes in the corner. Do the task that will make the biggest impact on how you feel about your bedroom. You can also make a list of future improvements you want to make in this room.

Today's Task 2: For extra credit dust, vacuum and wash your sheets today. A clean bed is a happy bed. 🙂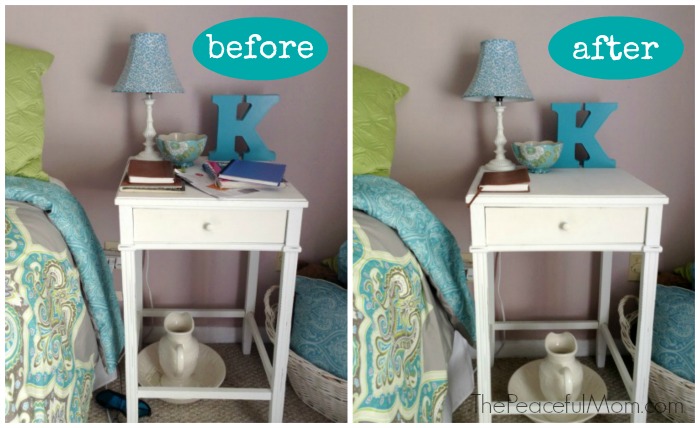 I chose to clear my nightstand so that I could enjoy a more peaceful and calm view before I go to sleep. In addition to removing the extra reading material I cleaned the bowl and pitcher under the nightstand that had collected dust and I dusted the top of the nightstand.

My art desk is on the wall opposite our bed. Ideally this space would be outside of our bedroom but it is the only place we have room and I just can't live without a space to create. I do need to keep it neat and organized though so I spent about 20 minutes cleaning and organizing everything.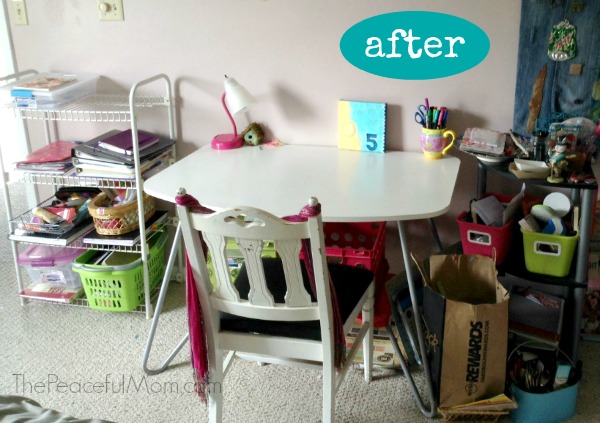 Ah, much better! I found the shelf at a yard sale for $2.00. It's not my favorite solution but it looks much neater than piles of supplies on the floor. As you can see the right side of the desk still needs some attention but "Progress Not Perfection", right? And yes, that paper shopping bag is my trashcan for now.
I will not be posting tomorrow so that you can enjoy a fun relaxing day with your family but if you are not celebrating or have extra time spend a few more minutes on your master closet or your master bedroom.
I would love to hear what you plan to do or see photos of your before and after. Leave a comment or a link below.
Click here to sign up for the 30 Day Challenge daily emails during the month of April so you don't miss anything PLUS grab your FREE 30 Days ePlanner!
Share with your friends using the hashtag #TPM30Days so they can join in as well.
Join me on Instagram here and Facebook here for more inspiration and share your photos with the hashtag #TPM30Days.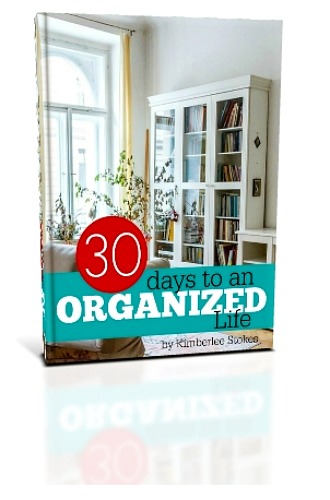 Want the entire 30 Day Challenge at once so you can work at your own pace?
Grab the 30 Days to an Organized Life ebook.
You May Also Enjoy: