30 Days to an Organized Life Day 3
Simplicity changes behavior so we are going to keep it simple this month. Our focus will be creating tiny habits that keep us organized and today's Happy Habit is 10 Minutes a Day Decluttering.
Click here to read the guidelines for 10 Minutes a Day Decluttering. You can read more about why 10 Minutes a Day Decluttering works here.
I want to start first with the Master Bedroom Closet. Why? Because it's one of the first places you look at every morning when you get dressed. Having an organized closet can start your day on a positive note instead of draining you emotionally and mentally first thing in the morning. It can also help you to get ready faster.
Remember our motto is progress not perfection so you are not going to overhaul your entire closet today, organize your clothing by color or buy a new shelving system.
Today's Task 1: Spend 10 minutes in your Master Bedroom Closet removing items that don't belong in the closet and choosing 5 – 10 items to give away. Place the giveaway items in a box, bin or bag and place them in your car so you can take them to the donation center the next time you run errands.
I chose items to give away, moved a couple of items that didn't belong and re-organized the clothing that remained.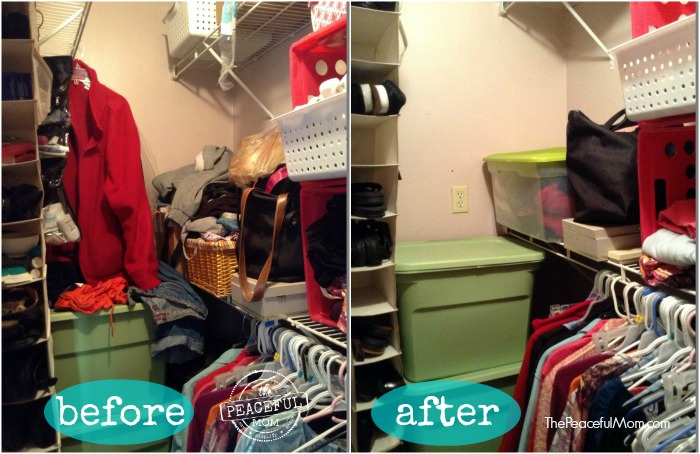 I moved the shoe organizer on the left further to the back of the closet so I have more room to walk in and I grabbed a plastic storage bin from my garage to store my winter clothes more neatly. I spent about 30 minutes because I had the time and I was highly motivated.
I strongly suggest that you spend 10 – 15 minutes and definitely no more than 30 minutes on this project. You can come back to this later. We are simply making small improvements in many areas during this 30 Day Challenge.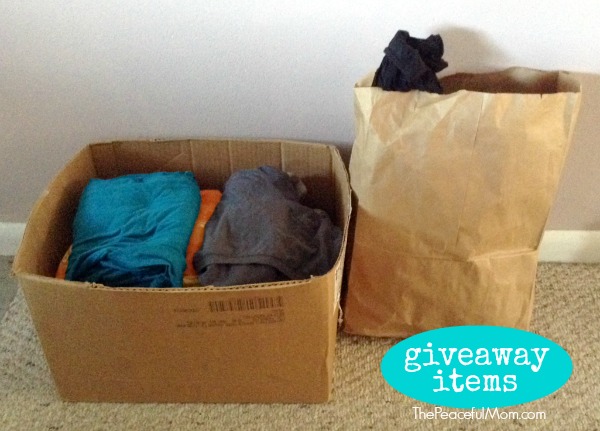 Here are the items I am taking to donate.
I would love to hear what you plan to do or see photos of your before and after. Leave a comment or a link below.
Click here to sign up for the 30 Day Challenge daily emails during the month of April so you don't miss anything PLUS grab your FREE 30 Days ePlanner!
Share with your friends using the hashtag #TPM30Days so they can join in as well.
Join me on Instagram here and Facebook here for more inspiration and share your photos with the hashtag #TPM30Days.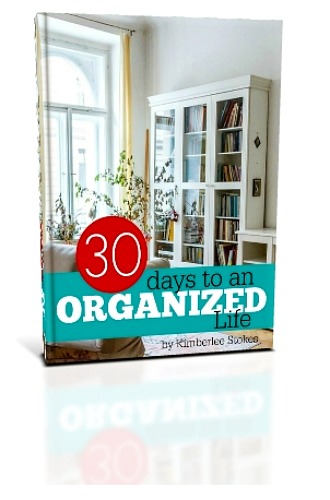 Want the entire 30 Day Challenge at once so you can work at your own pace?
Grab the 30 Days to an Organized Life ebook.
You May Also Enjoy: