30 Days to an Organized Life Day 1
Let's be honest. We can all use a little help in the organization department.
And while we're being honest, let me just get this out of the way: I can't actually organize your entire life in 30 days.
What I can do is give you some tools that you can use now and in the future, and I promise that if you focus on organizing your life for the next 30 days you will be well ahead of where you are now.
And remember, our motto is:
Progress not perfection.
To get started today we are going to focus on exactly what we want and which areas of our life need organization help to get there.
What needs an overhaul right now?
What is one area that you previously organized but you have since allowed to get out of control?
What one change could make the biggest impact in your life? meal planning? going to sleep earlier? using a planner?
Today's Task 1: Print the myVISIONpage from your planner.

Write words that describe how you want your life and home to feel and function (peaceful, serene, efficient, friendly, warm, inviting). You can even cut out pictures from magazines to paste on your page. If you have extra time you may want to take a peek at How to Create a Vision Board here.

Eventually this page will go in the front of your organizing binder but for now place this Vision Page in a prominent place so you can keep your end goal in mind as you complete the challenges.
Today's Task 2: Set up a folder in your email inbox (you could name it 30 Days to Organized) where you can file the daily emails so you can refer to them later. This will also help to keep your inbox tidy. 🙂
Click here to sign up for the 30 Day Challenge daily emails during the month of April so you don't miss anything PLUS grab your FREE 30 Days ePlanner!
Share with your friends using the hashtag #TPM30Days so they can join in as well.
Join me on Instagram here and Facebook here for more inspiration and share your photos with the hashtag #TPM30Days.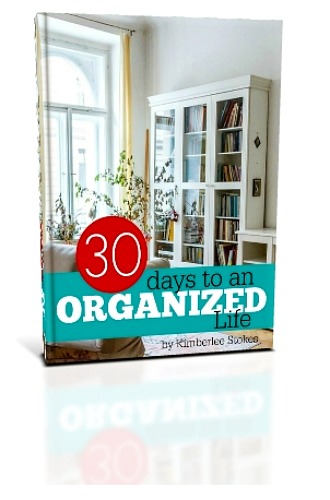 Want the entire 30 Day Challenge at once so you can work at your own pace?
Grab the 30 Days to an Organized Life ebook.
You May Also Enjoy: