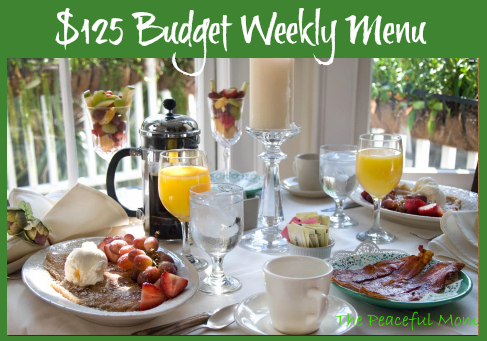 $125 Budget Weekly Menu –  Making a weekly meal plan saves you money and time. See how I'm feeding my family of six including four teens for $500 a month!
*Items marked with an asterisk were purchased in previous weeks in the $125 Budget and are in the pantry, fridge or freezer. Click colored links to go to recipes!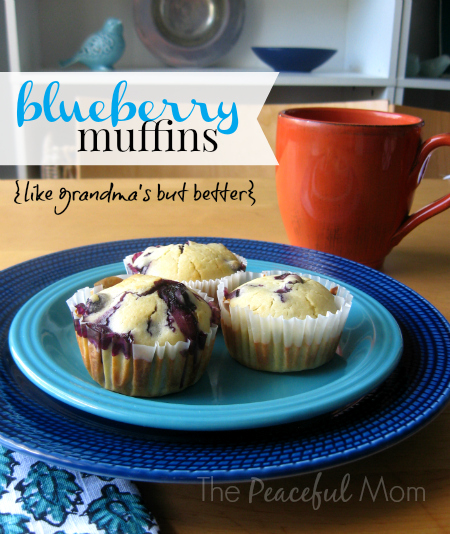 BREAKFAST
Delicious, Moist Blueberry Muffins (part of my 1 Week of Breakfasts in 1 Hour Freezer Plan here)
Cheese Toast, unsweetened applesauce
Blueberry Bagel* with cream cheese*
Cereal with milk x2
Homemade Freezer Waffles with DIY Waffle Syrup
Scrambled Eggs, orange slices*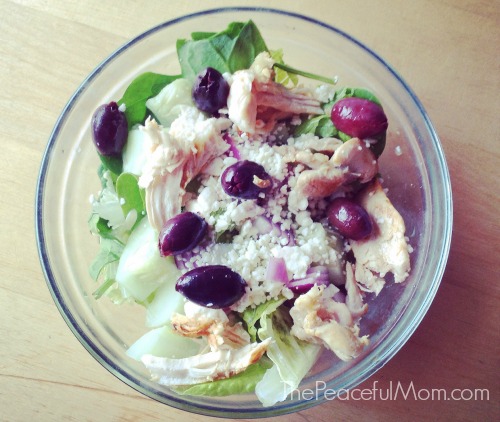 LUNCH
Greek Salad (romaine lettuce, grilled chicken, Kalamata olives*, feta cheese, cucumbers)
Tuna Salad*, bell pepper slices* (leftover from last week)
Homemade Pizza Bagels*
Turkey Sandwich, pretzel rods*
PBJ, apple slices with cinnamon x2
Leftovers from Dinner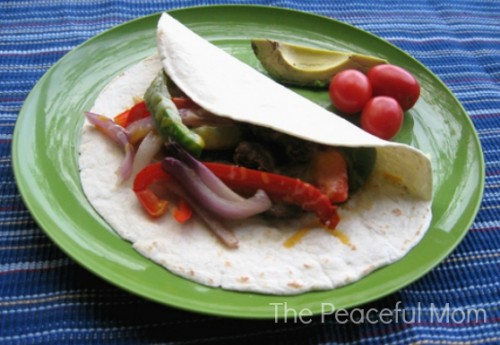 DINNER
Delicious Steak Fajitas* (from the freezer), Tomato Cucumber Salad
Spicy Black Beans, rice
Easy Homemade Sausage and Pepper Pizza, romaine salad*
Baked Potatoes with bacon (from Zaycon Foods)*, steamed broccoli and cheese, salad
Spicy Black Bean and Chicken Chili*, garlic toast triangles
Taco Salad with  (Beantastic Taco Meat, tomatoes, lettuce, cheese, sour cream and salsa served on corn chips), Tomato Cucumber Salad
Grilled Cheese Sandwiches, canned peaches*
Read what we do about snacks here.
What are you eating this week? Leave a comment or link. 🙂
Please Note:  You may not be able to replicate this exact menu for $125 because sales vary by region and you will have different items on hand but you can save money just by using a meal plan. 🙂)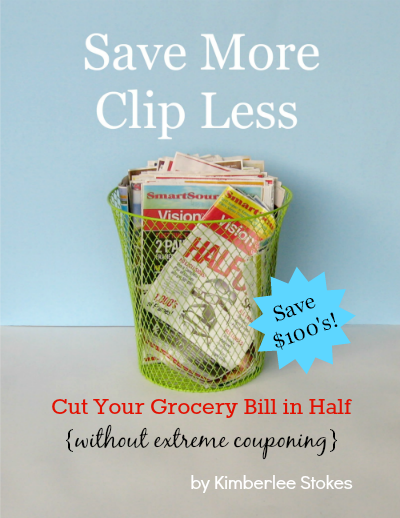 Read how I feed my family for less without extreme couponing in my Save More-Clip Less ebook!  
Click here to see what others are saying about this book

If you'd like help with creating tasty, simple and budget-friendly meals check out my favorite meal planning service eMeals*.  Plans start as low as $7 a month for a 3 month subscription and include recipes and a grocery list! They even have a slow cooker plan for those busy days. Right now you can sign up for a FREE 2 week trial of your favorite plan.
Click here to see a sample menu and start your FREE trial!
You May Also Enjoy: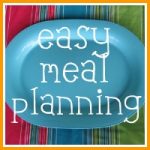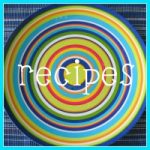 For more menu ideas, check out OrgJunkie Menu Plan Mondays.
*affiliate link– Read our disclosure policy here.