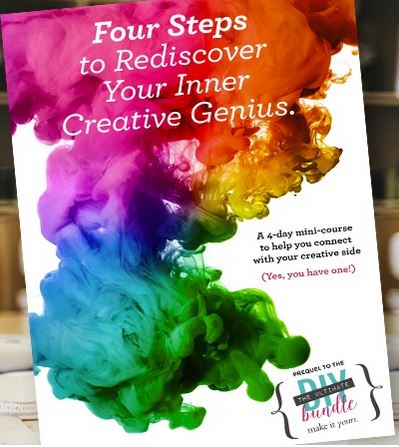 Get the Ultimate DIY eBook Bundle FREE + FREE Creativity Mini e-Course!
If you missed The Ultimate DIY Bundle Sale it's coming back one last time for just 48 hours from March 30th–April 1st and you could get the entire bundle (worth over $847!) for FREE!
Here's how:
Use the referral link on the sign up page with your friends by email or on social media so they can enjoy the free course as well.
Receive your rewards:
$5 off the Ultimate DIY Bundle (only 1 Referral)
A FREE 1-year Subscription to Better Homes and Gardens Magazine (Only 5 Referrals)
A FREE Ultimate DIY Bundle (only 10 referrals) PLUS the free 1-year BH&G subscription mentioned above (Only 10 Referrals)
Written in consultation with MyQuillyn from TheNester.com, this mini-course is intended to inspire folks to rediscover their creative side in 2015. It's a simple course which takes them through a short exercise in each of the 4 steps.
Click here and enter your name & email address to get the FREE course.
The Creativity Course is completely FREE but don't wait — you can only sign up through March 27, 2015!